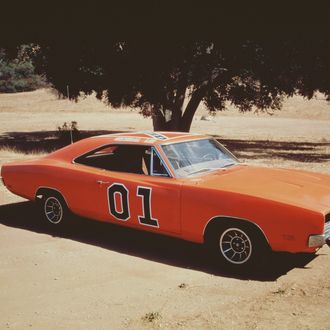 Photo: CBS Photo Archive/Getty Images
Thirty-six-year-old Bubba Watson, the popular Masters-winning professional golfer from Florida, has decided to expunge the Confederate flag from his original Dukes of Hazzard production car, according to the New York Times. He plans on replacing the Confederate flag with an American flag on the roof of the iconic 1969 Dodge Charger called the General Lee. The particular model Watson owns is nicknamed the LEE 1, as it's one of the first three original Chargers used in the Southern outlaw show.
When Watson bought the car in 2012 for $110,000, it was in pretty bad shape and needed extensive repairs, having been salvaged from a scrap yard. The show, with its unrepentant Southern pride (and its legion of fans who continue to hold the show up as an epochal moment in pop culture), has been embroiled in controversy since the tragic mass murder in Charleston: Warner Bros. recently announced that it would stop selling Confederate-flag-sporting merchandise from the show, and TV Land, that bastion of Golden Oldies TV shows, has yanked Dukes from its rotation.
Watson told the Times, "The flag is offensive to some people. There's been enough buzz. I thought it was the right gesture for me to do," adding, "I don't stand for hatred."
The golf star has been keeping the car hidden in his garage as the controversy over the flag has spread, though he insists he doesn't recall any overt racism in Dukes of Hazzard and still emphasizes his adoration for the show itself.
Former NBA player Jalen Rose did something similar to his replica of the General Lee, which formerly belonged to John Schneider, the actor who played Bo Duke in the series. That car was featured in a made-for-TV Dukes reunion movie and sold for $495,000 in 2008.