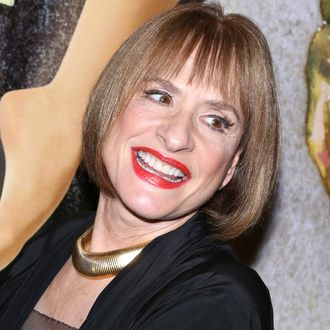 "Who do you think you are?"
Photo: Walter McBride/Getty Images
Will these ill-mannered audience members never learn? During a Wednesday night performance of Shows for Days at the Mitzi E. Newhouse Theater, Patti LuPone confiscated an audience member's phone because they were texting during the performance. The nerve! According to various reports on Twitter, LuPone delivered her scene exit line at the beginning of Act II before swooping into the audience and snatching the offender's phone. (They received it after the performance.) The next day LuPone released a statement explaining why she did what she did:
We work hard on stage to create a world that is being totally destroyed by a few, rude, self-absorbed and inconsiderate audience members who are controlled by their phones. They cannot put them down. When a phone goes off or when a LED screen can be seen in the dark it ruins the experience for everyone else — the majority of the audience at that performance and the actors on stage.

I am so defeated by this issue that I seriously question whether I want to work on stage anymore. Now I'm putting battle gear on over my costume to marshal the audience as well as perform.
Fight the good fight, Ms. LuPone! We can only imagine what would have happened had someone tried to charge their phone on her stage.
* Shows for Days is an Off Broadway production.