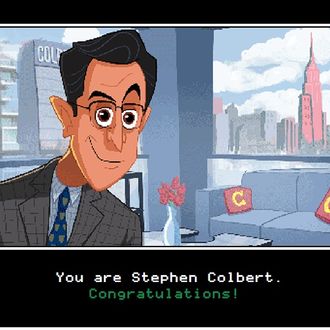 The Stephen Colbert–helmed iteration of The Late Show doesn't commence until September 8, but thankfully Colbert & Co. have been bestowing upon us many little treats and tidbits throughout the summer to make the waiting hurt less. The newest surprise for Colbert Nation (are we still called Colbert Nation?) is a choose-your-own-adventure video game called Escape From the Man-Sized Cabinet.
In the game, which channels the classic PC games of Tim Schafer, you get to be Stephen Colbert, wandering the empty halls of your office waiting for your new show to start. Then you stumble upon a man-size cabinet, and who doesn't want to explore a man-size cabinet? (Just watch out for that centaur!)
You can play Escape From the Man-Sized Cabinet here.