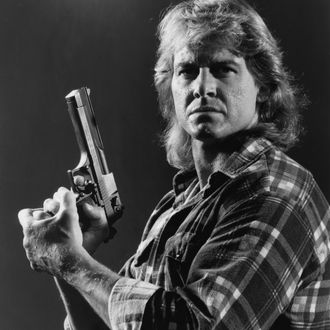 Piper in They Live.
Photo: Michael Ochs Archives/Getty Images
Pro wrestler "Rowdy" Roddy Piper has died of natural causes at the age of 61, TMZ reports. Piper was diagnosed with Hodgkin's lymphoma in 2006, but he told a newspaper last year he was cancer-free. He reportedly died in his sleep on Friday of cardiac arrest. Born Roderick Toombs, Piper grew up on an Indian reservation in Saskatchewan and got into wrestling at a young age, taking his nickname and entrance gimmick from his other hobby, bagpiping. One of the most famous villains in pro-wrestling history — though, like many wrestlers, he spent time on both sides of the heel-face divide — he spent two decades working for World Wrestling Entertainment. The most famous match of his career in the squared circle was undoubtedly the first Wrestlemania, where he squared off against Hulk Hogan and Mr. T for a tag-team fight in Madison Square Garden.
Piper last wrestled professionally in 2008 and spent his retirement getting into improv. He also had a memorable side career as an actor; his role in 1988's They Live featured not only one of the most brutal fight scenes in film history, but also the iconic line, "I've come to chew bubblegum and kick ass … and I'm all out of bubblegum," which in turn inspired Piper's soda line, Rowdy Roddy Piper's Bubble Gum Soda.