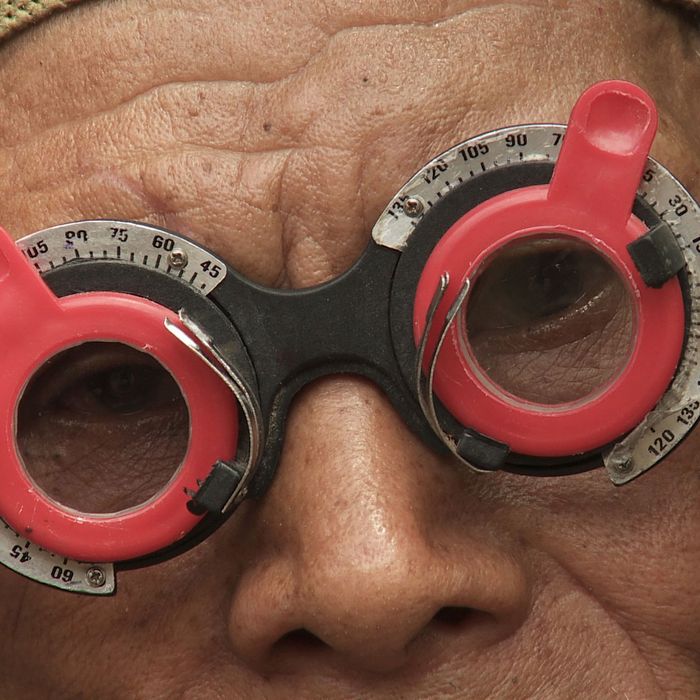 Joshua Oppenheimer's 2012 documentary The Act of Killing was a profound indictment as well as a stunning experiment. Its main subjects were the death squad leaders who had brutally killed thousands of their own people during the 1965–66 genocide in Indonesia. The killers were boastful as they elaborately reenacted and restaged their unspeakable deeds for Oppenheimer's camera, pantomiming classic film genres and laughing over the horrors visited upon their victims. It was transgressive, sickening stuff, reaching far beyond the specificity of this milieu. One got the sense that Oppenheimer had stumbled onto a kind of universal evil — the language history's winners use to enshrine their own deeds.
The Look of Silence is Oppenheimer's follow-up to that film, a companion piece that is more conventional but still necessary. This time, he turns his lens on the victims of the genocide. Oppenheimer follows Adi, a married, fortysomething optometrist, the killing of whose brother Ramli is recounted in decade-old video interviews shot for the earlier film. Adi never met Ramli; his mother, Rohani, confesses that the younger brother was born in order to allow her to live. There's a subtle connection there: Adi wouldn't exist without Ramli's death; he is a man borne almost literally of grief. And while his birth perhaps allowed his mother to keep on living, it did not help her move on; Ramli's death still haunts his family, with Rohani continuing to commune with her dead son and admitting that she sees him in her dreams. Meanwhile, their extremely frail invalid father is now struggling with full-on dementia. He has forgotten the horrific death of his own son. In his withered, helpless body we may choose to see a metaphor for history itself, where merely forgetting brings no closure.
Adi's immobile face, watching the footage of his brother's killers, is the defining image of the film. Motivated by a need to confront the past, he visits the men responsible, and sometimes their families, directly talking to them about the event. Their exchanges are diverse, and impossibly tense — running the gamut from denial to pride to evasion. "What would have happened had I come to you during the dictatorship?" Adi asks one man. "You couldn't even imagine what would have happened" is the chilling response.
If The Act of Killing was about the smug cocoon of history in which victors regard their own actions, then one could argue that The Look of Silence is about penetrating that cocoon with one's gaze. In the earlier film, cinema itself became something monstrous, a collective myth that fed into the mad dreams of murderous men. This time, however, the image has a reverse power — of testimony and confrontation and maybe even closure. Adi is not a prosecutor, or even an accuser. He is open to mercy.
As a filmmaker, Oppenheimer shows ease with both the epic and the intimate. Occasionally, he gives us menacing images of trucks pulling away in the middle of the night — a brief little bit of staging that carries a lot of evocative weight. He can establish atmosphere with just a quick cutaway or two. He shoots and edits conversations with an innate feel for their drama — extending the tense pauses just so, capturing the little details that suggest a speaker's gathering discomfort. You might even catch yourself wondering what he might do with a horror movie — until you realize that this is one. That's the great secret of The Look of Silence's power: The filmmaker has vision and purpose, and the aesthetic chops to actually make it all happen.
He also has a sense of moral scale. We can't look at the events in The Act of Killing and The Look of Silence and think of them as happening in distant parts of the world. For all the intimacy and specificity of his approach, Oppenheimer has subtle ways of universalizing his subject. At one point, we see an NBC News report from the time, matter-of-factly reporting on communists being starved to death in prison camps, or being "released periodically to be killed by the local citizens." Little moments like that establish the fact that this small, grim documentary about Indonesia is actually a bigger and grimmer movie about all of us — our capacity for both breathtaking evil and, occasionally, profound bravery.