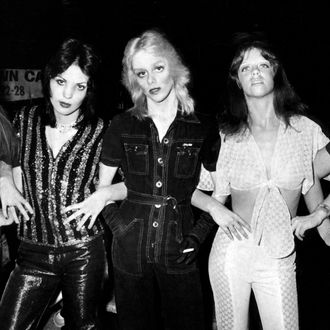 The Runaways.
Photo: Richard E. Aaron/Getty Images
If you woke up this morning thinking, I'd like to read a powerful piece of journalism and then feel nauseated for the rest of the day, here you go: In a new Huffington Post longform, former Runaways bassist Jackie Fox (née Jackie Fuchs) reveals that the band's producer, Kim Fowley, drugged and raped her in front of a large group that included band members Joan Jett and Cherie Currie 40 years ago. Fuchs, who was 16 at the time, says she had only recently joined the band when Fowley raped her on New Year's Eve 1975, following a performance in Orange County. After the show, Fuchs says that Fowley, who'd specifically sought out a group of teenage girls to form the Runways, brought the band to a motel to celebrate. As others in attendance told HuffPost's Jason Cherkis, Fuchs was given quaaludes at the party before Fowley's sexual assault. Cherkis writes:
On the bed, Fowley played to the crowd, gnashing his teeth and growling like a dog as he raped Jackie. He got up at one point to strut around the room before returning to Jackie's body.

"I remember opening my eyes, Kim Fowley was raping me, and there were people watching me," Jackie says. She looked out from the bed and noticed Currie and Jett staring at her. She says this was her last memory of the night.
When approached for comment, Jett denied "witnessing the event as it has been described here." But according to HuffPost, she called another witness to the rape in 1977, after Fuchs quit the band, and explained that if Jackie tried to sue, he "needed to deny being in the motel room that night." Currie says she "spoke up and stormed out of the room" the night Fuchs was raped, and later tried to write about it in a 2000 memoir that Fuchs blocked from being published. Two other women, Audrey Pavia and former Runaways affiliate Kari Krome — who also witnessed Fuchs's rape — say Fowley also sexually assaulted them when they were teenagers.
Fowley died in January 2015, having previously denied any sexual contact with any of the Runaways band members in a 2013 band biography. Michael Shannon portrayed him in a 2010 Runaways biopic starring Kristen Stewart and Dakota Fanning.