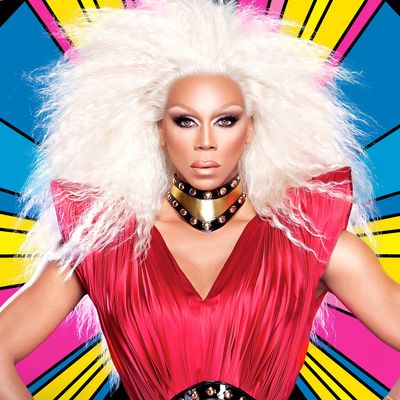 You better werk!
Photo: LogoTV
RuPaul announced that some of the best tuckers in the biz would be returning for another season of RuPaul's All Stars Drag Race. It's been three years since the first outing, which — no tea, no shade — resulted in one the most forgettable seasons ever (Sorry, Chad Michaels). While we'd rather just chow down on some sleeping pills and forget the season ever happened, we thought we'd revisit exactly what makes Drag Race so good, and how to make the second season of All Stars something that'll have us gagging.
No teams! The major problem during the first go-around was the fact that each contestant got paired with another. And as much as we loved Rujubee, the format resulted in double eliminations that created an abbreviated season (six episodes, which maybe was the point) where the story lines didn't fully uncork. It felt distinctly unfair, for instance, when Pandora Boxx got saddled with Mimi "Imma Throw You Over My Shoulder" Imfurst, which resulted in their early elimination. Let each queen sing for her own life — not someone else's.
Set a high bar. For the love of pearl necklaces, let's not bring back someone like Mimi Imfurst whose sole purpose was to grate on our nerves. We love the "This is not RuPaul's Best Friend Race" queens, but if they're on the show solely to remind us of how much we disliked them the first time around, cut them loose.
But bring back queens who have evolved. We're very okay with bringing back some of the first All Stars for another shot at the title. Yara Sofia, Raven, Manila Luzon — all legitimately feel like contenders. But more important, we should bring back queens who have evolved in surprising or interesting ways. The first and only season of Top Chef All Stars, arguably the best all-star season of any reality competition show, did a good job of this: The hotheaded Dale Talde became calm and self-reflexive, while the unflappable Jen Carroll went into a tailspin. If possible, it's good to pick queens who have evolved since their first time on the show.
Don't lose the classics! Another problem with All Stars was that we didn't have any returning bits, like "Snatch Game." (Instead we got a shoddily edited Laugh-In.) Create new constraints, amp up the difficulty, but also just let us watch the queens do what they're good at.
It's not just about fish. Actually, this is a note for the show in general. We've noticed over the years, with Michelle Visage leading the charge, that RuPaul is increasingly grading contestants on how "fishy" — that is, how femme — they are. The codification of gender seems to us the antithesis of drag: Gender is an illusion, and there's a lot of drag out there that isn't about playing a red-carpet starlet. In general, we'd like to see the show bring back the punk sensibility it had in the first season with contestants like Nina Flowers, Ongina, and Tammie Brown.