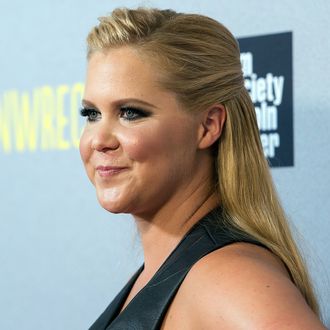 "We want more #Schumtent!" —Vulture commenters.
Photo: Mike Pont/Getty Images
In all the comments sections across the land, the people cry out, "What is next for Amy Schumer?" Now THR has the answer: Schumer's first major post-Trainwreck project will likely be a comedy about a mother-daughter duo who get kidnapped on vacation in Brazil. Schumer and her sister have reportedly rewritten a script from a draft by The Heat's Katie Dippold, and with Trainwreck's success, Hollywood's newest star is reportedly getting more say on the project's director. After that, it'll be a matter of casting someone to play Amy Schumer's mother. Meryl Streep, you know you want to say yes. It's basically a free Brazilian vacation!