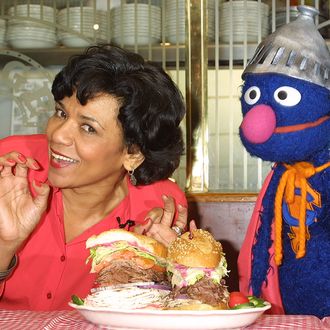 Sonia Manzano and friend.
Photo: George De Sota/Getty Images
Longtime Sesame Street cast member Sonia Manzano will retire from the show after 44 years, the actress announced while speaking to the American Library Association this week. Manzano has played Maria, a friendly neighborhood vest enthusiast, since 1971; she also wrote for the show from 1981 to 2002, winning 15 Daytime Emmys in the process. In her four decades on Sesame Street, Manzano got married, turned invisible, asked for a raise,  went to the hospital, and fixed a door. Outside of that show, Manzano plays Judge Gloria Pepitone on Law & Order: SVU, where she encounters grouches of a different sort.