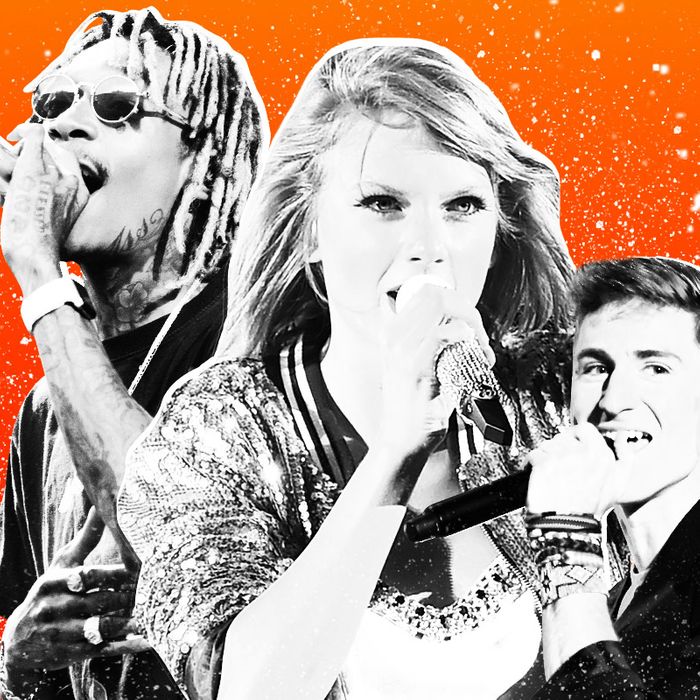 Photo: Kelly Chiello and Photos by Getty Images
Well, would you look at that: It's August. Summer is coming to an end. Usually by this time we have a clear Song of Summer winner, even if it's horrible, as was the case last year with "Fancy" by Iggy Azalea. But this year, things are different. There are a dozen contenders in the ring, and none of them have elbowed out the competition. If we're being honest with ourselves and each other, there's only one conclusion to reach: In the year 2015, there is no true Song of Summer.
This isn't a bad thing! Music streaming has upended the traditional label machinery that historically made the Song of Summer race so definitive. In so doing, it has helped to level the playing field. Make no mistake, the cream still rises to the top, and there are a handful of tracks we'll remember when we think back on this summer. It's just that no one of them rises above the rest. They're all winners. Enjoy them — and may Kanye's "cookout" music arrive before Labor Day.
"Cheerleader," Omi
When I spoke with Omi in May, he was opening for Snoop Dogg at a pool party in Paris. Very few Americans knew about him even though the buttery horns, wood percussion, and silky vocals on his island heater were already platinum in Europe. Shazam predicted it would become a hit in America, too. A few months later, it has. "Cheerleader" is currently enjoying its fourth week at No. 1 on the Hot 100. The robots win again.
"See You Again," Wiz Khalifa feat. Charlie Puth
If we're going by release date and chart numbers alone, this would be your Song of Summer. The song was inescapable this summer, buttressed as it was by the enormous success of Furious 7. The only problem is that it's corny, and no one wants to think about sadness and death while turning up at the beach.
"Trap Queen," Fetty Wap
He put a throne and some pies in a bando and called it true love. Now parents are asking their teenage kids what a "trap" is and what it has to do with royal lineage. Bravo, Fetty Wap. True, this is a song about cooking crack, but it's also a song about the lengths one man will go to show his true love how much he cares by doing things like taking her to the mall, snatching a Ferrari, baking pies, oh, and cooking crack. I've got to give it to Fetty Wap: Not only did he get that coveted co-sign from Doug Funnie and Patty Mayonnaise, he's turned the flick of the wrist into a modern romance, and enjoyed 28 weeks on the charts while doing it.
"Shut Up and Dance," Walk the Moon
According to Riley Curry, Silentó's "Watch Me" is this year's Song of Summer, but Ed Sheeran put his money on "Shut Up and Dance," a playful party tune that takes its cues from the '80s. Silentó, the 17-year-old viral sensation who made his way to the top 10 of the Hot 100 in July, is great if you want to spend hours watching kids do the nae nae on Vine. "Shut Up and Dance" is the song for your summer road trip. Going with Ed on this one. Sorry, Riley.
"Bad Blood," Taylor Swift
If there's one thing we are all going to remember about this summer, it's beef. Lil Wayne is beefing with Birdman, Birdman is beefing with Tidal, Meek Mill is beefing with Drake. Multiple dis tracks have been exchanged, but only one of them is on top of the charts. "Bad Blood" is the ultimate 2015 dis track, allegedly written about Katy Perry after she poached one of Swift's dancers. The video depicts a world in which the only friends you need are those who murder your enemies with grenade launchers and ninja stars. And the whole thing ends with a massive explosion, because Taylor Swift clearly likes her beef well done.