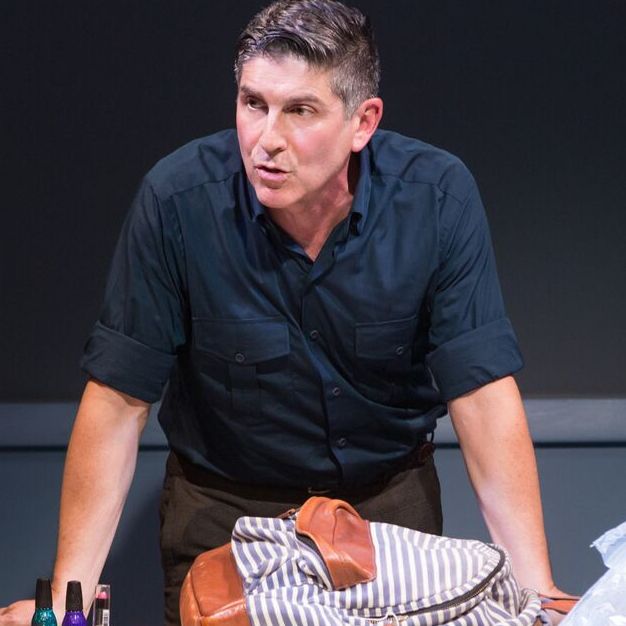 Beware short plays bearing long titles; they are usually not short enough. Such is the case with The Absolute Brightness of Leonard Pelkey, a 75-minute one-man show in which James Lecesne, who also wrote the piece, portrays nine denizens of a Jersey shore town. Chief among them is the improbable, noir-spouting police detective assigned to investigate the disappearance of a 14-year-old who is not just missing but murdered. We quickly learn why, as well: Leonard Pelkey was an outrageously flamboyant gay boy, unwilling or unable to "tone it down" for other people's comfort or even his own safety. (Among other capital offenses, he liked to wear Capri pants.) Since only one of the townies that Lecesne gives voice to is a homophobe, there's not much mystery here, nor, in a play consisting mostly of monologues, much drama of any other sort. Instead, we get a series of amusing, if sometimes too cute, impersonations of people who loved Leonard even if they thought he was "too much." These include the hairstylist at the salon where Leonard liked to kibitz with the clients about their bouffants and makeup; a lisping British-expat after-school drama coach; a Mafia wife who finds one of Leonard's rainbow platform sneakers floating in the lake; and an elderly German shopkeeper who befriended Leonard decades after — wouldn't you know it? — having alienated his own gay son.
It's probably smart that we never see Leonard himself, except in a blurry photo; Lecesne's conceit is that the boy, by being so relentlessly true to his own nature, brought out the truth in other people's, good or bad. No performance could have captured that possibly nonexistent quality, and yet we can't help feeling that the sainthood Lecesne wants to confer on him requires proofs beyond anecdotes describing his special glow. (The title phrase comes from astronomy: The "absolute brightness" of a celestial body is an intrinsic quantity that's stable regardless of how it's perceived.) The proofs offered are insubstantial: Leonard helped one woman update her look; he read Dickens with the shopkeeper; he gave a mesmerizing audition as Ariel in fairy wings for the drama coach's production of The Tempest. In any case, it's a misplaced effort. We should not need Leonard to be a great glowing soul in order to find his murder horrible. Certainly the Academy Award–winning short film Trevor (based on an earlier Lecesne play called Word of Mouth) does not require the main character's beatification in order for us to mourn his suicide. Nor, to name a much more complex work, does The Laramie Project ask us to adore Matthew Shepard more in death than in life. But the Leonard project, based on Lecesne's 2008 young-adult novel Absolute Brightness, carries over from its source the slight aroma of youth fiction, with its opportunistic sentimentality and simplified moral universe.
It is also content to wrap its good intentions in a genre that now seems hackneyed. As a performer, Lecesne hits all his marks, nimbly transforming (in Tony Speciale's paint-by-numbers staging) from one character to another by rotating 360 degrees and altering his voice and stance. Everyone gets an immediately identifying mannerism: a mimed cigarette, a hand tremor, a hair-flip tic. I wish their speech had as much variety; unfortunately, they all talk in snappy film clichés. "I swear, I'd lose my pancreas if it wasn't inside me," says the hairstylist, who, according to the detective, has "legs up to here, an impressive rack, and the kind of in-your-face attitude that could have you leaning up against a bar before noon knocking back shots of Johnnie Walker."
If the play weren't so sincere, you'd have to laugh. As it is, you simply disengage from the story, refocusing on the technique. And though Lecesne is an experienced storyteller, having handled four times as many characters in Hartford Stage's 2007 production of I Am My Own Wife, the genre needs more than mimicry to achieve expressiveness — if expressiveness is even possible anymore in a format that asks so much of its cast. Won't someone please write a one-character, nine-actor play instead of its ubiquitous inverse?
The Absolute Brightness of Leonard Pelkey is at the Westside Theatre through October 4.