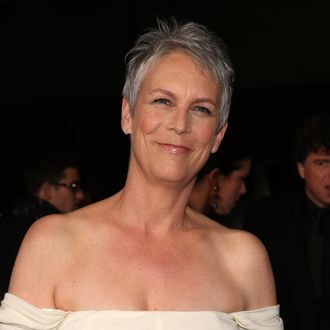 Photo: Christopher Polk/2012 Getty Images
Jamie Lee Curtis is so nerdz. She went with her family (including husband Christopher Guest) to this year's Evolution Championship Series (a.k.a. EVO, a big fighting-game tournament). Even better, she cosplayed it up dressed as the masked character Vega from the seminal video-game series Street Fighter. She posted a picture of the fam garbed in their disguises on Twitter. "I play Street Fighter more than you will ever know," Curtis said in an interview earlier this year, certifying her gamer cred.
Vega, one of the bosses from Street Fighter II, is a mask-wearing, claw-wielding warrior from Spain. EVO, which takes place in Las Vegas, is one of the biggest fighting-video-game tournaments in the world, with gamers flying in from across the globe to cyberpummel each other. Ultra Street Fighter 4 was the most popular game at this year's show, with 2,227 registered players. The game has been a regular presence at the tournament since 2008, but with a new entry in the series arriving next year, this could be the final year for Ultra Street Fighter 4. Curtis probably has the new game preordered already.