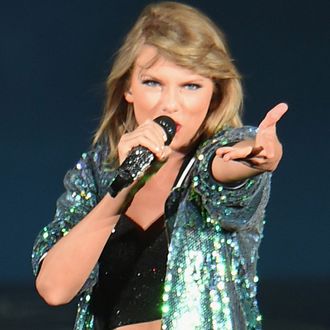 Coagulated blood.
Photo: Michael Loccisano/Getty Images
Taylor Swift may have averted a beef with Nicki Minaj after offering a mea culpa to the rapper for taking some tweets super-personally, but the one with Katy Perry is still going strong! Perry, you'll remember, is the muse behind Swift's "Bad Blood" and most recently inserted herself during Taylor and Nicki's Twitter exchange, writing a tweet riling both Taylor fans and copy editors across the land. Over the weekend, Swift made another reference to Perry, briefly bringing out the infamous Left Shark during a concert in Foxborough, Massachusetts, while she sang, "Band-Aids don't fix bullet holes." Taylor, we'll expect your new single, "Coagulated Blood," on iTunes next week.
Update: Okay, this might just be an instance of the media making a big deal out of nothing, which, you know, never happens. Apparently, a dancer has been "pranking" Swift at this moment in the song by bringing little sea creatures out. That day it was a shark, and the day before, a lobster. Observe:
If you think this is a terrible prank, you may resume thinking this was all just subtly engineered shade.