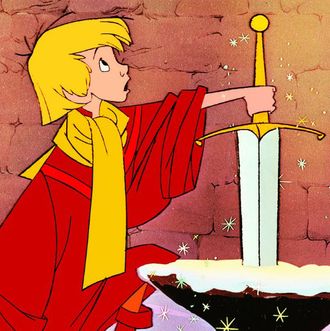 Bryan Cogman (left).
Photo: Walt Disney Productions
Game of Thrones writer Bryan Cogman is working on a live-action remake of The Sword in the Stone, the latest in Disney's string of reboots for its postwar animated classics — a list that presently includes Beauty and the Beast, The Jungle Book, and Dumbo, among others. The original 1963 Sword in the Stone was a retelling of young King Arthur's lessons with Merlin (all of which, in that telling, seem to involve turning into an animal) and included classic songs like "That's What Makes the World Go Round" and "Higitus Figitus."  Cogman's script is expected to use mournful cello versions of those songs as the soundtrack to a bloody massacre of the entire Pendragon dynasty.