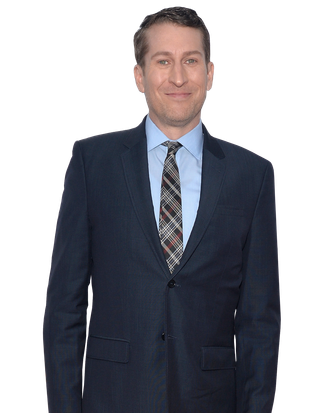 Photo: Michael Tullberg/Getty Images
This interview was originally published on July 20, 2015. Since the Emmys are tonight, we're resurfacing it.
When the Emmy nominations were announced last week, Between Two Ferns was recognized for the third consecutive year in the succinctly named category Outstanding Short Format Live-Action Entertainment Program. That gives it a chance to defend the title it won last year, when the President Obama episode took home the Emmy in that category. It also provides co-creator Scott Aukerman with a rare triple-threat distinction: He's a reigning winner, a current nominee, and a writer on this year's Emmys broadcast. After the nominations came out, Aukerman spoke with John Horn, host of the KPCC radio show and podcast "The Frame," about affecting Emmys change, missing out on a nomination for his other show, Comedy Bang! Bang!, and how a fragmented TV landscape has led to more opportunities for sketch comedy.
About a year ago, you wrote an open letter to the Television Academy saying, to quote part of it, "Why don't we create a new sketch comedy category and spread around some of the love?" You got your wish, right?
I did. It was interesting because that letter came out, and soon after that the Television Academy wrote to me and said they were considering it. Then they included me in the discussion. They wanted to make sure there would be enough potential nominees. Once I started rattling off all of the sketch shows, they realized there are a whole bunch of shows out there that never, ever get nominations. I think Saturday Night Live is the only true sketch show that's been included in the category in the last decade.
Why did you think this was necessary?
For two reasons: One, the types of comedy you see on sketch shows were never winning. It was a talk show every single year — always The Daily Show, The Colbert Show, occasionally a Letterman or something. Secondly, there's not a lot of diversity in terms of nominees in that category. Each year it's a collection of five white, straight males. With the sketch-specific nominees this year you have women, people of color, people of different sexual orientation, drunk people.
But your own show Comedy Bang! Bang! wasn't nominated. Was that a little bittersweet?
I didn't really expect to be nominated. Comedy Bang! Bang! is a tiny little sketch-comedy show. It's very well-respected. It was on a lot of critics' lists expecting to be nominated, which kind of psyched me out for a minute — "Wait a minute. Is this even possible?" But I think the fact that not a lot of people have heard of it hindered it being nominated. Maybe next year.
You did get an Emmy nomination, though, for Outstanding Short Format Live-Action Entertainment Program. You won in that category last year for Between Two Ferns, where I think Zach [Galifianakis] called President Obama a nerd. Tell us a little bit about this year's nominee.
That was what really solidified the gold for us — everyone ended thinking that Obama was a nerd, and finally someone had the guts to say it. This year we got nominated for the Brad Pitt episode of Between Two Ferns. It's a competitive category. Childrens Hospital is there again this year. And were I to handicap it, Billy on the Street with Michelle Obama and Big Bird is probably a favorite. I think anyone who sees Obama on the nominees list generally tends to vote toward that.
Brad Pitt and Louis C.K. were on the same episode — how did that come about?
We knew Louis was in town. We called him up and said, Do you want to drop by? About five minutes before he came, he texted to say he was on his way. So, we shifted the schedule around to accommodate it. It was great. He came in for about ten minutes, did that, and then left. It was a really exciting part of the episode.
Let's talk about what the Emmys mean for a show like Comedy Bang! Bang!. Julia Louis-Dreyfus isn't going to have her career change by winning or losing an Emmy. But I suspect it does have an impact on a show like yours.
It does. That was one reason I was advocating for the change in the sketch category. While it's great when The Daily Show or The Colbert Show win, they have so many. What's really exciting is that Drunk History is nominated and has some attention on it now. These little shows like Key & Peele and Amy Schumer and Drunk History and Portlandia deserve the benefits that come along with a nomination. It's not about holding up the trophy saying, "I'm the best! I'm the best!" because deep down I know it's all kind of random. The fact that you win is nice and it says that you did a good job, supposedly, but everyone did a good job. But I know firsthand that it helps when you can say to potential future employers, "The Emmy Board said what I did was quality and you can trust me."
There is so much diverse, great, interesting work in sketch comedy right now. Why do you think the genre is doing so well?
When I started in comedy 20 years ago, it was difficult to sell a sketch comedy show to any network, including Comedy Central. What we heard was, "Sketch is a tough sell. Sketch is a tough sell." I heard that for years. Now, I think what has happened is ratings have gotten so low across the board, you no longer have to have these giant hits anymore.
The long-tail theory: There's somebody for everything.
And they are going to appeal to a very passionate audience. For some people, Comedy Bang! Bang! is their favorite show of all time. Other people cannot stand it. That's what sketch comedy is all about. If you're doing it right, you're doing it very specifically, and you're appealing to a smaller group of people. Occasionally what you're doing can break out and become popular in the mainstream, like Key & Peele and Amy Schumer. 
In addition to being nominated for an Emmy, you're also helping to write the show. How did that come about? And can you write yourself in as the winner of your category?
Andy Samberg is hosting the Emmys this year, and I've known Andy for a while, ever since I was his head writer on the MTV Movie Awards. He's a huge fan of Comedy Bang! Bang! so he approached me and my head writer, Neil Campbell. I said, "If you can take our entire writing staff, we can do it." He's such a big fan of the show that he said yes. So we're all going to be writing the Emmys this year, which is crazy.
As for your second question, yes, I can. I'm bringing home the gold this year.
Correction: The article originally misstated Neil Campbell's first name as Peter. While perhaps amusing to Mad Men fans, that was wrong, and we have corrected it.