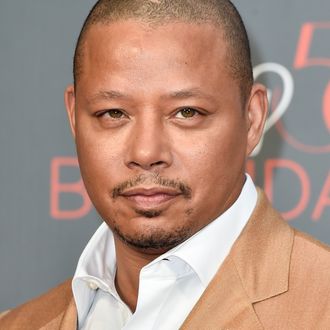 Terrence Howard.
Photo: Pascal Le Segretain/Getty Images
Empire star Terrence Howard is being sued by his ex-wife: On Tuesday Michelle Ghent filed a lawsuit against the actor, claiming that he punched her, grabbed her by the neck, and strangled her "for several seconds" during a stay at a rental house in Costa Rica in 2013. Describing the assault, Ghent says that Howard pinned her against a glass shower door when she tried to get away, causing his son-in-law to intervene. During the altercation, she says Howard referenced a previous threat that "her body would never leave the island." When he tried to attack her again later that night, Ghent says she pepper-sprayed him in the face. Ghent is also suing for defamation stemming from alleged false accusations Howard made to the public about threats she allegedly made against him and his current wife, Miranda Pak, online.
This is just the latest legal trouble in Terrence Howard's long history of violence: In 2001 he was arrested for assaulting his first wife, Lori McCommas, and later pled guilty to disorderly conduct after reportedly admitting that he "broke the door down and hit [his] wife." The previous year he was arrested for assaulting a female flight attendant, though those charges were ultimately dropped. In 2005, he was arrested for assaulting a woman and her fiancé at a Philadelphia diner, and again later pled guilty to disorderly conduct. In 2011 Ghent filed for a restraining order against Howard after detailing over a year of domestic abuse in their divorce papers. In 2012, May Seng Yang, an ex-girlfriend, claimed that during a dispute with Howard, he punched and strangled her in front of his then-girlfriend. Howard also accused the woman of attacking him, and the two later settled out of court. In 2013, Ghent was granted a second restraining order against Howard after showing up to court with a black eye following the alleged incident described in the new lawsuit.
Of the multiple allegations of abuse, Howard told Entertainment Tonight in 2013 that he "really can't harm a fly."