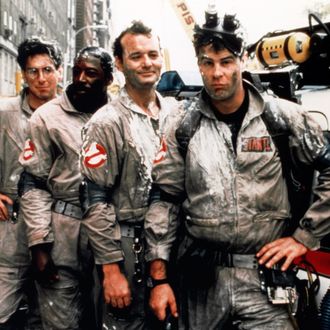 Only four X chromosomes — just as our ghostbusting founders intended.
Photo: CinemaPhoto/Corbis
In a symbolic victory for men everywhere, it looks like that rumored all-male Ghostbusters reboot is closer to inception than we previously realized. Screenwriter Drew Pearce told MTV that he's just finished a draft of the script for the Russo Brothers, and now it's just a matter of finding four funny dudes to break the gender barrier and prove that, no matter what anyone might say, men can be Ghostbusters, too. Pearce also said that he wanted both his film and Paul Feig's upcoming all-female Ghostbusters to "occur in the same Ghostbusters universe," but it's still unclear if social justice has progressed enough for America to embrace a franchise where both men and women can bust ghosts at the same time.
Update: Ivan Reitman tells Slashfilm that the stories about the all-male Ghostbusters are "just noise": "There is only one new Ghostbusters movie and that is the Paul Feig–directed version coming next July." However, Reitman himself has previously teased the second Ghostbusters film as recently as March, confirming that Pearce was writing a script for the Russos. The two interpretations, then, are that either the new film has stalled somewhere in development, or, more likely, Reitman's just trying to keep the spotlight on Feig's film.