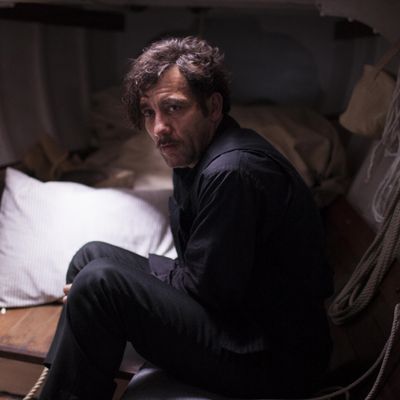 Clive Owen in season two of The Knick.
Steven Soderbergh's turn-of-the-20th-century drama, The Knick, injected more style into the medical-show genre than it's ever seen — so much so that Matt Zoller Seitz called it "the greatest sustained display of directorial virtuosity in the history of American TV." Season two, needless to say, has a lot to live up to.
The following teaser — officially announcing the show's return on October 16 — is all aesthetics, featuring the show's hallmark, soft-yet-unsettling camera work. But the promo hints at plot as well. One frame shows a group of men dawdling behind a barbed-wire fence with a "Quarantine" sign hanging on it. Look closely, and you'll see it was issued by the San Francisco Department of Health, signaling a locale shift at some point this season for the New York-set drama (in the season one finale, we left Cornelia unhappily marrying a man who informs her they'll be moving to San Francisco). A casting notice for The Knick back in March called for: "Non-Union Asian Men to portray Chinese Pedestrians! Ages 18-99. The scene takes place in a quarantine camp in San Francisco Chinatown in 1901." The casting call made a special note: "Especially seeking men with long hair!"
All the long-haired men will be revealed, this October 16 on Cinemax.