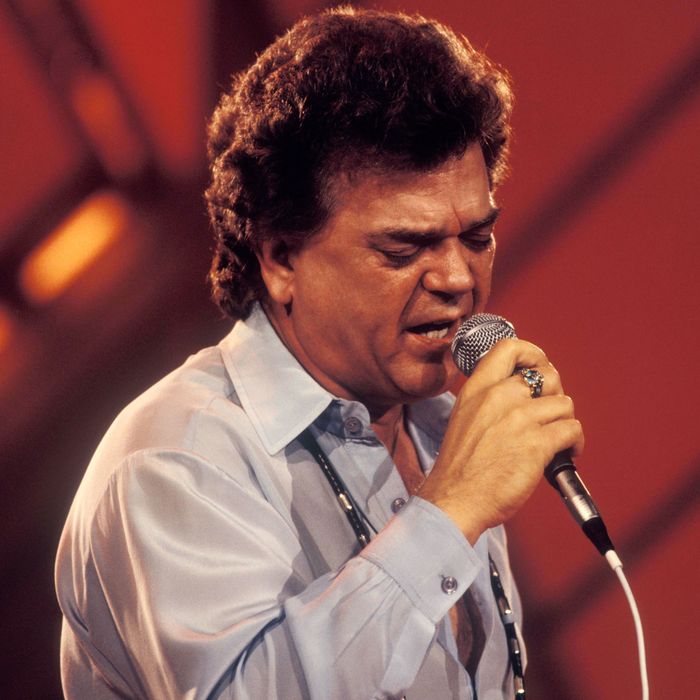 Conway Twitty.
Photo: David Redfern/Redferns/Getty Images
Given True Detective's penchant for teasing out legendary tales, it's fitting that a king (or, rather, the shadow of one) hovers over the second season's third episode. It opens with what appears to be an Elvis impersonator (played by Jake La Botz) decked out in a shimmering powder-blue suit. He's on his knees, pomaded hair slicked back, hamming it up onstage at Ray Velcoro's local dive bar, not by lip-synching an Elvis tune but "The Rose," a Conway Twitty cover first made famous by Bette Midler.
Only two people are present to witness this spectacle: Ray and a man sitting across from him. We later learn it's his father, with whom he has a fraught relationship. To wit: "You lacked grit," Ray's father grumbles to his son, whose chest currently spurts with true blood from the two riot shells he was shot with in episode two's nail-biting conclusion. Behind them, pseudo-Elvis croons: "Some say love, it is a razor / That leaves your soul to bleed." Ray then is roused from the dead — erm, the subconscious — just as the song hums to a finish on a nearby radio. While this ephemeral dream-sequence-cum-near-death-vision is a feverish love letter to David Lynch — the Elvis impersonator is bathed in blue light onstage, not unlike La Llorona de Los Angeles's uncanny performance in Mulholland Drive, and the scene plucks at Dale Cooper's visit from a clairvoyant giant after being shot in Twin Peaks — "The Rose" is admittedly an unusual choice for this hard-boiled series.
Yet grappling with the prickly parts of love is what "The Rose" is all about. The song's seeds can be traced back to a quiet afternoon in the 1970s, when budding songwriter Amanda McBroom was gunning down the freeway. On her website, McBroom recalls hearing Leo Sayer's version of Danny O'Keefe's "Magdalena" come on the radio. One couplet stuck her like a thorn: "Your love is like a razor / My heart is just a scar." She then sped home to pen down what love meant to her because she didn't agree with the idea that it was that cutting. "The song was automatic writing. It is my philosophy," McBroom recently told The Wall Street Journal. From that chance moment, "The Rose" bloomed.
At the insistence of her musician friend Michele Brourman, who heard of an ambitious film project percolating (The Rose, loosely based on the life of Janis Joplin), McBroom submitted the song to producers. They weren't that keen on "The Rose," but then-music supervisor Paul A. Rothchild offered it up for consideration on The Rose's soundtrack anyhow. Midler selected it and immortalized the song in her role as Mary "Rose" Foster, an established blues-rock legend bristling against the pressures of fame in Mark Rydell's eponymous 1979 film. It was The Rose (Midler's first film role!) that established her as a performer, encompassing the vulnerable and vulgar in equal, elegant measure. This was in no small part due to the film's elongated concert scenes and her dulcet version of "The Rose," which plays under the end credits.
Four years later, the gristly Conway Twitty released his cover of "The Rose," which charted at No. 1 on the country charts upon its 1983 release. At that point, the country star already boasted 29 No. 1 singles on the Billboard country charts, and would have 20 more before his 1993 death. The song has since evolved into a sweet (if campy) classic, covered by the likes of the Irish boy-band Westlife even to Christopher Maloney, a hopeful competing for a spot on the U.K. singing showdown The X-Factor.
And "The Rose" is arguably True Detective's most self-aware musical selection thus far. It's unabashedly a love song, but love seldom pays the town of Vinci a visit. No one particularly loves their jobs, themselves, or life, for that matter. Ani ends her courtship with a police officer for inexplicable reasons. Paul meets up with a fellow soldier buddy, and while it's clear the two men were previously engaged in more than combat together, Paul refuses to acknowledge it and hides behind a self-loathing mug instead.
Ray is the sole character who embraces love in all its barbed forms. He admits that his father made him nervous, yet still scores him pot to help with his health issues. A telling moment happens when Ray checks in with the doctor after the shooting and discovers his liver's redlining. "Do you want to live?" the doctor suddenly asks him. He's rendered silent, unsure himself. After all, the sole person he loves in this world, his son, Chad, might be taken away from him soon. So what's there to live for if not for the one you love? Love isn't tender in True Detective, as Conway might plead otherwise, but rather an aching need the characters consciously ignore again and again.
Yet it's the final hopeful lines of "The Rose" that prove to be the most evocative: "Just remember in the winter / Far beneath the bitter snows / Lies the seed that with the sun's love / In the spring becomes the rose." It's no coincidence that Vinci's motto is "Towards tomorrow." The highway shots of cars thumping across California's veins, trickling like blood running through vessels, hint at the desire for escape to a rosier elsewhere. Everyone is attempting to lurch forward in True Detective, whether it's Frank constantly eschewing the big, bad old days he left behind (and inches closer to falling into once again), or Paul quarantining the past, despite clouding his potential identity as a closeted gay man.

Heck, the detectives don't even seem made for these times at all — except Ani, who unapologetically continues to puff at an ecigarette much to Ray and Paul's dismay. But the residents of Vinci are also living recklessly, trying to forget tomorrow. When asked by his wife Jordan if he wants to talk about what's aching him, Frank murmurs: "Maybe tomorrow." So whether you're of the mind that love is a cutting razor or even a rose, one thing is certain: It hurts.