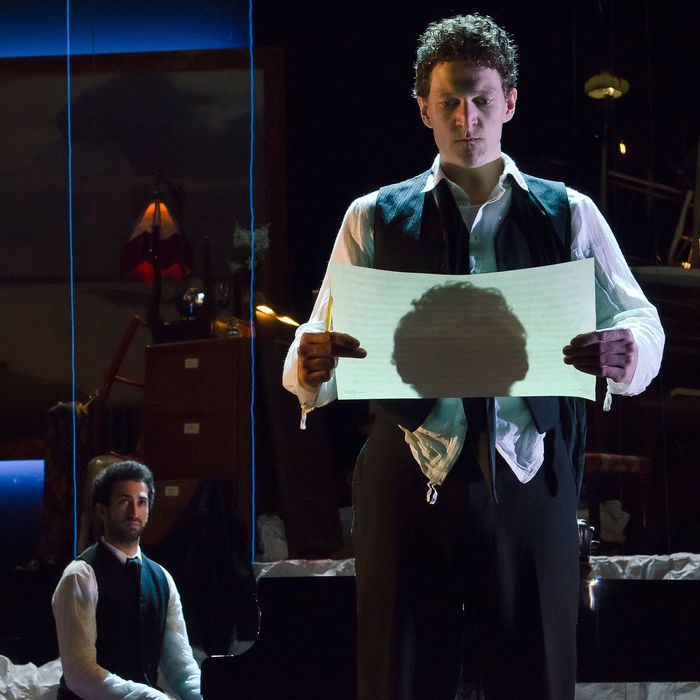 Dave Malloy has a thing for the Russian romantics. His recent electropop opera Natasha, Pierre, and the Great Comet of 1812 — presented in a big tent fabulously tricked out as a Czarist nightclub, if there were such a thing — was based on a slice of Tolstoy's War and Peace. (Tolstoy survived the surgery.) His new piece, Preludes, being given a spectacular production at LCT3, sets its sights on Sergei Rachmaninoff. Though subtitled (like some of some of the composer's solo piano works) a "fantasia," it is more faithful to the facts, if not the implications, of its subject's life than many recent musicals purporting to be actual history. Malloy focuses on a period of several months in 1900, when the composer, at 27, was still suffering from a monumental case of writer's block brought on by the disastrous premiere of his first symphony three years earlier. As he undergoes a course of hypnotherapy in an effort to break the dam, scenes from his past (and even his future) appear before us: his early success, his subsequent humiliation, his love affair with the cousin he would eventually marry. What holds this fragmented narrative together, to the extent anything does, is Rachmaninoff's struggle to understand what it might mean to be a great artist. Chekhov, Tchaikovsky, and others weigh in; Tolstoy himself makes an especially unhelpful contribution.
I came late to this party: Preludes opened five weeks ago, to raves. Certainly the praise for the performers, the design, and the direction (by Malloy's regular collaborator Rachel Chavkin) are merited. For most of two hours — there's a brief pause halfway through — these elements make the show delightful to watch. Chavkin, who had a large hand in shaping the material, stages it beautifully on Mimi Lien's astonishing bricolage of a set. The sweep and clutter of the composer's imagination are perfectly realized, with characters sometimes spinning on turntables, or climbing over furniture, or seeming to materialize and dematerialize at will. The feeling of timelessness inherent in Malloy's use of early-20th-century figures (and patois) to address early-21st-century concerns is enhanced by the smart use of colorblind and, in one case, gender-blind casting. Nikki M. James, who won a Tony as Nabulungi in The Book of Mormon, is Rachmaninoff's fiancée, Natalya; Eisa Davis (the mother in Passing Strange) plays his hypnotherapist, Nikolai Dahl, in cotemporary layered loungewear. They and the rest of the cast are never less than engaging.
The show is also delightful to hear. Only about four numbers are purely Malloy's; the rest are either faithful renditions of Rachmaninoff's, or hybrids created by borrowing and building on top of their harmonic structures. This was daring — who could compete with the originals? Indeed, the poetry of a song like "Lilacs" is so intense that Malloy's musical commentary on it seems like a series of superimposed scribbles. That's fine; Rachmaninoff stands up to the Talmudic approach. And what a joy it is to hear even such overly familiar pieces as the Prelude in C-sharp minor, let alone such underly familiar ones as the Musical Moment in B-flat minor, played so well, at close range, by Or Matias on the grand piano. (Two synthesizers provide Mallovian effects in other numbers.)
Matias is called "Rach" in the program; he is the performative half of the main character. The psychological half is embodied by Gabriel Ebert, a Tony winner for Matilda, superbly drying out the clichés of the Famous Artist Bio-Entertainment genre. Still, it has to be noted that those clichés are rampant. Especially in a long passage near the end, when Dr. Dahl employs a kind of guided meditation to help Rachmaninoff climb the mountain of his fears — the set actually transforms into a miniature Kilimanjaro — Preludes can bring to mind the silly and self-indulgent psychiatric fantasies of movies like The Agony and the Ecstasy and Lust for Life. It's a case of disappointing ends not justifying thrilling means. And what, after all, is Malloy trying to say? In the last minutes of the show, Chris Sarandon, who has played all the "great men" so far, enters in modern dress as a character called only The Master, who is clearly a stand-in for the author. "My parents had this record, 'The Great Rachmaninoff Concertos'," he says. "I would stare at it for hours." In a passive-aggressive monologue, The Master — that is, Malloy — seems to thank Rachmaninoff for his inspiring music but also, making an inerrant beeline for bathos, to situate himself in the same line of greatness. Rach wrote the C-sharp minor prelude at 19; Malloy is 39. Still, on the evidence of Preludes, that conclusion is premature.
Preludes is at the Claire Tow Theater through August 2.