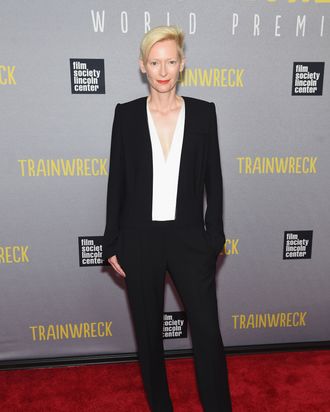 Tilda.
Photo: Jamie McCarthy/Getty Images
It's common knowledge that Tilda Swinton, actress, David Bowie doppelgänger, napping performance artist, is an otherworldly object of fascination for culture consumers. So it's not surprising that when a photograph surfaced of Swinton with another riveting outsize personality — one Kanye West — at a dinner in Paris during Couture Week, the internet latched on to it as a sign of a blossoming friendship. As card-carrying members of the internet, Vulture was not immune to wondering what might have transpired between the two pop-culture aliens at that dinner.
At the premiere for Trainwreck, hosted by the Film Society of Lincoln Center, we got the chance to speak with Swinton herself. Barely had the words, "So, you and Kanye West …" left our mouths when she broke in, declaring, "You are the fifth person to mention that!" She went on to explain, seemingly surprised and bemusedly exasperated, "I was at a dinner. I was photographed once with Kanye West, and apparently we're very close friends now! What can I say? You and I are closer friends than Kanye and I — we've talked for longer." You heard it here, on the record: Tilda Swinton and Vulture are BFFs.