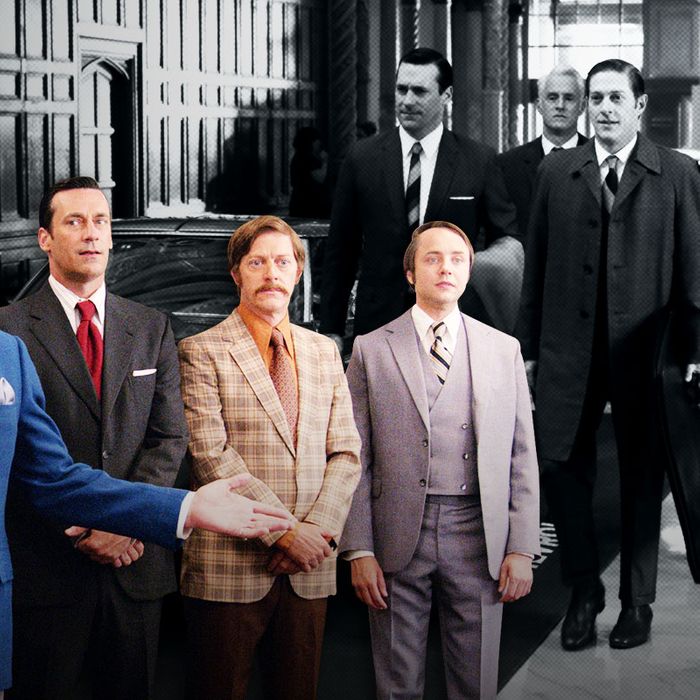 Photo: Kelly Chiello and Photos by AMC
In the ever-increasingly impatient and fractured world of television, time-jumping — when a series unexpectedly propels its characters and plot forward a significant amount of months, or even years — has become the go-to method for injecting new life into a series: For its seventh and final season, Parks and Rec shook off conventional sitcom expectations, jumping three years into the future. In May, the season-two premiere of Halt and Catch Fire revealed a two-year jump. Later this summer, the teenage girls of Pretty Little Liars will become young women, reportedly jumping four years ahead.
Time-jumping, of course, is not to be confused with flash-forwards, a common storytelling technique that flashes ahead to point B before backing up to point A. Time-jumping shrugs off point B entirely and hightails it for C. Shows that time-jump have the option to draw from the skipped time but are not pressured to come up with the same sort of clever ad hoc explanation that's expected from a flash-forward. Time-jumping shows can move on and never look back: It's the TV equivalent of ghosting.
TV time-jumps — once more common with science-fiction series — have not only been increasing in frequency and length, showrunners are getting more creative about when in a season the fast-forward happens. Pretty Little Liars' upcoming jump is taking place mid-season, and Masters of Sex similarly skipped three years in the middle of a season. This past May, Grey's Anatomy moved its characters nine months into the future — not in a season finale cliff-hanger but, rather, in the usually unremarkable third-to-last episode of the season.
From a showrunner's perspective, time-jumping is understandably tempting. The device gives a series immediate flexibility in terms of story choice. With a significant jump of a year or more, showrunners can avoid some of the more sluggish, uninspired story lines like college (e.g., Pretty Little Liars) and babies (Parks and Rec) — two important rites of passage that rarely translate well on the small screen. (Think of the potential for season three of Veronica Mars if the show had skipped Hearst College and instead had her working at the Neptune FBI bureau office.) Not that time-jumping doesn't cause its own problems. Overuse of the device risks losing some of its jaw-dropping appeal. It may also create challenges for shows that routinely incorporate technology or pop-culture references.
One of the earlier and more memorable examples of time-jumping was the 2003 season-two finale of Alias, when double agent Sydney Bristow mysteriously wakes up in Hong Kong, only to learn that two years have passed since the events of season two. But if there was a year when time-jumping really seemed to pick up cachet, it was probably 2008. In January of that year, One Tree Hill, which for four seasons had followed high-school students as they dealt with romantic and family angst, unceremoniously jumped ahead four and a half years to show those students as young adults, skipping the college experience entirely. (One Tree Hill would later jump again in its seventh season, this time a more modest 14 months.)
In the summer of 2008, another important time-jump took place: Season two of Mad Men skipped ahead from November 1960 to February 1962, the first of many season-premiere jumps for the series. In the blink of an eye, we watched Peggy go from insecure, unknowingly pregnant secretary to a svelte, confident copywriter, the pregnancy as far in her past as dictation. The success of Mad Men's time-jump approach meant viewers were comfortable filling in whatever blanks the show created. Mad Men eventually became a sui generis time-jumping show — i.e., where the time jump itself and the larger societal changes associated with the jump played as important a role in the show as the developments in the individual characters' lives (see also: Halt and Catch Fire, Masters of Sex, and The Americans) — what year it was in Mad Men was as necessary to the show's trajectory as the state of Don and Betty's marriage.
Whatever the reason for its recent popularity, time-jumping is likely here to stay. The Vampire Diaries and Catastrophe are two series that reportedly will feature an as-yet-undisclosed time-jump in their next seasons. With this trend in mind, here are three returning series that Vulture would like to see time-jump next season, and where we'd like the shows to end up.
Nashville
Where it last left off: Deacon may or may not have survived liver-transplant surgery; Rayna was successfully running her own record label; Juliette struggled with postpartum depression.
Proposed time-jump: 3 years
Where it should pick up: Having spent so much time on Deacon's health last season, we don't need to see the post-transplant rehabilitation and recovery period. As for Rayna, her status in the industry has never felt truly in jeopardy. A time-jump to her living as a broke has-been whose label failed could help prop up a great comeback scenario. Plus, who doesn't want to see Juliette turn into a stage mom who pushes her 3-year-old daughter into the toddler pageant world?
The Vampire Diaries*
Where it last left off: Elena was in a coma for the duration of the series; Stefan promised to wait for Caroline; Alaric's fiancée, Jo, was killed at the altar by her psycho twin brother; Enzo kind of just wandered around and stuff.
Proposed time-jump: 5 years
Where it should pick up: With a five-year jump, Damon would be more well-adjusted to life without Elena. Viewers already watched Damon miss her last season while in the 1994 prison world and after the erasing of her memories, so it'd be nice for the show not to dwell too much on Delena angst. This jump would also mean the end of Whitmore College and class-related subplots. As for Stefan and Caroline, there's little need for more will-they-won't-they, so let's see them deep in a happy and committed relationship. It's about time Mystic Falls had some good relationship news (RIP, Damon/Elena, Tyler/Liv, Jo/Alaric, Meredith/Alaric, Jenna/Alaric, Isobel/Alaric … okay, so maybe give Alaric a happy relationship, too).
The Good Wife
Where it last left off: Alicia, falsely accused of voter fraud, lost her chance to become state's attorney; Alicia's legal nemesis, Louis Canning, offered to start a firm with Alicia; Peter was considering running for president.
Proposed time-jump: 2 years
Where it should pick up: Last season, a good chunk of time was spent on Alicia and Cary's start-up firm and Alicia's campaign. Skipping two years ahead, the show could avoid retreading a start-up subplot and simply show Canning Florrick LLP as an established firm, one able to compete with Diane and Cary's firm. That jump would also allow enough time for Peter to have lost the presidential campaign (the show needs a serious campaign breather) and decide to open up a lobbying firm with Eli Gold.
* Last season's finale included a flash-forward teaser showing an abandoned Mystic Falls an unknown number of years in the future. While executive producer Julie Plec told BuzzFeed that the show would go back in time to explain that flash-forward and "play" with time-jumps, it's unclear whether any time-jump will stick.