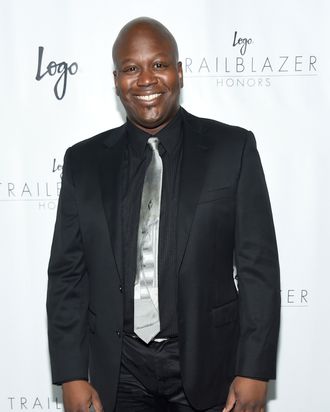 Congratulations!
Photo: Michael Loccisano/Getty Images
While there were some expected snubs at the Emmys, there were also delightful surprises — for example, Tituss Burgess snagging his first Emmy nomination for playing Titus "Pinot Noir" Andromedon on Tina Fey and Robert Carlock's Unbreakable Kimmy Schmidt. After the announcement, Vulture called Burgess, who made a point of saying that he's sharing his nomination with (snubbed) co-star Ellie Kemper.
Congratulations! How did you hear the news?
My publicist, my agent, and my manager had a call, and they conferenced me in. I watched a little bit of the live telecast online. After I realized that the other nominations weren't going to be broadcast, I went downstairs and poured myself a drink and came upstairs. Then my phone rang.

A lot of your co-stars, including Jane Krakowski, Tina Fey, and Jon Hamm, got nominated. And the show got a nomination for best comedy. Did you expect that?
No. But if I can be frank, Ellie Kemper was snubbed. I'd like to go on record saying that she is a part of my nomination. I could not have done this without her, so I accept this on both our behalves.

Noted! She is phenomenal in the show.
She is absolutely amazing. This is my first time around the rodeo. I don't know how this stuff works, but I do know that when I showed up to work, she was there and ready to go and guided me. It stung a little. She's such a trooper. She's unfazed by all this stuff. We chatted about it long before. I know that she is happy for all of us, but my desire for her was that she would be recognized for her contribution.

It's tough, especially now that there's so much good TV.
Well, Netflix shook that up. They're doing such great programming. There are so many choices. The buffet is wide and long, and we can decide what we want to watch.

Totally, and it's hard to distinguish yourself now when there's such a competitive, crowded field. So, kudos to you!
I suppose. I didn't set out to distinguish myself, and that's the honest truth. I actually just told my best friend this morning when she showed up, I started crying. I said to her, "Why am I crying?"
When I got to New York, all I wanted to do — or so I thought — was win a Tony award, or at least be nominated. Suddenly my trajectory changed. Life moves so fast, my friend. I am just lucky and happy to have the people I care about there along with me, watching all of this occur.

Have you talked to Tina and Robert?
I mean, Tina — come on, dude, she doesn't have time for me. [Laughs.] She created an entire show that was nominated for an Emmy this morning! We emailed, and she congratulated me and said, "So well-deserved." I didn't know it at the time that she and Jon Hamm were nominated, and I emailed her back, and she goes, "In your own words, Tituss, So stupid." I say that so often. I think things that are funny and ridiculous I go, "So stupid." I knew that if she were reiterating something that I already said, that she thinks it's something truly special. It was lovely to share this with her because she was giving me a whole new world. There you have it. Print it!