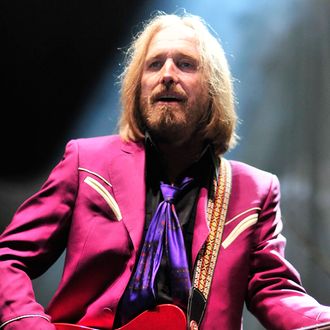 Tom Petty.
Photo: Jerod Harris/Getty Images
In the latest installment of musicians commenting on Confederate flag use and inequality in the U.S., Tom Petty has stepped up to call the flag downright stupid. Petty, born and raised in Gainesville, Florida, explains in an as-told-to essay for Rolling Stone how he was introduced to the banner, as well as its oft-misconstrued legacy. "I always knew it had to do with the Civil War, but the South had adopted it as its logo," he says. "I was pretty ignorant of what it actually meant." In 1985, Petty even used the Confederate flag to promote his Southern Accents album and tour, noting in his RS interview that it wasn't till a couple of years later that he realized the use might've been in poor taste. Now he regrets it. "It was dumb and it shouldn't have happened. … People just need to think about how it looks to a black person," he elaborates. "It's just awful. It's like how a swastika looks to a Jewish person." Below are some more of Petty's thoughts:
On using the flag as a marketing tool:
I wish I had given it more thought. It was a downright stupid thing to do. … It happened because I had one song on the album called "Rebels." It's spoken from the point of view of the character, who talks about the traditions that have been handed down from family to family for so long that he almost feels guilty about the war. He still blames the North for the discomfort of his life, so my thought was the best way to illustrate this character was to use the Confederate flag.
On South Carolina's decision to lower its Confederate flag:

Lowering the flag from the statehouse grounds was the right decision. That flag shouldn't have any part in our government. It shouldn't represent us in any way. The war is over. You know, it's a bit ironic: It's the only time that I know of where we defeated a country in a war and then flew their flag.
On Southern pride, as it relates to the flag:
Southern pride gets transferred from generation to generation. I'm sure that a lot of people that applaud it don't mean it in a racial way. But again, I have to give them, as I do myself, a "stupid" mark.

On today's Stateside inequality:

The way we're losing black men and citizens in general is horrific. What's going on in society is unforgivable. As a country, we should be more concerned with why the police are getting away with targeting black men and killing them for no reason. That's a bigger issue than the flag. Years from now, people will look back on today and say, "You mean we privatized the prisons so there's no profit unless the prison is full?" You'd think someone in kindergarten could figure out how stupid that is. We're creating so many of our own problems.

Read his whole essay here.