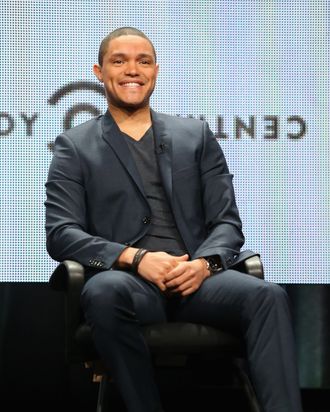 Your new Daily Show host.
Photo: Frederick M. Brown/2015 GG
At the Daily Show panel of the 2015 Television Critics Association summer press tour, Trevor Noah announced that he would be keeping the senior producers from Jon Stewart's era but probably lose some of the Fox News jokes. "The Daily Show was based on an emerging 24 hour news cycle," Noah said, according to EW. "The biggest challenge is going to be an exciting one I'm sure is how are we going to bring all of that together looking at it from a bigger lens as opposed to just going after one source — which was historically Fox News." This means all of the internet can be pilloried!
Noah will be keeping the executive producers around: Steve Bodow, Jen Flanz, Tim Greenberg, Jill Katz, and Adam Lowitt have all re-signed their contracts. That said, Noah said it won't be the same TDS because he's not Jon Stewart. "I'm taking things in a slightly different direction, but to the same endpoint," he said. "We have different access to different jokes, different sensitivies … the most important thing is the place that you come from."
If this is any indication, Noah did an hourlong set the night before that didn't contain any jokes about 2016 political candidates. Instead, according to Deadline, the edgiest jokes were about race and police brutality. In one joke, he credited the U.S. for its "charming" racism, and talked about a southern "belle" who told him he was "the funniest and handsomest [racial slur] I've ever seen." Noah quipped, "I was shocked — isn't it 'most handsome'?"

As for the controversy that Jon Stewart told writer and correspondents Wyatt Cenac to "fuck off" when he was challenged about race, Noah said that the story wasn't really about the "accent" Stewart had deployed, but the office politics: "The story wasn't about the accent itself, the story was framed around an incident in the office."
And regarding his own controversy, Variety reports that Noah said that he didn't "strive" to be offensive with his tweets: "That's not who I am as a person. That's not who I am as a performer." Instead, he says that the larger format offered by The Daily Show would better allow him to explain his jokes. "Luckily, Comedy Central hasn't limited me to 140 characters on the show," he said.