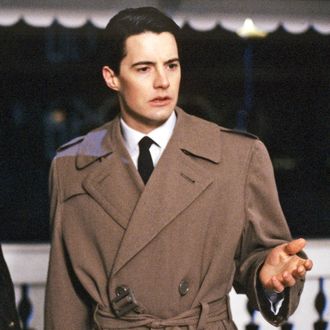 We'd love some cherry pie.
Photo: ABC/Getty Images
It has been a winding road for Showtime's revival of Twin Peaks. It was on, then David Lynch quit, which had everyone begging him to come back, and then Lynch was back on again. The original word was that the show would premiere sometime in 2016, but it seems we're just going to have to wait a little bit longer. In a visit to the National Baseball Hall of Fame and Museum, co-creator Mark Frost said that the show wouldn't drop down until 2017, implying that it's because he wants it to be a game-changer.
"A lot of people always look back at Twin Peaks and say that was the start of this explosion we've had in good television drama, but we did it in a time when there were still only three networks. The challenge for us is to try and come back and raise the bar above what we did the last time," he said. "We're coming back with season three of Twin Peaks after a 25-year absence. We've finished the scripts, we start production in September, and that will be coming out on Showtime sometime in 2017."
Now, four months later, CBS chief Leslie Moonves, talking on CBS's third-quarter earnings conference call, confirms that it will be 2017. Considering that he's everyone's boss, we should probably take him for his word on this.