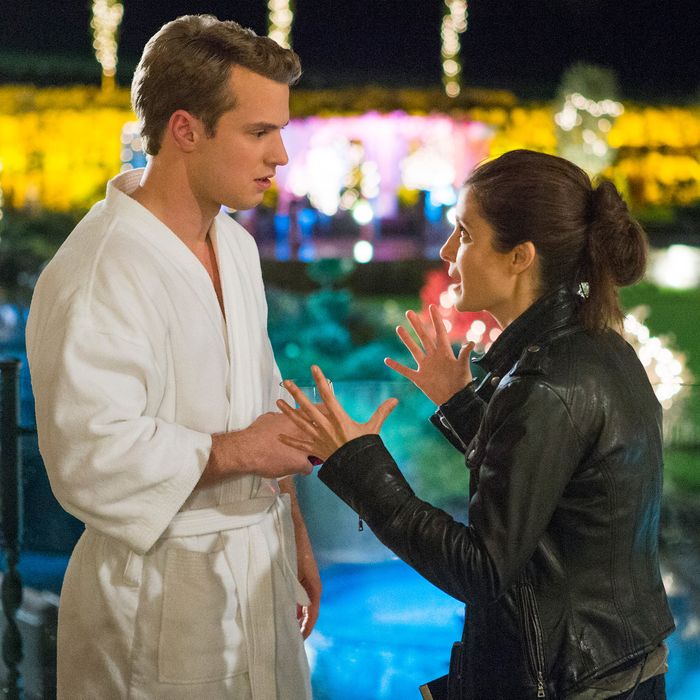 Just make out already.
Photo: James Dittiger/Lifetime
Next week we'll have our Bachelorette finale. Thank God, because it's getting incredibly boring over there on network TV. And while that's a merciless recap for quite literally another show and another time, things on UnREAL, Lifetime's Bachelor-inspired breakout hit of the summer, are only getting more interesting. If only the real Bachelorette producers could engineer their reality show as well as the fake producers of UnREAL's Everlasting do each week, am I right? Sure, that would mean switching a contestant's medication so that she sinks into a deep depression and throws herself off a rooftop — but at least now we know just how far these Everlasting producers are willing to take it to have their people take home the prize. That roof-hanger two weeks ago didn't just leave you with a nasty taste in your mouth; the remaining Everlasting girls feel kind of weird about it, too. Not to mention our suitor, Adam Cromwell, who just loves to fluctuate between Good Guy and Bad Guy. Either way, time moves faster in TV-land, and someone has to win this game soon. It doesn't even matter who. Showrunner Quinn orders her team of pathological minions: "Let's just forget who the front-runner is; I need a horse race."
This episode is all about power: who has it, who wants it, and who's losing it. We even have a new opportunity hanging in the balance: Royal Love is the Everlasting spinoff (after a two-hour televised wedding special, of course) where our happy couple, Adam and the Girl of His Dreams, enjoy their first year as a married couple. (Does this mean season two of UnREAL will ditch its Bachelor setup to stay with Cromwell? Think Trista & Ryan's Wedding, but instead of a Bachelor Pad–type spinoff, this dating show's getting its very own Khloe and Lamar.) Proposed by Chet and Quinn to one of the show's investors, all they need is Adam to agree to star. And who knows Adam better than Rachel? She'll get to be showrunner, Chet promises, if she can get Adam onboard. "It's everything I've wanted in my entire career," Rachel then tells Adam. Let's not forget that she woke up in his bed earlier that morning. No sex, just bonding. She tells him about her dreams to "write novels" and "save African AIDS  babies," he recalls. "Those are just my dreams," she answers. "This is my actual life." Oof.
But with every rebuttal, Adam becomes more and more irresistible to the Real Rachel. Oh, the delicious irony! We keep getting glimpses of this Rachel — she's the gender-studies major made totally uncomfortable by the entire thing, the girl who also seems to genuinely miss her ex Jeremy — whom we last saw cheating on his fiancée to be with her. This week Jeremy calls his engagement off, telling Rachel that he's ready to give them a shot again. For just a moment, she looks happy. Actually, you be the judge: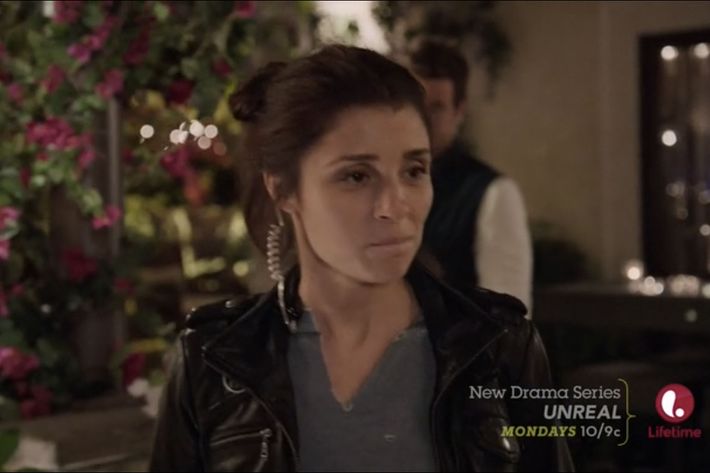 It's impossible to know, really. There's Real Rachel and then there's Producer Rachel, whom Shiri Appleby expertly renders completely unreadable. I mean, have we gotten a good sense of what she actually wants yet? Has she? Chet needs her to convince Adam to do the show, so Chet decides to practically race them off the road in an attempt to make her feel her own power: "There's nothing you can't do, Rachel, nothing," he screams as she slams on the brakes, missing the guard rail by an inch.
Turns out he's right. She masterfully offers Adam a plan to turn Royal Wedding into some sort of renovation show: He'll get a free fix-up of his dilapidated vineyard, along with more publicity and, she promises, no marriage, just a sham engagement. She even offers him Anna (She's smart and classy!) instead of Grace. He agrees. And it doesn't take much to set up — just a weird date setup involving tantric closeness and an apology that ends with a make-out scene. In case you thought Rachel was over Adam, here she is watching Anna and Adam kiss — a kiss she engineered: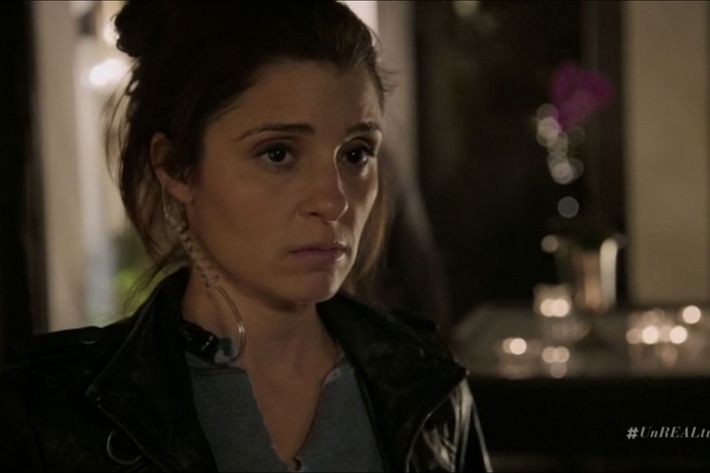 It doesn't seem like anyone's ending up happily married by the finale of UnREAL's first season. Chet agrees to give his pregnant wife $50 million if they can handle their divorce amicably and quickly proposes to Quinn. (He hilariously asks for her hand in marriage amidst a romantic setting straight out of their TV show; at first she thinks the crew set up for the season finale too early.) Quinn's long-awaited bliss doesn't last very long: Dirtbag Chet finds time to screw around with the pigtailed P.A. (ew) and Quinn finds out. She puts her engagement ring in a safe, grabs a mysterious USB dongle (plans to their spinoff show, or some other form of blackmail?), and suggests to Chet that they actually should go for a quickie wedding. When this is all over, he's going to need that lawyer after all.
This week's roof-hanger (Sorry! I can't help myself!) is none other than Rachel consummating the Royal Love agreement with Adam. That's right, as her phone buzzes with texts from Jeremy, she's bangin' Cromwell in his very own bed. And as scenes from next week's episode reveal, it's all caught on tape. Well, duh. You wanna bet Producer Rachel went into that bedroom knowing the cameras were on and rolling? It's her job to know.
P.S.: A fond farewell to Producer Jay and his final girl, Shamiqua. No amount of ass crack could save you both from the racism of America and that control room.