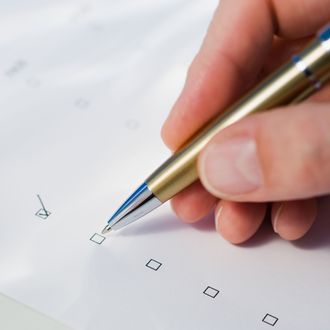 Photo: Tetra Images/Getty Images
This thing we have here, you and us? Readers and writers? It's a two-way street. We put words out there and you send words back, and generally speaking, we're both better off for it. Sometimes, though, we worry that you think we're not listening. Make no mistake, we are: Reading the comments. Seeing what you say on social. Fishing your emails out of our overly vigilant spam filters. We care what you think. We're just not always that great at showing it.
So let's correct that now. We put together a 15-question survey to learn more about you and what you want from us: How you use social media. What other sites you enjoy reading. What you'd like to see us cover more or less. How we can become the Vulture of your dreams.
And, it's anonymous. What do you have to lose? Simply click here to take the survey. Spend five minutes now to ensure we don't waste your time in the future. Because we definitely don't ever want to waste your time.