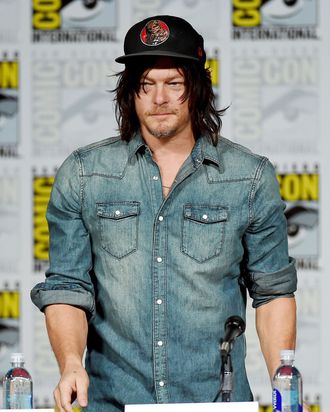 Norman Reedus, crushing candies and skulls.
Photo: Ethan Miller/Getty Images
Norman Reedus, the actor who plays taciturn crossbow-wielder Daryl on The Walking Dead, had his wit on full-force at San Diego Comic-Con this weekend. Unlike his character, he's happy to talk, quipping that he had a process on getting into character. "Motörhead, coffee, Candy Crush. I'm so in to Candy Crush it's ridiculous," he said during the Walking Dead panel on Friday. "I've spent hundreds of dollars." Moreover, he knows what will whip fans up into a frenzy. "You could say 'Richonne,' or you could say 'Caryl,' spelled like Carol and Daryl. Or 'Bethel.' People are really into 'shipping," Reedus told Vulture after the panel, at the Skybound Entertainment party. "Everybody wants everybody to bone. It's very strange."
Well, who would he want to eat if he became one of the undead? "Danai's lookin' pretty tasty lately, y'know what I mean?" he said with a smile. "She looks pretty yummy." Vulture relayed the information to Danai Gurira, who plays samurai-sword-toting Michonne. "That sounds like Norman. Wants to eat? Is that a compliment? I don't know," she told us at Entertainment Weekly's Comic-Con celebration. "I take it as a compliment, absolutely. He's a good person to get munched on by." Maybe instead of killing off two beloved characters, though, we can just make "Daronne" happen.