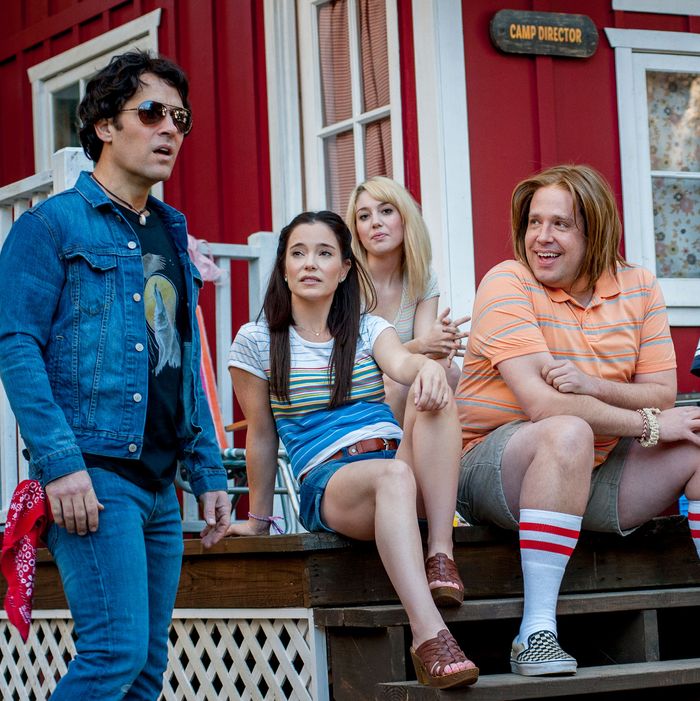 Remember?
Photo: Gemma La Mana/Netflix
Wet Hot American Summer is an improbable movie. It struggled to find financing, then to find distribution, then to find admirers. Only later did it become one of the most dissected, beloved movies of the decade. The movie itself a patchwork of tonal improbabilities: It's parody that slips back and forth into an earnest homage, a farce that sometimes plays it straight. NASA's Skylab crashes to Earth, right on Camp Firewood, but also a whole beat revolves around picking up a plastic cup off the dining-hall floor. Wet Hot American Summer: First Day of Camp is even more unlikely in so many ways: There's always chitchat about cult-movie reunions, but they almost never happen, particularly when cast members go on to the levels of fame that WHAS's cast has gone on to. It's a prequel in which actors now in their 40s portray teenagers. And in the oddest move of all, it's actually good.
It is not, however, a stand-alone piece of entertainment. While plenty of the material is funny, it is all much funnier within the context of how it relates to the movie, which is set on the last day of camp, just a few weeks after the events of the series. Yes, Gail's wedding is ridiculous — but it's even more ridiculous when you know that in the film, she's lamenting her recent divorce. Consider this your encouragement to watch the movie immediately before starting the series: It is wall-to-wall Easter eggs, and the better your recall, the more resonant the material will be.
WHAS: FDOC reunites the original cast — Janeane Garofalo, David Hyde Pierce, Molly Shannon, Paul Rudd, Christopher Meloni, Michael Showalter, Marguerite Moreau, Zak Orth, A.D. Miles, Elizabeth Banks, Marisa Ryan, Amy Poehler, Bradley Cooper, Michael Ian Black, Joe Lo Truglio, Ken Marino, Jon Benjamin, Nina Hellman, David Wain — and throws in a full eighth of the world's population, including half the Mad Men cast, Josh Charles, Paul Scheer, Jordan Peele, Abby Elliott, Lake Bell, Chris Pine, Randall Park, Michaela Watkins, Jason Schwartzman, and Kristen Wiig, among many others. If this person has appeared in a comedy, ever, they probably have a cameo here. The green-screen editing issues that plagued Arrested Development's Netflix revival are absent, and whatever arduous scheduling had to be accommodated was done seamlessly.
FDOC accomplishes everything we could ask for from a nostalgia-soaked revival. If you like WHAS, you will find FDOC funny and spirited and weird and delightful. Everyone you'd want to be back is back, including the creative team. There is no major violation of premise or cruel twist (ahem, Harper Lee), and no profound misunderstanding of what made the original so beloved in the first place (Jurassic World, why do you want to hurt me?). Wet Hot has aged very well, so this isn't a crass attempt to adapt its material for modern cinematic technology or something.
You knew an and yet was coming, and here it is. FDOC is a huge success, and yet my heart is not flooded with glee the way I thought it would be, because unlike stand-alone shows or movies, a reunion or a revival is occurring twice at once: I'm watching this new installment now, for the first time, in an attempt to re-create the sensation of watching the original, way back then, for the first time. This emotional tesseract, consolidating time through the dimension of entertainment, puts different kinds of pressures on different kinds of shows. FDOC takes me back to 2001, which is not a year I'm particularly interested in emotionally revisiting. It was hard enough the first time. That's not FDOC's fault or responsibility, and frankly, Wet Hot American Summer brought me comfort and relief and a sense of companionship at a time in my life when being myself felt like a chore.
Sequels are obvious continuations of a story, but revivals of dormant or semi-dormant properties rely on that emotional thread to draw you in. Remember? they say. Remember me, from before? And then you do, or at least I do, but it isn't a needle biopsy, it's a lot of rooting around. The show asked me to remember, and I did, but that dug up a lot of other memories that were stored in neighboring boxes. That excavation is inherent to a show like this, to a revisiting of a long-gone world.
Revival shows, or revived movies, à la Veronica Mars, feel a little like an unfair question: If we met each other now, would we still be friends? Would we still have fallen in love? And the answer is yes, but it would be different. Or the answer's maybe, and the reasoning would be too hurtful to explain. Or the answer's no, but doesn't that just makes us even luckier that we found each other back then?
Wet Hot American Summer: First Day Of Camp reminds us of this in its opening moments. "Camp Firewood is more than a summer camp. Camp Firewood is an idea," we're told. That's true. It's just a bigger idea, maybe, than the show realizes.