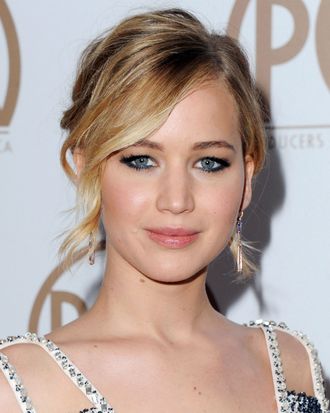 Photo: Jon Kopaloff/Getty Images
Jennifer Lawrence's love of food is well documented, and in between her big Comic-Con panel for The Hunger Games: Mockingjay - Part 2 and a more intimate press conference for the film later in the day, she was ready to indulge. "I did eat a panini and some cheese and crackers and a wrap," she told reporters at the press conference. "I tried to grab French fries, too, and this stern lady swatted my hand away and said no!" She grinned at her own expense. "I thought, Wow, I haven't been talked to like that since the first movie came out."

Maybe it's because Lawrence is more candid about her eating habits than most actresses, but she confessed that she's often asked about dieting and her weight. And at the Mockingjay press conference, with only the slightest provocation, she said something very intriguing about who gets asked those questions and who doesn't.
It began when a reporter brought up the friendly jab between Lawrence and her co-star Josh Hutcherson that had happened at the earlier Mockingjay panel, where Lawrence noted, "When I first signed on to these movies, I was 20. Now I'm 24." Hutcherson replied then, "That's like 40 in Hollywood, though."

Though Hutcherson's remark was meant as a joke, it carried with it a little sting of truth, especially since Lawrence herself is often subjected to some of Hollywood's biggest double standards when it comes to age and gender. But when the reporter pivoted from that exchange to ask Lawrence whether, in the wake of The Hunger Games, there will be better roles for women that can counteract those pernicious trends, she took things to a thoughtful place.

"I would hope so," Lawrence replied, before pausing to think. And that's when she started to talk to herself.

"That's risky, Jennifer," she murmured, clearly on the verge of launching into something. "I'm starting this new thing: I've tried to develop a filter," she told us. "This could blow people's hair back in a good way, or it could be my last time at Comic-Con."

And then Lawrence pressed forward with her thought. "I would hope that there are more opportunities for women, but sometimes it's hard," she said. "I was just having a conversation with somebody about the struggles of weight in the industry, because they know that it's something I talk nonstop about." That person had wondered whether there was really a weight problem in Hollywood, since most of its top stars look healthy, not underweight. "And I said, 'Yeah, because once you get to a certain place [in your career], people will hire you and they want you to be in their movie, so they don't care.' It's more about the struggle for the actors and actresses who haven't made it to a certain place."

It's those striving actors, Lawrence suggested, who are most vulnerable to insecurities about their weight. "I'm not really in a place where I can complain or speak to not getting enough roles, because I'm very lucky to have a lot of opportunities," said Lawrence, who is at Comic-Con promoting both Mockingjay and X-Men: Apocalypse. "But I would be interested to hear someone who is not in two franchises answer that question." When a more minor actress is told by a producer to lose weight, she may not have the clout to stand up for herself, so instead of asking A-listers like Jennifer Lawrence, Sandra Bullock, and Kate Winslet about their weight, why not poll the actors who are led to believe that a few extra pounds is all that stands between them and success? Forgive the pun, but it's food for thought.