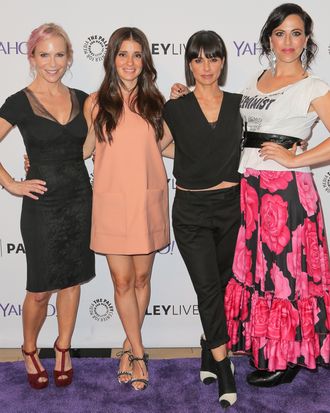 Executive producers Marti Noxon and Sarah Gertrude Shapiro flank their stars Shiri Appleby and Constance Zimmer on the red carpet.
Photo: Chelsea Lauren/Getty Images
Now that we know summer's darling UnREAL is coming back for a second season, we've gotten our thrill of imagining what other reality shows UnREAL could satirize: Real Housewives of New York? Top Shot? The show itself has floated out the possibility of a spinoff show like Royal Renovations, but the showrunners Marti Noxon and Sarah Gertrude Shapiro have also considered doing a Bachelorette version. "Part of me just wants to flip the formula and have a female suitor with a bunch of guys," Noxon told us on the red carpet at the PaleyLive finale event in Beverly Hills Thursday night. "Sarah's told me, having worked on The Bachelor and The Bachelorette, that the dynamic is totally different. It's very hard to get drama out of the bros. They tend to default a lot more; it's much harder to coach the bear. Part of me is interested in staying within the conventions that people know, but then we've talked about taking it to the tropics or having them naked and afraid."
Sarah Gertrude Shapiro, wearing a ripped white T-shirt emblazoned with the phrase "This is what a feminist looks like," elaborated: "We know we're sticking with Everlasting as a format. Everlasting and the romance genre still have a lot for us to [work with]. We've been talking about the race issue a lot because we did just kind of slide past it this year, and it's super important to Marti and me." Maybe UnREAL will give us the black bachelor(ette) that the ABC franchise has been loath to do?
The possibilities, she pointed out, are endless. "It's like a starfish: You cut off a leg and one grows back in another direction. The problem has never been, What is the story? The problem is focusing the story and keeping it about Quinn and Rachel."