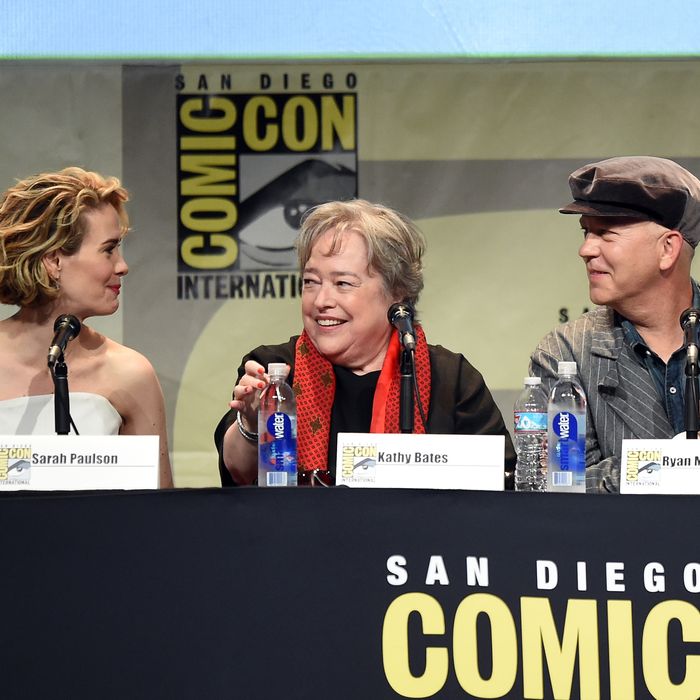 Photo: Kevin Winter/Getty Images
The American Horror Story and Scream Queens panel mash-up was a high-spirited meeting of Ryan Murphy's impressive stable of talent, including Jamie Lee Curtis, Sarah Paulson, Evan Peters, Kathy Bates, Emma Roberts, Billie Lourd, Abigail Breslin, and Keke Palmer. Here's what we learned:
The character names for American Horror Story: Hotel cast: Matt Bomer is Donovan, Evan Peters is Mr. March, Sarah Paulson is Hypodermic Sally, and Kathy Bates is Iris. Ryan Murphy added that characters are connected to different seasons.
Murphy showed his fanboy side in a big way when he revealed he didn't want to make "Scream Queens without Jamie Lee Curtis." It was Curtis's first time at Comic-Con. When asked why she'd never gone before, she replied, "I've been selling yogurt that makes you shit for the last six years."
Look for Curtis to "kick some ass" in Scream Queens, as Murphy knows that's something fans want to see. Curtis also shared that she does a wordless homage to Laurie Strode in the second episode of the show.
Emma Roberts teased that just because she's doing Scream Queens, it doesn't rule out her doing American Horror Story: Hotel.
Gaga will not sing on American Horror Story: Hotel. Murphy says he got that musical inclination out of his system on Freak Show. How did Ryan get Gaga? She wrote and said she'd like to be on the show, and he wrote back immediately "YES YES YES." A week later, he got the call he dreamed of: "Please hold for Gaga." When they talked, she said she wanted to be evil, and he told her, "You've come to the right place." Part of her role also involves fashion, because … well, Gaga.
Fans screamed out to Sarah Paulson, "Supreme!" and she answered back, "I AM the Supreme, goddammit!" to huge cheers.
None of the Scream Queens cast members know who the killer is because they had all of the actors do takes as if they were the killer. Murphy says if you watch the September 22 premiere episode closely, we meet the killer.
Asked who her favorite superhero was, Kathy Bates turned to Matt Bomer and asked who that Armenian guy was who did that great dance. Bomer answered, "Joe Manganiello." And with that Bates officially won Comic-Con.