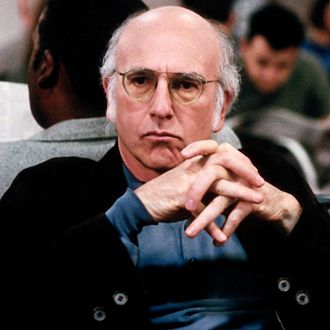 At the beginning of (and throughout) every month, Amazon Prime and Amazon Instant Video add new movies and TV shows to their libraries. Here are several streaming selections that you might be interested in, followed by a full list of titles available for streaming as well as purchase. Some of these may also have previously been on Amazon, only to have been removed and then added back. Feel free to note anything we've left out in the comments below.
For a sad night in:
My Best Friend's Wedding (1997)
Julianne (Julia Roberts) still carries a torch for her best friend, Michael (Dermot Mulroney), even on the eve of his wedding to the 20-year-old Kimmy (Cameron Diaz). The setup might make My Best Friend's Wedding sound like every other rom-com, but to its supporters — and they are legion — P.J. Hogan's film represents a high point in the genre. It goes for sustained melancholy where you might expect gags, as Roberts manages to turn a thin, Iago-like caricature into a real, pained person. To its detractors — they are legion, too — the movie is more of a Hollywood nightmare: Julianne and Michael have a marriage pact that times out at age 28, for God's sake! (Available August 8.)
While you're waiting for the next season of Fargo:
Kumiko, the Treasure Hunter (2014)
In this festival favorite, Kumiko (Rinko Kikuchi) mistakes a copy of Fargo for a documentary and, along with her bunny Bunzo, travels from Tokyo to middle America in search of buried treasure. The world didn't need another snow-drenched riff on the Coen brothers, but Kumiko has just enough dark humor and heart to make itself worthwhile. (Available August 23.)
Most badass:
Unforgiven (1992)
Widely regarded as the last great Western (though Quentin Tarantino might have something to say about that), Unforgiven casts Eastwood as an aging bounty hunter who's come to the aid of the prostitute Strawberry Alice (Frances Fisher). Unforgiven was bleak, violent, and different enough to earn Eastwood his first directing Oscar. (Available August 1.)
Critically acclaimed:
Timbuktu (2014)
In one of our best movies of 2015 so far, Abderrahmane Sissako depicts a Mali city overthrown by Islamic extremists. The film is at turns brutal, tender, and darkly funny as life in Timbuktu continues on its weird, chaotic course even as the forces in power try to keep it in check. (Available August 22.)
Oldest new title:
The Longest Day (1962)
Based on Cornelius Ryan's history of the invasion of Normandy, Darryl F. Zanuck's 1962 film falls somewhere between a modern blockbuster and an old-fashioned studio spectacle. Don't look for realism here. Featuring everyone from John Wayne to Robert Mitchum to Henry Fonda, The Longest Day offers a fascinating insight into the way the Greatest Generation built the myth of its own greatness. (Available August 1.)
Just plain weird:
The Adventures of Sharkboy and Lavagirl (2015)
Sharkboy and Lavagirl is what happened, literally after Spy Kids director Robert Rodriguez asked own kids what movie he should make. The title alone is something to puzzle at; add in the fact that a pre-Twilight Taylor Lautner plays the titular Sharkboy, and, well, the result is about as strange as you'd expect. (Available August 20.)
Biggest time-suck:
Curb Your Enthusiasm (Seasons 1–8)
Curb Your Enthusiasm's also on HBO Now and Seinfeld's on Hulu Plus, but Amazon Prime subscribers have had to wait to get their piece of Larry David. As in any episode of Curb, be wary of too much of a good thing. Make sure to pace yourself lest you lose a whole workweek to this 40-hour collection of biting ad-libs, cringe humor, and general misanthropy. (Available August 6.)
OTHER TITLES AVAILABLE ON STREAMING:
TV
Olympus (Season 1) (August 1)
Movies
The Patriot (2000) (August 1)
Erased (2012) (August 4)
In the Line of Fire (1993) (August 6)
A Most Violent Year (2014) (August 7)
Gett (2014) (August 12)
If I Stay (2014) (August 15)
Misery Loves Comedy (2015) (August 16)
Teenage Mutant Ninja Turtles (2014) (August 28)
Tarzan (2013) (TBD)
The Legend of Longwood (2014) (TBD)
OTHER TITLES AVAILABLE FOR PURCHASE:
TV
The Killing (Season 4) (August 3)
Strike Back (Season 3) (August 3)
The Knick (Season 1) (August 3)
Teen Titans Go!* (Season 3) (August 4)
The Amazing World of Gumball* (Season 7) (August 7)
Episodes (Season 4) (August 10)
Doc Now* (Season 1) (August 14)
Homeland (Season 4) (August 17)
Hack My Life* (Season 2) (August 19)
Six Degrees of Everything (Season 1) (August 20)
Public Morals* (Season 1) (August 26)
House of Cards (Season 3) (August 31)
*Episodes available the day after they air on broadcast television.
Movies
The Descendants (2011) (August 1)
A La Mala (2105) (August 4)
Alpha & Omega: Family Vacation (2015) (August 4)
Little Boy (2015) (August 4)
The Casual Vacancy (2015) (August 4)
Dark Places (2015) (August 7)
The Runner (2105) (August 7)
Where Hope Grows (2014) (August 11)
LalaLoopsy: Band Together (2015) (August 11)
The Hunting Ground (2015) (August 11)
Mad Max: Fury Road (2015) (August 11)
LEGO DC Super Heroes: Justice League: Attack of the Legion of Doom! (2015) (August 11)
Poltergeist Activity (2015) (August 11)
72 Hours (2015) (August 11)
Fort Tilden (2014) (August 14)
Cop Car (2015) (August 14)
People, Places, Things (2015) (August 14)
Vendetta (2015) (August 18)
Skin Trade (2014) (August 18)
Kantemir (2014) (August 18)
The Love Letter (1999) (August 18)
The Age of Adaline (2015) (August 25)
Iris (2015) (August 25)
Queen & Country (2014) (August 25)
Zipper (2015) (August 28)
The D Train (2015) (TBA)