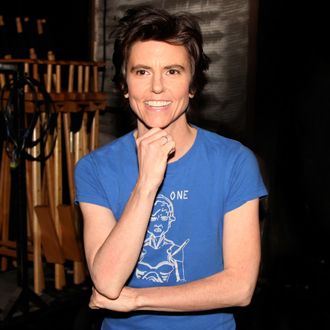 At the beginning of (and throughout) every month, HBO adds new movies and TV shows to HBO Go and HBO Now. Here is a quick list of several titles you might be interested in. Some of these may have been on HBO previously, only to have been removed and then added back. Feel free to note anything we've left out in the comments below.
The one HBO wants you to watch:
Show Me a Hero 
The Wire creator David Simon returns to HBO with a six-part series based on the battle over public housing in 1980s Yonkers. Oscar Isaac stars as Nicholas Wasicsko, who served as mayor during a citywide fight over desegregation and myriad other issues. Simon is not a fan of critiquing, or even conceiving of, television on an episode-by-episode basis, so don't expect much closure from the first third of Show Me a Hero. Do expect think pieces that contest, and possibly prove, Simon's point. (Parts one and two are available on August 16.)
For comedy fans:
Tig Notaro: Boyish Girl, Interrupted
A documentary about Notaro's life dropped on Netflix less than a month ago, and she did a special on Showtime in April, but as anyone who has watched her perform can tell you, you can never have enough Tig Notaro. Enter her HBO special, which promises more of Notaro's trademark dark, dry humor. Better yet, it gives us an excuse to revisit our favorite Notaro performances all over again. (Available August 22.)
Oscar prep:
Birdman: or (The Unexpected Virtue of Ignorance) (2014)
In the next few months, Gonzalez Iñárritu will likely get ready for an Oscar campaign around his next title, The Revenant. But now that the tides of critical attention to Birdman have progressed from appreciation to backlash to "that was the one with Emma Stone, right?" maybe it's time to revisit his technically daring Best Picture winner from last year. (Available on August 1.)
Oldest new title:
An Officer and a Gentleman (1982)
Richard Gere and Debra Winger's chemistry — and that last scene — might have been enough to earn a place for An Officer and a Gentleman among the best old-fashioned romances. But it's the film's clear-eyed sense of the complexity of love and Louis Gossett Jr.'s Oscar-winning performance as Gere's drill sergeant that lift it up even higher, where it belongs. (Available on August 1.)
Just plain weird:
John Tucker Must Die (2006)
Have you ever had a stress dream in which you find yourself back in high school surrounded by faces you almost recognize, where things keep happening for no reason but also for deep instinctive reasons you can't quite place? John Tucker Must Die is the film version of that stress dream: a journey into the high-school-movie subconscious of the 2000s, populated by actors and plot points you swear you've seen elsewhere, oddly cruel revenge schemes, and a curdled whiff of late-'90s girl power. (Available on August 6.)
OTHER TITLES AVAILABLE:
TELEVISION:
New original programming:
Back on Board: Greg Louganis (August 4)
Hard Knocks: Training Camp With the Houston Texans (August 12*)
Show Me a Hero: Part Three and Part Four (August 23)
Show Me a Hero: Part Five and Part Six (August 30)
*Episodes of Hard Knocks will debut on HBO Now the morning after airing on HBO linear.
Season finales of currently airing original programming:
True Detective: Season Two (August 9)
Ballers: Season One (August 23)
The Brink: Season One (August 23)
MOVIES:
Available on August 1:
Charlie's Angels (2000)
Dances With Wolves (1990)
A Fish Called Wanda (1988)
Four Weddings and Funeral (1994)
Meet the Parents (2000)
Serenity (2005)
Available later in August:
Romona (2014) (August 8) (short)
Manos Sucias (2014) (August 7)
The Hobbit: The Battle of the Five Armies (2014) (August 8)
Bombas (2013) (August 14)
The Theory of Everything (2014) (August 15)
Dumb and Dumber To (2014) (August 22)
Kill the Messenger (2014) (August 29)