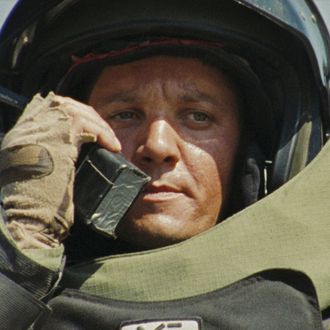 Wartime romp The Hurt Locker, now on Netflix.
Photo: Summit Entertainment
At the beginning of (and throughout) every month, Netflix Streaming adds new movies and TV shows to its library. Here is a quick list of several that you might be interested in. Some of these may also have previously been on Netflix, only to have been removed and then added back. Feel free to note anything we've left out in the comments below.
The One Netflix Wants You to Watch: Narcos (Season 1)
A chronicle of law enforcement's attempts to take down the Pablo Escobar–run Medellín cartel, Narcos promises to deliver everything you want in a late-summer thriller: explosions, cocaine-fueled parties, and most of all, Game of Thrones vet Pedro Pascal in an '80s mustache. Creator José Padilha has talked a great deal about the extensive research he conducted before working on the project, which means the ten-episode season will serve up a few lessons on cartel history alongside the adrenaline. (Available August 28.)
Most Likely to Explain the FIFA Scandal: Club de Cuervos (Season 1)
Netflix's first Spanish-language original takes on the business of soccer, an industry that's less corrupt than the drug trade — but only barely. All the usual sports-comedy tropes are here, from the party-boy son to his uptight, work-obsessed sister, which makes it look like Club de Cuervos aims to be to fútbol what Ballers is to football. (Available August 7.)
The Makings of a Cotillard-athon: Two Days, One Night (2014)
The Dardennes typically work with unknowns, but here they recruited Marion Cotillard for a film about a woman who tries to convince her co-workers to give up their bonuses so that she can keep her job. More realist drama than economic treatise (though there's plenty of that), Two Days, One Night was ninth on our list of the 11 best movies of 2014. To stage a double feature, follow up Two Days, One Night with the The Immigrant, also starring Cotillard, and tenth on our list. (Available August 11.)
Critically Acclaimed: The Hurt Locker (2008)
Kathyrn Bigelow's take on a bomb squad in Baghdad is the only new title this month to have won Best Picture. It also boasts a 98 percent rating on Rotten Tomatoes and a 94 on Metacritic. If you're still not convinced, know that The Hurt Locker — a tense and unsparing character study — is perhaps the best film about the Iraq War. (Available August 1.)
Oldest New Title: Reading Rainbow (Volume 1)
Netflix doesn't tend to go in for the classics, which explains why the 16 year-old Freddie Prinze Jr.–starring Wing Commander (1999) is somehow the oldest new film on Netflix this month. Oldies fare better on the television side, however, as LeVar Burton's 1983 children's program laps the competition by another 16 years. Sing it, Troy. (Available August 1.)
Biggest Time-Suck: Revenge (Season 4) and Once Upon a Time (Season 4)
Both ABC dramas have 23-episode seasons, which means a complete binge of either would clock in at roughly 17 hours and 15 minutes. That makes them the biggest time investment of all the new additions to Netflix's catalogue. So, which money-soaked dystopia do you want to vacation in: the Hamptons, or Disney's intellectual-property department? (Both available August 28.)
Just Plain Weird: Ever After High: Way Too Wonderland (Season 3)
Netflix is full of children's programming, much of it built around tie-ins to toy brands. Ever After High, which is based on a Mattel franchise that features the high-school-age children of fairy-tale characters (Clone High, much?), might be the most egregious example of merchandizing gone hysterically, ungrammatically haywire. (Available August 14.)
NEW SEASONS OF TV:
August 1
Dancing on the Edge (Season 1)
Daniel Tiger's Neighborhood (Season 2)
Masha and the Bear (Season 1)
Odd Squad (Season 1)
The Code (Season 1)
The Mind of a Chef (Season 3)
Utopia (Season 1)
Vexed (Seasons 1­2)
August 7
HitRECord on TV (Season 1)
Transporter: The Series (Season 2)
August 8
Doctor Who (Season 8)
August 14
DinoTrux (Season 1)
August 19
Real Husbands of Hollywood (Season 3)
August 20
Strange Empire (Season 1)
August 23
Girl Meets World (Season 1)
August 28
Inspector Gadget (Season 2)
OTHER MOVIES AVAILABLE:
August 1
Alvin and the Chipmunks Meet Frankenstein (1999)
Asylum (2005)
Back in Time/Cong Cong Na Nian (2014)
Beneath the Helmet (2014)
Breakup Buddies/Xin Hau Lu Fang (2014)
Bride and Prejudice (2004)
Casting By (2012)
Dear Frankie (2004)
Dogs on the Inside (2014)
Electric Slide (2014)
Enemy at the Gates (2001)
Flex Is Kings (2013)
Lost and Love/Shi Gu (2015)
November Rule (2015)
Outcast (2014)
Pants on Fire (2014)
Russell Brand: End the Drugs War (2014)
Russell Brand: From Addiction to Recovery (2012)
Somewhere Only We Know/You yi ge di fang zhi you wo men zhi dao (2015)
Sorority Row (2009)
The Golden Era/Huang Jin Shi Dai (2014)
The Living (2014)
Tyler Perry's Meet the Browns (2008)
War (2007)
Wing Commander (1999)
August 3
Chronic­Con, Episode 420: A New Dope (2015)
August 4
Wyrmwood: Road of the Dead (2015)
August 5
Yellowbird (2014)
August 6
Kill Me Three Times (2014)
My Amityville Horror (2012)
The Look of Love (2013)
Welcome to Me (2014)
August 7
Motivation 2: The Chris Cole Story (2015)
Project MC2 (2015)
August 11
Fred: The Movie (2010)
Fred 2: Night of the Living Fred (2011)
Fred 3: Camp Fred (2012)
August 12
For a Good Time, Call … (2012)
Leap Year (2010)
The Woman in Black 2: Angel of Death (2014)
August 14
Demetri Martin: Live (At The Time) (2015)
Ship of Theseus (2012)
August 15
Alex of Venice (2014)
August 16
Being Flynn (2012)
Pariah (2011)
Seeking a Friend for the End of the World (2012)
August 17
Lord of War (2005)
August 19
Jerk Theory (2009)
August 20
30 for 30: Angry Sky (2015)
As Cool As I Am (2013)
August 21
Grantham & Rose (2014)
Transcend (2014)
August 27
Byzantium (2012)
White God (2014)
August 29
Ride (2015)
August 30
Muffin Top: A Love Story (2014)