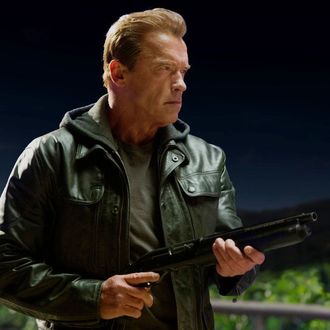 Photo: Paramount Pictures
Americans apparently had better things to do this Fourth of July weekend than watch Arnold Schwarzenegger fight himself: Terminator Genisys, which has received pretty dour reviews, had a disappointing five-day weekend, pulling in $28.7 million domestic and a bit more than $44 million worldwide, coming in third at the box office. Despite James Cameron's unrepentant praise for the film, over five days the movie still failed to beat Terminator 3: Rise of the Machines's three-day gross. Cameron's Terminator 2: Judgement Day made a killing in 1991, breaking the five-day record and becoming one of the highest-grossing films of all time. Rise of the Machines remains one of the 20 highest-grossing R-rated films worldwide.
Jurassic World, meanwhile, made more money on top of its already-ginormous amount of money, devouring another $43.8 million. With a $558.1 million domestic haul so far, it's the highest-grossing film of the year and one of the highest grossers of all time. Roar.
Pixar's tearjerker Inside Out made $30.1 million. Its $246.1 million total is on pace to make it the highest-earning film to never come in at No. 1 at the box office.
The sizzling, super-sexy Magic Mike XXL made $11.6 million and earned mostly enthusiastic reviews, while Seth MacFarlane's significantly less sexy Ted 2 earned $11 million. Both films made suggestive use of the word coming in their teaser posters, but only one features Channing Tatum shirtless.
Also of note, the devastating Amy Winehouse documentary Amy, which has earned rave reviews from everyone except Winehouse's family (who are portrayed in a less-than-sympathetic light), made an impressive $222,000 in six theaters. Our own Jada Yuan called it an "intimate and deeply sad portrait made even sadder by the life, humor, and music that courses through the charming woman at its center" after its screening at Cannes. Word has it that the family plans on producing a documentary that makes them look less awful.