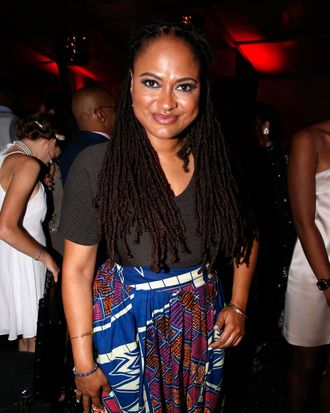 Ava DuVernay.
Photo: Johnny Nunez/Getty Images
Selma director Ava DuVernay clarified her decision not to direct Marvel's upcoming Black Panther movie starring Chadwick Boseman during her keynote speech at the BlogHer conference this past weekend. Basically, it boiled down to this: "It really wasn't going to be an Ava DuVernay film," she said.
That wasn't necessarily the case, though. DuVernay said the conversation started when she got a call from Marvel president Kevin Feige while she was filming Selma. "At one point the answer was yes, because I thought there was value in putting that kind of imagery and culture in a worldwide, huge way that they do: fun, exciting, action, funny, all those things, and yet still be focused on a black man as a hero. That would be pretty revolutionary," DuVernay said. "These films go everywhere from Shanghai to Uganda. Nothing that I probably will make will reach that many people, so I found value in that. That's how the conversations continued, because that's what I was interested in. But everyone's interested in different things."
While she wasn't initially interested in Black Panther, she steeped herself in T'Challa's story, going back and reading each comic starring the first mainstream black superhero. Ultimately, it became a question of vision: "Is this important enough for me to do? Are these people I want to go to bed with? This would be three years of not doing other things that are important to me." 
"What my name is on means something to me," DuVernay said. "These are my children, this is what I leave behind. This is my art and what will live on after I'm gone. And so it's important that that be true to who I was in this moment." And what is her artistic practice? "I'm just interested in illuminating the magnificence of the lives of black people — the complexity, the positive, the negative, the in-between, the full-bodied nature of black lives. That's what I'm committed to, that's the one thing I'm most interested in."
Still, she's looking forward to watch the film. "I think it should be good when it comes out. I'll be there," she said.