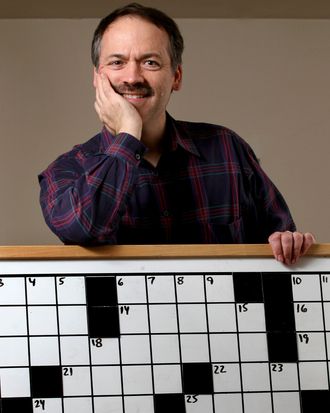 Photo: Craig Ruttle/Bloomberg News/Getty Images
We know him as the master puzzle-maker, his New York Times byline synonymous with imminent frustration. But away from the newsprint grid, Will Shortz moonlights as a devoted ping-pong player and the founder of the Westchester Table Tennis Center. After being told by a neuroscientist a few years ago that ping-pong has more cognitive benefits than even crossword puzzles, Shortz decided to intensify his commitment to the game: He set out to play it for 1,000 days straight.
On Tuesday night, a crowd gathered at the WTTC to celebrate the completion of that goal. To commemorate the occasion, the filmmakers Ariel Schulman and Henry Joost (the team behind Catfish and Paranormal Activity 3 and 4), screened their new short film about Shortz's nearly three-year table tennis marathon. Under the filmmakers' guidance, Shortz shot all the footage himself, using four basic camera angles to document his efforts in cities as far afield as Beijing. (He had been there to attend the World Puzzle Championship but made sure to visit a table tennis club and achieve his daily quota.) After the screening, Vulture caught up with him to discuss his thousand-day ping-pong adventure.
You say you were inspired to do this when you heard that ping-pong activates even more of the brain than crossword puzzles. 
Anything you do with the brain is good, but table tennis is especially good. It's partly just physical activity is good, but it also exercises different parts of the brain with its strategy. You're training your body to respond instinctively in certain situations, and then during a match you're continually trying to find your opponent's weaknesses and exploit them and cover up your own weaknesses. It's really a brain game. They say table tennis is chess on speed.
Where was the first game of table tennis you ever played?
At the ping-pong table in my family's recreation room in Indiana. I played my family and then I got good and I started playing in school. If you go around the corner, you'll see some trophies I won in high school.
This has been not just an immersion in ping-pong but in filmmaking. Did you have any idea you'd be given a primer in how to make a movie?
No. I got it from very good people. They set me up with the equipment, showed me how to set up a camera on one side of the table, film my opponent, and film myself. I basically just did what they told me to do. I set up the camera in three different places and tried not to hit it and knock it over. Which I did once. The camera fell on the floor, and I had to buy a new camera.
Did this process whet an appetite for filmmaking?
No. I'm not a filmmaker.
But you got such charm in there.
Oh, well that just comes from table tennis. It's just genuinely fun. People say — and I think it's true — that you can tell an awful lot about a person from playing ping-pong with them for a minute. You can see a bit of intelligence, how they react, how adaptive they are. When the ball runs over to someone else's court, they're supposed to pick it up and give it back to you. If they give it back to you nicely, then that means they're a kind or generous person. And some people kind of kick it with their foot or roll it on the floor, and you think, no, they're really not that nice a person.
Tell me more about the impetus for this saga. Was it really that you felt your brain needed more of a challenge? What was missing?
Well, I'm an obsessive personality. You would never guess, would you? And I think it does tie together with puzzles. If you're a crossword person, you want to set the world in order — it's a way to bring order out of chaos, create a structure in life, and table tennis does that for me. Adding this extra challenge of playing every day adds an extra layer of structure. What table tennis has in common with crosswords is that in each case you're completely focused on this one activity, you blot out everything else in the world, and when you're done, you're relaxed and refreshed and ready for everything else. Some people think I should keep this a secret, actually.
Why?
Because it's obsessive and anal.
It's an ode to discipline!
When I started I didn't know how far I'd go. My first goal was just to do a year. But then I thought, If I do a year, why should I stop now?
And you have no plans for stopping.
Oh, I'm not stopping. I'll be back here tomorrow for day 1,001.