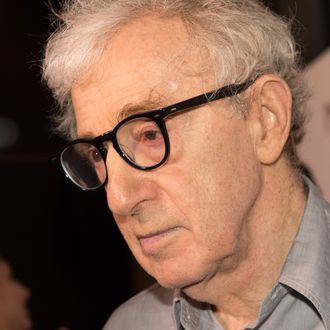 Woody Allen.
Photo: Gabriel Grams/Getty Images
In a rare interview with NPR, Woody Allen is opening up about his controversial relationship with wife Soon-Yi Previn, the adopted daughter of his former partner Mia Farrow. Asked how he and Soon-Yi have been able to maintain a 20-year marriage despite their 35-year age gap, he credits the "paternal" nature of their relationship:
"I lucked out in my last relationship. I've been married now for 20 years and it's been good. I think that was probably the odd factor that I'm so much older than the girl I married. I'm 35 years older, and somehow, through no fault of mine or hers, the dynamic worked. I was paternal. She responded to someone paternal. I liked her youth and energy. She deferred to me, and I was happy to give her an enormous amount of decision-making just as a gift and let her take charge of so many things. She flourished. It was just a good luck thing."
He also explains how the two entered into a romantic relationship, saying it initially began as a "fling" but "then we started going together, then we started living together, and we were enjoying it." Allen insists the age difference wasn't something he considered: "The age difference didn't seem to matter. It seemed to work in our favor, actually," he says. "She enjoyed being introduced to many, many things that I knew from experience, and I enjoyed showing her those things. She took them, and outstripped me in certain areas that I showed her.
Allen also says that recently resurfaced allegations of sexual abuse haven't hurt him at the box office ("I always had a small audience. People did not come in great abundance and they still don't"), and that how he's portrayed in the media "has no meaning in the way [he] make[s] movies."