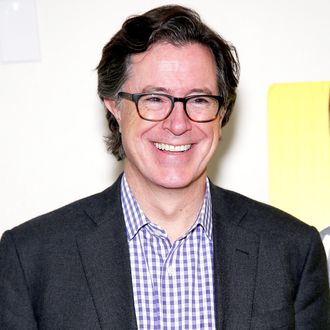 Colbert.
Photo: Paul Zimmerman/Getty Images
Just one month from now, Stephen Colbert will finally take over for David Letterman as host of CBS's Late Show. Part of any new host's initiate process is meeting with the press at a major public gathering, which is what Colbert did this afternoon in Los Angeles, taking questions for about a half-hour at CBS's portion of the TV Critics Association press tour. Such events can often go awry: Conan O'Brien's first New York City press conference, when he was named as Letterman's replacement on NBC's Late Night back in 1993, was legendarily awkward (though he did a bit better when he met the press in Los Angeles a few months later). Colbert, befitting the late-night veteran he is, had no such problems Monday. He answered every question forthrightly, with humor, humility, and a complete lack of snark. It was a command performance, one that hints at good things to come when The Late Show With Stephen Colbert debuts September 8. Here are 11 things we learned from Colbert's session with reporters:
1. Kendrick Lamar will be Colbert's first musical performer, joining previously announced first guest George Clooney.
2. Colbert will absolutely make politics a big part of his new show, saying he chose September 8 as his premiere date in part because the day after Labor Day is traditionally the kickoff for presidential elections. The comic told reporters he's "just hoping certain people stay in the race until then," quickly admitting that he can't wait to begin mocking Donald Trump. "Right now, I'm just dry-Trumping," he quipped, immediately tweeting out a version of the same joke. Later, in a smaller scrum with reporters, Colbert was asked if he thought Trump actually had a shot of winning the election. "Honestly? He could!" Colbert said. "That's not my opinion of Donald Trump. That's my opinion of our nation." And is he horrified by such a notion? "You know what? There have been some great presidents, there have been some bad presidents," Colbert said. "But having a giant, swinging set of balls isn't the worst thing in the world, you know?"
3. Colbert has no interest in a new round of Late-Night Wars. "The idea of war between hosts doesn't make sense to me," he said. "It's not like my success takes away from anyone. And it doesn't sound very funny. … I hope everyone has success." As for the battle to be first in the ratings, "I didn't play a lot of sports as a kid," he said. "I got picked last for dodge ball. I don't have that competitive gene." Instead, Colbert said he and his writers are "competing among ourselves to have fun" making the show.
4. While he declined to get specific, Colbert seemed to hint he may be looking to shake up the usual joke-heavy late-night monologue. "I don't think anything I've done on my last show or this show is necessarily traditional, other than what the pieces are," he said when we asked him how he planned to approach the opening of his show. "We're gonna try to put them together in a new way." Later, he said he might do the monologue in different places and in different ways early on. "We're going to find what's right for me," he said. "I don't feel like I have to come out of the gate knowing everything. I'd like to have enough humility to find some things along the way."
5. Colbert is very eager to get to work, noting the eight-month hiatus since The Colbert Report ended marks his longest break from performing since he was 24. "I'm … twitching," he said. "I don't like comedy in theory. That's theology. I want to get to the religion." That said, he admits to at least a bit of nerves. "If you're not a little nervous, you're not trying hard enough," he said.
6. Letterman has been more involved in guiding Colbert's transition than had been known. Before Letterman's Late Show wrapped, Colbert visited with Dave at the Ed Sullivan Theater, spending about 90 minutes discussing various aspects of hosting and comedy. At one point Colbert asked Letterman if there was anything he'd change about his tenure, and he replied, "Eh, I would've really liked to have had the desk on the other side." The next day, Colbert called his set designer and asked that the position of his desk be reversed. And while Letterman didn't leave behind any sort of memento for Colbert — or, if he did, Colbert wasn't talking — "Dave did something better than that," Colbert revealed. "Dave used to get down to the theater in an old brass-handled, manual freight elevator, which he asked them not to change [when the Ed Sullivan theater was remodeled in the 1990s]. And I said the same thing: 'Don't change that.' So after we talked … I said, 'One last thing. Would you show me how to run the elevator?' And he goes, 'Oh, it's the best thing in the building!' And he shows me how to run it and showed me how to open the door so the elevator would be right there. And then he said, 'There. Now it's waiting for you.' That felt like a guy teaching you how to use the tool before he leaves. It was really lovely. He couldn't have been more gracious. He left me with the keys, you might say."
7. Colbert has used the summer to unveil a number of video bits via YouTube and Twitter, including hosting a Michigan public-access show with Eminem as a guest. But despite conceding that viral content is part of the job for a modern late-night host, he insisted he wouldn't be driven by any need to do so. "I think viral is fun, but I'm not going to produce viral videos," he said. "I'm going to just do a show and hope people share it."
8. The Sullivan Theater has been "completely gutted" since Letterman exited and will now be free of lots of TV studio equipment used in the old show. "You couldn't tell it was in a theater before," Colbert said. But "technology has advanced enough since 1993" that much of the bulky devices once needed to make a TV-ready show are no longer required. As a result, "I find it a very intimate space now."
9. In order to keep up with events in the world, Colbert says his daily news diet normally begins with the email newsletter the Skimm ("Look it up," he advised). He then checks out the politics page on Reddit, the Drudge Report, the Huffington Post, and the New York Times.
10. Colbert's connection to new band leader Jon Batiste dates back to the musician's first appearance on The Colbert Report. "The minute he sat down across from me and challenged me to improvise [with him], I thought, I could spend a few years onstage with this guy. … I can't wait to play off his energy."
11. CBS has been remarkably hands-off during preparations for the show. The network, Colbert said, "has asked nothing of me, other than I fill an hour every night." He said CBS Entertainment chief Nina Tassler's main advice to him was to simply continue what he had been doing on The Colbert Report. "I love your last show," she said. "Add. Don't take away."