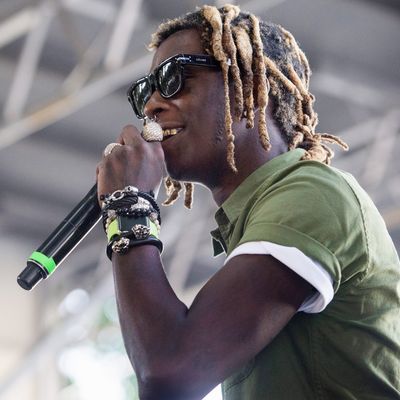 Young Thug performs at Grant Park on July 31 in Chicago, Illinois.
Photo: Erika Goldring/Getty Images
For one of the best rappers alive, Young Thug seems remarkably at ease. Most who wrangle that crown do it loudly: as the sneering villain, the smirking capitalist, the put-upon savior. But the Atlanta-born Jeffrey Williams, who just turned 23 and is facing a litany of gun and drug charges, and might yet be roped into a conspiracy to kill his idol, doesn't seem too worried. I've witnessed it up close. 
At the end of July, less than two weeks after he was jailed for — of all things — a confrontation with a mall cop, Thug made it to his scheduled set at Chicago's Lollapalooza. There, he played "Halftime," the song that Cobb County district attorneys used to implicate him in the same indictment that charged PeeWee Roscoe with domestic terrorism for Lil Wayne's tour-bus shooting back in April. Not the whole song, mind you. He rapped:

Got 100 million flat, like my motherfucking idol
I might eat it, I might lick it, but I swear I'll never bite 'em
Every time I dress myself, it go motherfucking viral
Pussy niggas stealing swag, bring my shit back like recycle
Then he cut the music. He cackled into the microphone. And he dropped "About the Money," his massive collaboration with T.I. that finds him extolling the virtues of can openers and L.A. weed connects. What had started as a tense point of curiosity — some fans in DePaul tank-tops wondered loudly if the rapper would show up at all — had become one of the day's highlights: a loose, raucous set where the crowd was shouting everything down to the DJ drops. By the time Paul McCartney hit the main stage an hour later, Thug was already at O'Hare, taking pictures with Dennis Rodman, essentially living out the plot of Looper. 
Both "Halftime" and "About the Money" argue for Thug as rap's most vital, most engaging voice right now. As Guru's maxim goes, Williams is blessed with — or, more accurate, has synthesized his influences into — one of the slipperiest, most malleable voices in hip-hop's history, not to mention a command of language that's thoroughly his own. When well-meaning rap fans and academics compare rapping to poetry, they do each medium a disservice. Rap is performative, and no one performs quite like Thug.
But each of those two songs exhibits a quietly engaging pen as well. "About the Money" has its coming-of-age bent ("I went from rags to riches to a feature with Tip / I went from Smart car to a bitch with some smart lips"); "Halftime," its bizarre imagery (groupies are fashioned into a trident, a "flooded out" Jesus piece bumps up against New Orleans' literally flooded-out Ninth Ward). Perhaps most important, it's impossible to tell where the next bar is going, in your headphones or in the recesses of Thug's mind. 
What follows are 20 essential Young Thug songs and collaborations across proper releases, mixtapes, and one-offs, starting when he slinked into the national spotlight in 2013. (For those curious, his three-part I Came From Nothing mixtape series has its share of standouts; this list is meant to trace his period as a widely visible trendsetter.) To put in perspective how prolific Thug has been in just a few years' time, consider the fact that this was cut for space. He continues this impressive pace with Hy!£UN35 (HiTunes, for the uninitiated), his proper retail debut expected out this fall.
"2 Cups Stuffed"
Five minutes into 1017 Thug, the 2013 mixtape that broke Young Thug to national audiences, you're not just implored to "lean, lean, lean, lean, leanleanlean," you're learning how to spell. On first pass, "2 Cups Stuffed" sounds as if it's the work of two or three different vocalists. The hook (and its Fleming-esque urge to "go light on the ice") starts off as a guttural bark, but by the top of the first verse it bleeds into a falsetto, or the closest approximation one can weave through trap drums.
"Nigeria," Young Thug feat. Gucci Mane and PeeWee Longway
The din of Lil Wayne conspiracies obscures the fact that Thug first tied his wagon to another mid-2000s rap workhorse: Gucci Mane. 1017 Thug track "Nigeria" is the best of Thug's handful of collaborations with Mane. The song sees Thug pack the lines, "When I look at myself, look like a meal ticket," "blowing trust funds," and "I drove my mama crazy, then I went brazy" all into one brilliantly warbled verse.
"The Blanguage"
Lil Wayne used to be into erasure. When he was the Only Rapper Who Mattered, he did terrible things to well-meaning artists like Mike Jones — i.e., flipping his beat to the point that the original might as well not exist. But Wayne never successfully disappeared someone as big as Drake was in 2013. For their first proper release as Metro Thuggin, Thug and the wunderkind producer Metro Boomin essentially retracted "The Language" from Aubrey's tepid Nothing Was the Same. "The Blanguage" opens, "I fucked her then washed off my dick with the curtains inside of the Phantom"; Thug goes on declare himself "one slimy motherfucker, the devil ride my back like camels." It doesn't get this dark in Scarborough.
"Danny Glover," Young Thug and Bloody Jay
Does planned obsolescence extend to your wrist bones? There's probably something to be written about "Danny Glover" as a lethal screed against capitalism, what with its ten bands strewn about taxis and money measured in little people. At the very least, the song — bizarrely included on 2014's Black Portland, Thug's joint mixtape with Bloody Jay — is one of the most dizzyingly weird rap hits in recent memory. From the machine-gun syllables at the top of the second verse to the laughable "I don't like using profanity" aside, even down to the title, "Danny Glover" served as a sufficiently skull-rattling introduction.
"Blood," DeJ Loaf feat. Young Thug and Birdman
DeJ Loaf had a runaway hit last year with "Try Me," but her 2015 follow-up EP was woefully mismarketed by Columbia. If 2014 is her commercial high-water mark, she leveraged it for one of the best coed collabs in years. "Blood" is a tour de force for the Detroit native (how is a voice so thin, left so unexposed in the mix, so powerful?), but Thug's verse sidesteps comprehension. Like any good scene in film or TV, it's an exercise in escalation. After the first four bars (on "grindin' like a skater nigga"), his voice ramps up until it can't anymore. Then, to throw stakes on stakes, Thug steps fully into double time. Bonus points for out-shit-talking Baby on the outro: "As a matter of fact, I'm one of the biggest Bloods in fucking America." 
"Old English," Salva feat. Young Thug, Freddie Gibbs, and A$AP Ferg
When L.A. producer Salva's "Old English" dropped last year, it was framed in some ways as a case-study in rap regionalism. Of course, Thug, Freddie Gibbs, and A$AP Ferg are too weird and/or too technical to be truly faithful representatives for their respective hometowns. Gary, Indiana–bred Gibbs is a more precise, more dynamic gangsta-rapper than nearly anyone in the subgenre since it loosened its pop-chart stranglehold in the late '90s. But neither he nor Memphis/Gotham hybrid Ferg go quite as left as Thug. His verse is probably the foremost study of cutlery in American music.
"Check"
When Thug's Barter 6, the stellar mixtape with a Wayne-baiting title, dropped this April, some complained that the set didn't have hits — no "Stoner," no "Lifestyle." Of course it does — they're just meaner, more skeletal, dripping in minor keys. Aside from bringing sheesh back into the American lexicon, "Check" showcases no fewer than four distinct flows, and nearly that many commas.
"Numbers"
The most surprising thing about Barter 6 wasn't that it was so slight — it was that the album ends with a three-song run that goes beyond "dark" and is simply, thoroughly sad. "Numbers" is laced with the sound of a thunderstorm, which would come off as clichéd if it weren't so fitting. Rappers talk all the time about being a product of their environment, but few threaten to "hit prison and fuck your father" right after they lament that kids these days are running around with guns.
"Guarantee"
Earlier this year, Thug's camp suffered through a brutal rash of leaks, with dozens of demos and finished songs being dumped unceremoniously onto the internet. Included were rough versions of songs that would appear on Barter 6, but also some cuts that seem to have been intended for Hy!£UN35. Much of the stronger material served as an ode to Thug's then-girlfriend; how do you top "If you got AIDS, I want it" as a gesture of devotion?
"Love Me"
"Big ol' cross like a pastor/ Pop that pussy like a snapper / Bitch, I'm bleeding, where the napkins?" "Love Me," another relic of the aforementioned leak, is the most sincere song ever to plug margarine, full stop. More than that, it's a beautiful, affecting cut that sets an awfully high bar for your wedding vows. It hinges on the same Auto-Tuned falsetto framework as Future's "Honest."
"That's All"
For "That's All," Goose — who was one of the principal contributors to Rich Gang's Tha Tour, Part One — provides Thug with the hardest beat that could ever be played at a YMCA back-to-school mixer. Another casualty of the leak epidemic, it could have sleepwalked to Top 40 rotation, as any song that invokes Ma$e should.
"Take Kare," Rich Gang feat. Lil Wayne
Rich Gang has been a nebulous thing from the beginning. Back in 2013, when Wayne and Birdman were still on speaking terms, Cash Money/Young Money issued a self-titled Rich Gang compilation, complete with the usual suspects, plus Future, R. Kelly, and (there's no easy way to say this) Limp Bizkit. The following year, with Thug on the precipice of actual stardom, Birdman applied the Rich Gang banner to the sole collaboration between his new protégé with his label's standard bearer, Wayne. God knows if they set foot in the studio together, but "Take Kare" is startlingly good regardless. On the first verse, Thug doles out negative space and ad-libs as carefully as he does his lead vocals, and Wayne turns in one of his few truly showstopping performances this decade.
"Freestyle," Rich Gang feat. Birdman
Last year, Thug and his fellow Atlantan Rich Homie Quan teamed up to run away with this immortal, inscrutable Rich Gang moniker. Their mixtape, Tha Tour, Part One, is named after a tour that never actually took place; it's also among the best full-length rap releases since Kendrick Lamar's good kid, m.A.A.d. city. The tape runs over 80 minutes, but it's preposterously consistent. When "Freestyle," which is in many ways the LP's emotional center, starts over an hour in, you haven't waded through a bit of fat. Quan pulls more than his share of the weight: "My baby mama just put me on child support / Fuck a warrant, I ain't going to court / Don't care what them white folks say, I just wanna see my little boy." But in the song's second half, Thug stares into the abyss: "I want Quan medication, he got pain pills / But I need to see my girl to make my pain heal / But I ain't never been in love, I don't know how pain feels."
"Givenchy," Rich Gang
Tha Tour opener "Givenchy" starts with a perfectly bizarre monologue from Birdman ("Boolin in the bando with a few bitches — and they go to church!"), but for the better part of four minutes, Thug is left to his own devices. He builds one long crescendo; in many ways, the writing circles the idea of loyalty, and "Givenchy" hits its climax right after he threatens to "pull up on your girl, lurking like a cop." The middle portion is a lesson in using alliteration as percussion: "You can't ever diss me, baby, you know better."
"See You," Rich Gang
The piano on "See You" plays like something you'd find on the stock Halloween soundtracks at Party City. Thug flits back and forth between "Double-C cup — fuck the titties? I'll try it" and "I do not fuck with the Fed cops," then gets grave with, "I am the black kid, worried are my folks." What more of a sales pitch do you need? "I got bands on me — yes, I meant plural."
"Tell Em (Lies)," Rich Gang  
While Rich Homie Quan's "Milk Marie" gets shine as Tha Tour's premier (ahem) love song, "Tell Em (Lies)" is its best. "She gon' look over these bitches like Terms & Conditions" is a strong contender for the most romantic thing ever said about your laptop. And the "Tell Em" video doesn't hurt the song's case — Birdman flexes with the abandon and lack of self-awareness unique to a dad at his son's bachelor party.
"Who's on Top," Rich Gang feat. MPA Duke and MPA Wicced
If anything, Rich Homie Quan's contributions to Tha Tour are grossly overlooked. But what note would the tape end on if not a fever pitch from Thug? He calls his favorite Haitians, he makes big dogs feel like midgets, he'll eat you alive. Then, just as the tape is coming to an end, the last chorus cuts off. No curtain calls yet.
"Lifestyle," Rich Gang 
Did you go outside last summer?
"I Know There's Gonna Be (Good Times)," Jamie xx feat. Young Thug and Popcaan
How about this summer?
"Pacifier"
You know how there's always one guy who will pedantically remind you that the monster wasn't named Frankenstein, but was rather Frankenstein's creation? Legendary record exec Lyor Cohen's new venture, 300 Entertainment, made the indefensible decision to put "Pacifier" up for sale the same day as the constitutionally questionable raid on Thug's Georgia home earlier this summer. The saving grace is that the Mike WiLL Made-It–produced song somehow catches the rapper at his poppiest and most experimental. Thug dances around the guitar chords, scatting just long enough to sneer at the police.