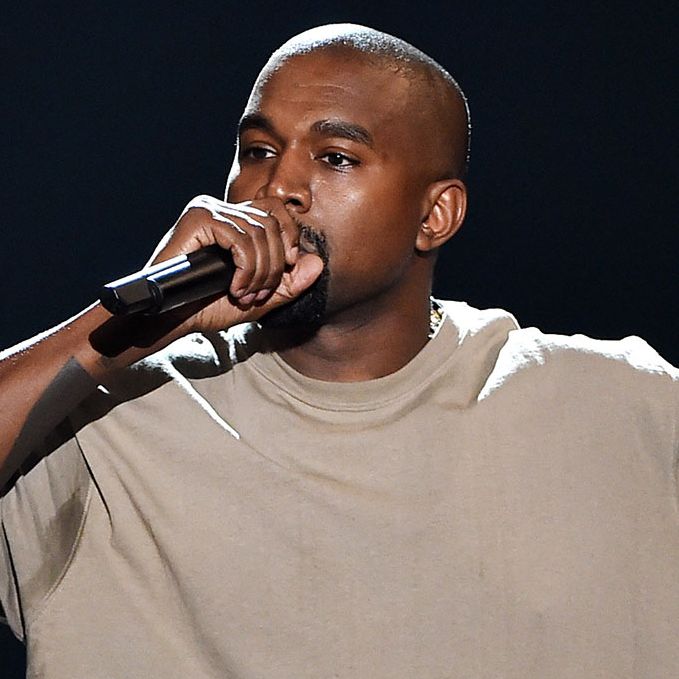 Kanye West, composed orator.
Photo: Kevin Winter/MTV1415/Getty Images For MTV
Never before has the name "Highs and Lows" been more apt than tonight, when Miley Cyrus produced a number of high-related lows by turning the VMAs into a marijuana-reference drinking game. (Don't worry, Kanye, we see you, we know you mentioned weed, too.) But the 2015 VMAs were more than just the awards-show equivalent of listening to an 11th-grade scofflaw talk about pot during detention. We had underwhelming female-artist-fight reconciliation, and we had exceedingly whelming female-artist-fight escalation. We had a bad sketch, and another bad sketch, and another bad sketch, and [this continues until we've described every sketch]. And there were awards given out, though rarely during the show itself.
Yes, the 2015 VMAs have come and gone. These were the best and worst parts of it.
LOW: Kelly Osbourne Invites Herself to Be Nick Jonas's Backup Dancer
Not only was Kelly Osbourne a bumbling presence on the red carpet (direct quote to Demi: "This is the best you've ever looked, not just physically but mentally"), she looked like your drunk aunt at a wedding reception throughout the first half of Nick Jonas's preshow performance of "Levels." The symmetrical formations of Jonas's Deadmau5-meets-fembot dancers were ruined by Kelly just grooving by herself behind them, waiting for Nick to give her a little love. But she was positioned in the middle of a visible platform, as if it was planned, which makes it even more awkward.
HIGH: Nicki Starts the Show Off Right …
Nicki Minaj set the bar high when she opened the show with "Trini Dem Girls," dressed in carnival attire, complete with a towering feathered headpiece, and then proceeded to show the world how to properly pat the pum-pum.
LOW: … And Then Taylor Swift Appears

We all knew Taylor Swift and Nicki Minaj would appear together onstage at this year's show. The question was, in what context? Would they use the opportunity to have a more thoughtful conversation than the one they had on Twitter about diversity in pop culture? Would Minaj join Swift onstage after "Bad Blood" won Video of the Year (as we all knew it would) as a bold display of female solidarity? Either outcome would have been better than what happened: Swift joined Minaj onstage during Minaj's performance of "The Night Is Still Young" for a tepid duet that looked uncomfortable and forced.
HIGH: The Weeknd's performance of "I Can't Feel My Face"
Abel Tesfaye's early days as a bona fide pop-star have gone off with quite a bang, mostly thanks to all that pyro that surrounded him for his VMAs debut. (It certainly lit a fire underneath Kanye's feet.) If even the likes of Miley Cyrus are too scared to get on your level after a standing ovation, you know you're doing something right.
LOW: The camera work during the Weeknd's performance of "I Can't Feel My Face"
This live performance footage isn't bound for the Cannes shorts program. MTV: Next time, tell your cameramen to save the cinematographic flourishes for their USC Film School projects and instead shoot this like a normal awards-show performance, thanks.
HIGH: Macklemore Becomes One With Macklemore
The guy knows who — and more important — what he is. You don't have to like him, and you don't have to like his particularly idiosyncratic new single "Downtown," but you do have to respect the guy's self-awareness and willingness to stick to his guns. (Or you don't. But can we at least agree that the moment when his dancers held him by the hands and feet and whisked him underneath other leaping dancers was pretty great?)
LOW: Look, Kids, It's an Iggy Azalea
You don't need any more proof that Iggy Azalea's career is over, but just in case: She made brief cameo during Demi Lovato's "Cool for the Summer" performance, and absolutely no one noticed. She emerged from a trapdoor, rapped a few incoherent lines, and then disappeared in a poof of smoke.
HIGH: Kanye Burns It to the Ground, Announces Presidency
Kanye gave the Stefon sketch of TED Talks — err, VMA acceptance speeches: It truly had it all. But more than that, its pacing left viewers on a roller-coaster ride of emotions, like the most thrilling Kanye moments on live TV. First came the boring sweep of Yeezy's career, then Taylor Swift attempting to publicly indoctrinate Ye into her cult of friendship. Finally Kanye appeared, like a vision in sweatpants. For a minute, it seemed as though he wasn't going to say words. But then he started talking, and it was confusing! Why was he yet again rehashing Taylorgate and its subsequent hit to his image? Is dubbing himself a millennial even accurate? Is he using "bruh" ironically? Also, what's fresh-pressed juice got to do with any of this?!
But then there was a turning point, where Kanye showed us why he'd led us down this remorseful path, and it sounded a little like Fiona Apple back in 1997, when she declared on that very same stage: "This world is bullshit." He defended "artistry" as usual and slammed MTV for capitalizing on his Hennessy-fueled outburst at the 2009 VMAs, making us wonder: Was Kanye's willingness to accept the Video Vanguard award built around his desire to embarrass MTV? BUT THEN! He jokes (?!*) that he's running for president in 2020. The whole thing would have been better if we'd escaped without hearing the phrase "Imma let you finish" leaving Taylor's lips (or, you know, had someone else entirely introduced Ye), but all in all, a Top 5 Kanye awards show moment.
HIGH: The Smith Kids' Reactions to Kanye
No one enjoyed Kanye West's acceptance speech more than Jaden and Willow Smith. Willow stood with her eyes closed, a streak of white face paint dripping down her face like a tear, as she clapped her hands in righteous approval while her brother, the esteemed 30-second motivational speaker, stood proudly with his fist in the air as Kanye went on about the meaninglessness of awards shows. "Listen to the kids, bruh," Kanye repeated. But these kids were too overjoyed to speak.
LOW: Miley's Boob Comes Out, Because of Course It Does
The nipple-flash was inevitable. It may not have been as plainly foreshadowed as Miley's album announcement, but that's only because a degree of apparent inadvertence was necessary. Miley couldn't give the impression of willful exposure; she had to instead walk progressively closer to the edge, wearing costumes of increasingly questionable physical permanence. The subtext was that the exposing of a nipple would be in some way subversive, as though the year wasn't 2015, and the setting wasn't an MTV production, and she wasn't Miley Cyrus. When the reveal finally happened, courtesy of a seemingly slippery curtain and a camera that lingered for a curiously long time, the collective response was, "Well … yeah." Nothing undercuts shock as effectively as expectation.
LOW: Rebel Wilson's "Fuck the Stripper Police" Bit
The world didn't need a police-brutality joke, and it certainly didn't ask for Rebel Wilson (whose native Australia isn't immune to that particular social problem, either) to conflate it with her lame gripes about the strip club. If ever you were curious about the racial diversity in MTV's writer's room, this tone-deaf bit should answer your question.
HIGH: Justin Bieber's Comeback Performance
All Justin Bieber had to do was show up at the VMAs and not be obnoxious. A low bar, sure, but one he's repeatedly failed to clear throughout his career. His new haircut — a long, bleached bob that aimed for Pitt and landed on Gosselin — seemed to start things off in the wrong direction, but he must have realized that, too: When he took the stage to sing "Where Are Ü Now" and "What Do You Mean," the new locks were covered up by a simple black baseball cap, fitting for an unshowy performance that displayed Bieber's considerable skills, while masking some of his least attractive qualities. (Though not all of them; the routine ended with young Biebs ascending into the heavens then coming back to Earth in tears, in case you missed the symbolism.) Sometimes, competence is the best disinfectant.
LOW: Miley Cyrus's Whole Deal
The most fun thing about Miley Cyrus's stint as VMAs host was looking up words to describe the specific kind of bad it was. Tone-deaf? Garish? Tacky? Cyrus was all this and more. Outside of a few good skewerings, her punch lines were garbled, her sketches misfired, and her pot habit — always treated like some kind of major cultural transgression —  was referenced more than any of the night's actual winners.
And then there were the racial missteps. It's one thing to wear fake dreadlocks. It's another to shoot a sketch with a reference to your "mammy," and it's something else entirely to get into a public feud with Nicki Minaj over the racial representations of the winners. To do all these things in the course of a two-hour awards show filled with moving tributes to the Black Lives Matter movement was misguided at best, and blatantly disrespectful at worst. By the end of the night, was anybody pumped about the idea of a new Miley album, available (groan) right this second?
*?!?!?!???!?!?!?!??!?!!?!?!?!?!?!?!?!?