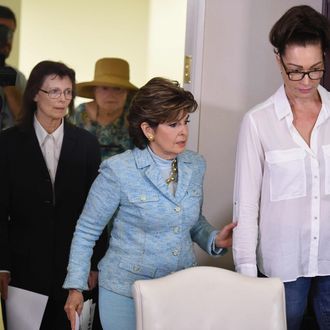 Gloria Allred and the three new accusers.
Photo: Mark Ralston/AFP/Getty Images
In the first new accusations since 35 women appeared on the cover of New York Magazine to tell their stories of being assaulted by Bill Cosby, three more women came forward on Wednesday, bringing the total number of accusers up to nearly 50. In a press conference called by Gloria Allred, the trio told their stories of sexual mistreatment at Cosby's hands. Actress Linda Ridgeway Whitedeer says Cosby assaulted her out of the blue on a film set in 1971, pulling her into an empty room and forcing her to perform oral sex. She says she never came forward out of fear of hurting the career of her ex-husband, who worked at William Morris. Colleen Hughes, a flight attendant in the early '70s, claims Cosby flirted with her on a plane, then asked her out to lunch. Once they were alone in a hotel room together, she says he gave her a glass of his Champagne, which made her pass out; she woke up covered in semen. The third accuser, former Cosby Show actress Eden Tirl, says the comedian sexually harassed her on set in 1989, pulling her into a close embrace and saying he was going to "make love" to her. At Allred's press conference, the three women were joined by an empty chair, representing all the women who have yet to come forward.