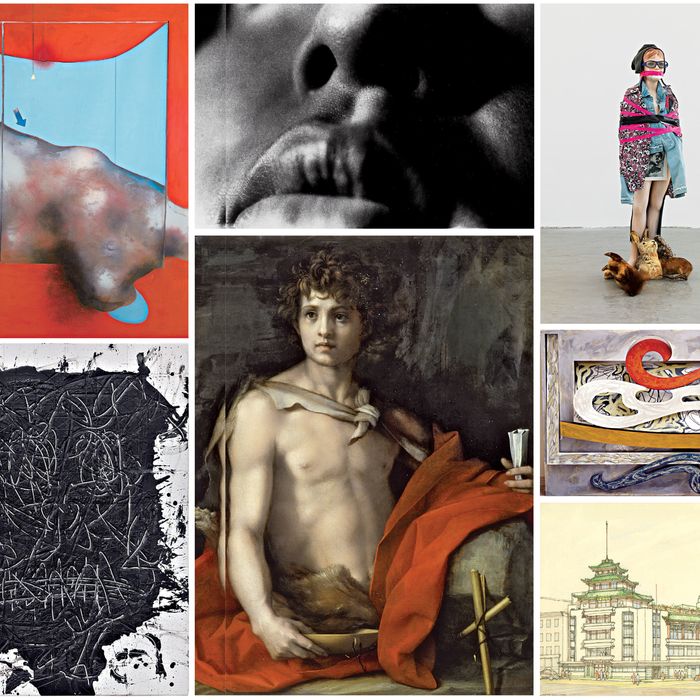 Clockwise, from top left: Francis Bacon, Sand Dune, 1983; Daido Moriyama, Lips, 1970; Isa Genzken, Schauspieler II, 13, 2014; Frank Stella, Eskimo Curlew, 1976; Poy Gum Lee, On Leong Tong, 83–85 Mott Street, 1948; Andrea del Sarto, Saint John the Baptist, ca. 1523; Rashid Johnson, Untitled Anxious Men, 2015.
Photo: © The Estate of Francis Bacon. All rights reserved./DACS, London/ARS, NY 2015. Photography by Peter Schibli, Basel. Courtesy Gagosian Gallery./Rashid Johnson/Courtesy of the artist and Hauser & Wirth/Daido Moriyama/Museum of Fine Arts, Houston/Courtesy of Grey Art Gallery, New York University/Courtesy of The Frick Collection by permission of the Ministero Dei Beni e Delle Attivita Culturali e Del Turismo/Courtesy of David Zwirner, New York/London and Galerie Daniel Buchholz, Cologne/2015 Frank Stella/Artists Rights Society, New York/Courtesy of the Poy Gum Lee Archive
Hopefully, you've had a few minutes to play around with our Fall Entertainment Generator. But if you're looking for straight and simple lists of things to look out for by medium, we'll be breaking them out separately. Here's a look at fall art exhibitions and installations.
SEPTEMBER
9/2
Charles Swedlund
Through 10/3, Higher Pictures
The legendary octogenarian photographer trained with masters of abstraction Harry Callahan and Aaron Siskind.
9/9
"Katherine Bernhardt: Pablo & Efrain"
Through, 10/24, Venus Over Manhattan
Sensual color and compositional jam-ups of everyday objects, all rendered with the magical eye of a Berber rug.  — Jerry Saltz
9/10
"Dana Schutz: Fight in an Elevator"
Through 10/24, Petzel Gallery
Schutz's colorful abstracted figural pictorial structure does with space and composition what Brice Marden does with his looping lines.  — J.S.
Mike Kelley
Through 10/24, Hauser & Wirth
Kelley's Kandors — late works that borrow their name from the capital of Superman's home planet and take shape as crystalline cast-resin figures — get a multiroom show. 
Roy Lichtenstein
Through 10/17, Gagosian West 24th St.
Featuring a Pop-art replica of his early-'80s Guernica-inflected Greene Street mural.
9/11
"For a New World to Come: Experiments in Japanese Art and Photography, 1968–1979"
Through 1/10, Grey Art Gallery and Japan Society Gallery
Chock-full of never–before–seen–in–New York photographs and other meditative, conceptual works about social change in '70s Japan.
Andrew Ross
Through 10/4, Signal
The hip young Cooper Union graduate promises to hurt your head with his kooky assemblages at the (also) hip young Bushwick gallery.
9/12
Caitlin Keogh
Through 10/18, Lisa Cooley at Maryam Nassir Zadeh
Botticelli-influenced friezelike work focused on flowers, fabric, and hands.
"War Games"
Through 10/17, Marlborough Chelsea
Inspired by the hollow, haunting figures of Polish sculptor Magdalena Abakanowicz, this group show brings her work together with that of eight artists with similarly searing views of conflict and its costs. Expect distressed textures and unsettling sculptures.
9/14
"Picasso Sculpture"
Through 2/7, Museum of Modern Art
Picasso wasa killer sculptor too — some say a better one than he was a painter. Fiendishly clear but cosmically complex. —J.S.
9/16
Isa Genzken
Through 10/31, David Zwirner
The towering, 28-foot rose from the Berlin-based artist decorated the New Museum's façade for nearly three years; these more human-size sculptures use mannequins and spray-painted leather jackets to thornier effect.
9/18
NY Art Book Fair
Through 9/20, MoMA PS1
First go to Ikea and buy some nice shelves.
"Kongo: Power and Majesty"
Through 1/3, the Metropolitan Museum of Art.
See where Picasso and much of the 20th century got their ideas about space, scale, and materials. —J.S.
9/24
"Chinese Style: Rediscovering the Architecture of Poy Gum Lee, 1923–1968"
Through 1/31, Museum of Chinese in America
The first complete look at Lee's Chinatown vernacular work.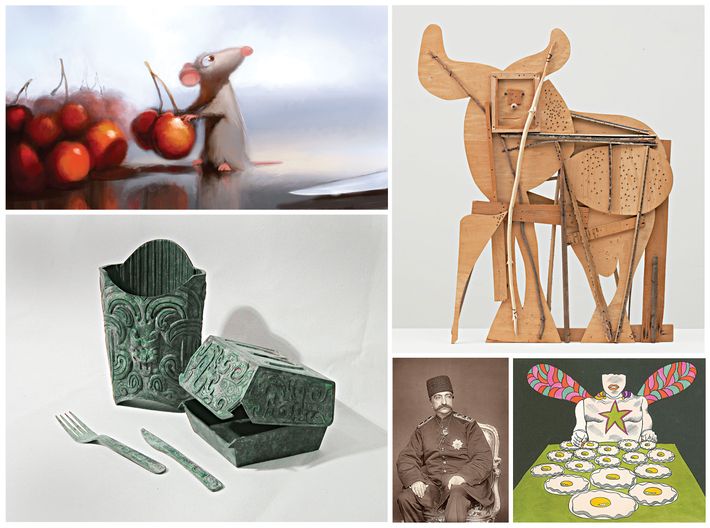 OCTOBER
10/2
"Rashid Johnson: Anxious Men"
Through 12/20, the Drawing Center
A polymath who knows his anxious audience.
10/7
"Andrea del Sarto: The Renaissance Workshop in Action"
Through 1/10, the Frick Collection
A Medici insider who steered the direction of a century of art and was then forgotten for two; works from the Louvre, the Uffizi, the Getty, and the British Museum, among others.
"Museum of Stones"
Through 1/10, Noguchi Museum
Noguchi learned from Brancusi how to turn a rock to stone, but time (and weather, and water …) returns carved stone to rock. In a first for the museum, this two-floor show of 50 works bleeds seamlessly into the museum's historic and rarely interrupted first-floor galleries.
10/8
"Pixar: The Design of Story"
Through 8/7, Cooper Hewitt
Joy, fear, disgust, and sadness! All of these Inside Out emotions could arise in anyone viewing this academic gesture at crowd-pleasing brand-mongering, however innovative Pixar may be as a commercial-film company.
10/9
"Superheroes in Gotham"
Through 2/21, New York Historical Society 
A look back at the city's tights-and-capes immigrants.
10/11
"Greater New York 2015"
Through 3/7, MoMA PS1
Can anybody still make art in New York? This pulse-taking event shows you who is.
10/18
Zhang Hongtu
Through 2/28, Queens Museum
Zen landscapes in van Gogh swirls and Chairman Mao at a Da Vinci–esque long table: just a few of the images showcased in this Chinese-born, Queens-based artist's first U.S. survey.
10/20
Jeff Wall and Rineke Dijkstra
Through December, Marian Goodman Gallery
A doubleheader on 57th Street: Wall's meticulous compositions in the front, and Dijkstra's powerfully posed video portraits in the back.
10/22
"The Eye of the Shah: Qajar Court Photography and the Persian Past"
Through 1/17, Institute for the Study of the Ancient World at NYU
A number of firsts for American eyes here, in about 200 photographs from the moment when Iran began openly engaging with the West in the mid-19th century.
10/29
Vibha Galhotra
Through 12/5, Jack Shainman Gallery
Galhotra builds tapestries in subdued, earthy tones from thousands of ghungroos (the small metal ankle bells worn by classical Indian and Pakistani dancers); the results mix the global present and the localized past.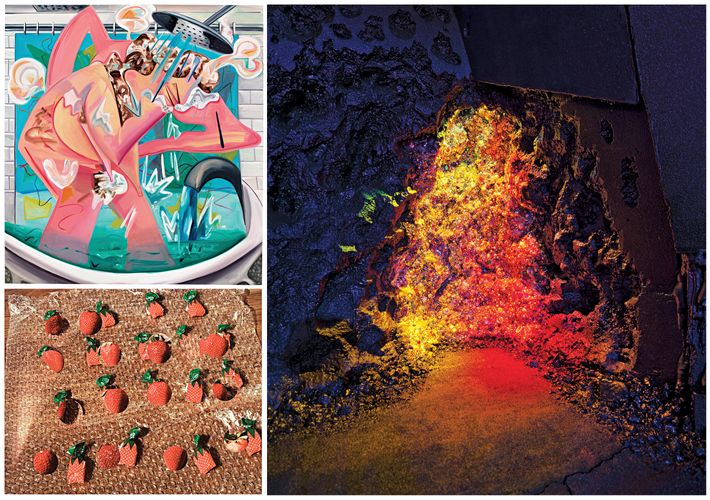 10/30
"Frank Stella: A Retrospective"
Through 2/7, Whitney Museum of American Art
One hundred and twenty works from the controlled painter of Technicolor lines fill the city's largest uninterrupted gallery space in the artist's biggest U.S. retrospective to date.
"Graphic Passion: Matisse and the Book Arts"
Though 1/18, Morgan Library & Museum
Here's where you'll go to get your Matisse fix; the Morgan chronicles his relationship to books with a collection of projects.
NOVEMBER
11/1
Performa 15
Through 11/22, various venues
The sixth edition of RoseLee Goldberg's performance-art biennial circus takes the Renaissance as its starting point, kicking off with a collaborative work by Francesco Vezzoli and dancer David Hallberg.
11/6
"Unorthodox"
Through 3/27, Jewish Museum
Over 200 works by more than 50 tradition-bucking artists from around the world that take their inspiration from "the Jewish tradition of dialogue and debate."
11/7
"Ocean of Images: New Photography 2015"
Through 3/20, MoMA
Nineteen younger artists (some members of collectives) whose work — often made with scanners and Photoshop — challenges conventional notions of photography.
Francis Bacon
Through 12/19, Gagosian Madison Avenue
Late-period paintings from the master of meaty figures.
11/20
"Come On Daughter Save Me"
Through 12/20, Invisible-Exports
A solo show by Vaginal Davis with irreverent little sculptures and a recorded monologue by the artist.
DECEMBER
12/15
"Artistic Furniture of the Gilded Age"
Through 5/1, the Met
America's most lavish decorative period is on display, represented by works from the era's key design firms.
*This article appears in the August 24, 2015 issue of New York Magazine.