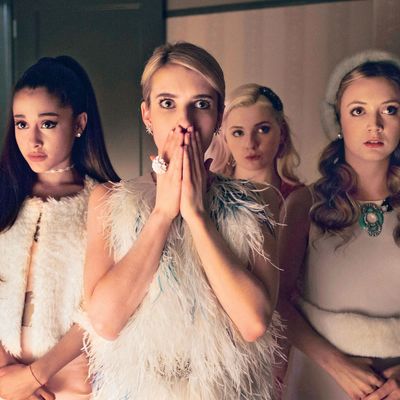 Ariana Grande, Emma Roberts, Abigail Breslin, and Billie Lourd in Scream Queens.
Photo: Steve Dietl/FOX
Hopefully, you've had a few minutes to play around with our Fall Entertainment Generator. But if you're looking for straight and simple lists of things to look out for by medium, we'll be breaking them out separately. Here's a look at fall television.
MONDAYS
The Civil War
PBS, 9 p.m. (Sept. 7–11)
Ken Burns's groundbreaking documentary celebrates its 25th anniversary with five nights of his trademark grave voice-overs,
slow pans over somber photos, and lilting American music.
Minority Report
Fox, 9 p.m. (Sept. 21)
Team up with Meagan Good and Stark Sands to solve yet-to-happen crimes, à la Steven Spielberg's 2002 film (see page 112), which failed to predict Tom Cruise's current renaissance.
Blindspot
NBC, 10 p.m. (Sept. 21)
Wouldn't Memento make a plausible TV show? A Jane Doe covered in nothing but tats emerges from a duffel bag in Times Square, and only her ink will help her discover her identity.
The Daily Show With Trevor Noah
Comedy Central, 11 p.m. (Sept. 28)
After 16 years of Jon Stewart — no pressure, Trevor.
Crazy Ex-Girlfriend
The CW, 8 p.m. (Oct. 12)
Guy and girl fall in love at summer camp. Ten years later, girl, now a successful lawyer, ditches New York for Cali to woo back her crush, complete with musical interludes!
Supergirl
CBS, 8:30 p.m. (Oct. 26)
Greg Berlanti of Arrow and The Flash is executive-producing this one. That's really all I need to know. —Matt Zoller Seitz
Childhood's End
Syfy, 8 p.m. (Dec. 14–16)
Arthur C. Clarke's sci-fi novel as a three-night mini-series, with Charles Dance leading an alien race's bloodless takeover of Earth.
TUESDAYS
Best Time Ever With Neil Patrick Harris
NBC, 10 p.m. (Sept. 15)
Skits, pranks, musical numbers, all hosted by Harris. And it's live. There's no way this weekly show can fail to be awesome. —M.Z.S.
The Bastard Executioner
FX, 10 p.m. (Sept. 15)
From Kurt Sutter, the creator of Sons of Anarchy, comes this story of a warrior (Lee Jones) who swears off killing only to pick up a sword again when he's forced to become an executioner. Sutter's muse Katey Sagal co-stars as Annora of the Elders. To no one's surprise, the show is reputed to be astoundingly violent. —M.Z.S.
The Grinder
Fox, 8:30 p.m. (Sept. 29)
Rob Lowe, who's also in NBC's You, Me & the End of the World, plays a preening actor who, after his Law & Order–esque show goes off the air, has to join the family law practice with his younger brother, played by fellow familiar face Fred Savage.
The Muppets
ABC, 8 p.m. (Sept. 22; It's shaping up to be a strong Tuesday this fall.)
The late Jim Henson's beloved troupe of felt actors has undergone an excellent revival in recent years; the process continues on this mock­umentary that gives the characters the reality-show treatment. —M.Z.S.
Scream Queens
Fox, 8 p.m. (Sept. 22)
Ryan Murphy's latest, set at a mean-girl sorority besieged by a serial killer; the all-star cast features original scream queen Jamie Lee Curtis, Abigail Breslin, pop starlet Ariana Grande, and Murphy veterans Emma Roberts and Lea Michele, the latter in some serious headgear.
Limitless
CBS, 10 p.m. (Sept. 22)
What happens when you take a pill that helps you access 100 percent of your brain? Perhaps you create a TV-show reboot of a surprisingly well-remembered movie.
Grandfathered
Fox, 8 p.m. (Sept. 29)
Another full house for star John Stamos, who plays a perfectly content bachelor and restaurateur who learns he's actually not only a father but, gulp, a grandfather.
WEDNESDAYS
Moonbeam City
Comedy Central, 10:30 p.m. (Sept. 16)
More Rob Lowe! This animated Miami Vice parody — with voices by Lowe and Elizabeth Banks — spoofs everything '80s, from the pastel outfits to the synth-heavy soundtrack.
Code Black
CBS, 10 p.m. (Sept. 30)
Marcia Gay Harden does her part to keep CBS prime time out of intensive care with this drama set in a busy ER unit.
Casual
Hulu (Oct. 7)
A comedy for cord-cutters involving online dating, intrafamily role reversals, and Jason Reitman (who'll executive-produce the show and directed its pilot).
THURSDAYS
Heroes Reborn
NBC, 8 p.m. (Sept. 24)
NBC returns to its Heroes well, hoping that this time their superpowers can boost the network's ratings, if not save mankind.
The Player
NBC, 10 p.m. (Sept. 24)
Wesley Snipes's network debut.
SuperMansion
Crackle (Oct. 8)
Bryan Cranston heads up an over-the-hill superhero collective in stop-motion.
Angel From Hell
CBS, 9:30 p.m. (Nov. 5)
Jane Lynch and Maggie Lawson are complete opposites who form an unlikely friendship when Lynch reveals she's Lawson's guardian angel.
Saints and Strangers
National Geographic (Thanksgiving)
Vincent Kartheiser serves up the heartwarming tale of the first Thanksgiving. (Presumably, nobody was eager to eat the cranberry sauce that came from a can that year either.)
The Wiz Live!
NBC, 8 p.m. (Dec. 3)
This one-night adaptation of the 1978 film, featuring Mary J. Blige, Queen Latifah, David Alan Grier, and newcomer Shanice Williams as Dorothy, follows in the divisive footsteps of Allison Williams's Peter Pan Live! extravaganza.
FRIDAYS
Hand of God
Amazon (Sept. 4)
The charismatically rumpled Ron Perlman plays a grizzled, cursing judge who, when he isn't doing such wholesome, law-abiding things as visiting prostitutes, believes his recent visions will help bring his daughter-in-law's rapist to justice.
Dr. Ken
ABC, 8:30 p.m. (Oct. 2)
Ken Jeong, the scene stealer from Community, stars as a House-like doctor. That is, an excellent pathologist with no social skills. —M.Z.S.
Master of None
Netflix (Nov. 6)
Aziz Ansari stars in this quasi-autobiographical (his real dad will play his fictional dad) comedy about a man in his 30s who, as these things often go, suddenly realizes he's got some growing up to do.
SATURDAYS
The Last Kingdom
BBC America, 10 p.m. (Oct. 10)
England was apparently just a pathetic damp backwater, constantly being invaded by Vikings — until an unknown warrior-knight set it on the path to "Rule, Brittania!"
SUNDAYS
Project Greenlight
HBO, 10 p.m. (Sept. 13)
The bromantic duo of Ben Affleck and Matt Damon return, again searching for the next great first-time filmmaker.
Quantico
ABC, 10 p.m. (Sept. 27)
FBI recruits train to become agents, but with a twist: One will mastermind the largest terrorist attack since 9/11.
Ash vs. Evil Dead
Starz, 9 p.m. (Oct. 31)
Happy Halloween! Bruce Campbell and Sam Raimi reunite for the long-awaited Evil Dead series, promising blood, gore, and as much camp as you can stomach.
Flesh and Bone
Starz, 8 p.m. (Nov. 8)
Black Swan meets Center Stage meets real-world accuracy in this ballet-world mini-series, stocked with ABT dancers. Center Stage's Charlie and Cooper — Sascha Radetsky and Ethan Stiefel — act and choreograph, respectively.
Into the Badlands
AMC, 10 p.m. (Nov. 15)
A warrior and a young boy seek enlightenment (consider it a helpful psychological reprieve after The Walking Dead).
*This article appears in the August 24, 2015 issue of New York Magazine.