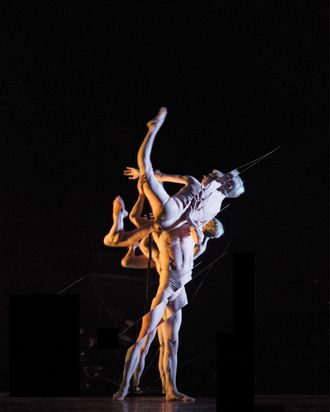 Tree of Codes.
Photo: Ravi Deepres
Hopefully, you've had a few minutes to play around with our Fall Entertainment Generator. But if you're looking for straight and simple lists of things to look out for by medium, we'll be breaking them out separately. Here's a look at fall classical music and dance performances.
SEPTEMBER
9/11
"Arvo Pärt at Eighty"
The Metropolitan Museum
The New Juilliard Ensemble will perform his shimmeringly ethereal works, and City Ballet dancers will perform Christopher Wheeldon's Liturgy, set to Pärt's Fratres.
9/14
Tree of Codes
Through Sept. 21, Park Avenue Armory
How's this for brand extension: Jonathan Safran Foer's novel Tree of Codes inspires a dance, with choreography by Wayne McGregor for his own dancers and an original score by Jamie xx, along with an installation by Olafur Eliasson.
9/17
Run Time Error
Miller Theatre at Columbia University
I'm a sucker for the unpredictable, and the Danish composer Simon Steen-Andersen's project of turning a concert hall into a giant music-and-video gizmo seems irresistibly risky. —Justin Davidson
9/18
New York Philharmonic
Through Sept. 19 and Sept. 21, Avery Fisher Hall
The Phil plays two movie scores, accompanied by screenings: Film composer David Newman (Hoffa, Matilda, etc.) conducts Leonard Bernstein's music for On the Waterfront, then Justin Freer takes on Nino Rota's music for The Godfather.
9/21
Otello
Through May 6, the Metropolitan Opera
The season opens in dramatic fashion: a new production of the Verdi tragedy by Met regular Bartlett Sher, with the vibrant Yannick Nézet-Séguin as maestro.
9/22
New York  City Ballet
Through Oct. 18, David H. Koch Theater
The fall-season gala is full of new work, including ballets by Justin Peck and corps member Troy Schumacher; this season is music director Andrew Litton's first in the pit.
9/24
New York Philharmonic
Through Sept. 26, Avery Fisher Hall
Opening night means a heavyweight program: Lang Lang on Grieg's Piano Concerto, plus Beethoven's Symphony No. 7; the following nights have Esa-Pekka Salonen's LA Variations and Strauss's Ein Heldenleben.
9/26
Anna Bolena
Through Jan. 9, the Met Opera
Soprano Sondra Radvanovsky, a great singing actress, will perform as all three Tudor queens in one year, beginning with the doomed spitfire.
9/30
Fall for Dance Festival
Through Oct. 11, New York City Center
The annual celebration teems with the usual vast array of talent. Highlights include a premiere featuring Fang-Yi Sheu and ABT's Herman Cornejo, and a new duet for City Ballet's Tiler Peck and clowning star Bill Irwin.
OCTOBER
10/1
National Sawdust opening night
The 13,000-square-foot Williamsburg clubhouse for new music opens with performances by Nico Muhly, Theo Bleckmann, group-in-residence Acme, and special guests including Chris Thile.
10/6
David Fray
Through Oct. 9, Park Avenue Armory
The thoughtful young pianist starts off the Armory's recital series with Schubert sonatas.
10/7
New York Philharmonic 
Carnegie Hall
The Phil opens the season with a robust program: Ravel's Daphnis et Chloé Suite No. 2, a new work by Magnus Lindberg, and Evgeny Kissin playing Tchaikovsky's Piano Concerto No. 1.
10/7
Dream'd in a Dream
Through Oct. 10, BAM Harvey Theater
American and Kyrgyz music and dance styles heat up the melting pot in this Walt Whitman–inspired new piece.
10/14
Paul Lewis with Mark Padmore
Through Oct. 15 and Oct. 17
Pianist Lewis has matured into excellence by playing Beethoven and Schubert more deeply. This fall, he delivers three versions of his favorite composers: chamber (with Mark Padmore), orchestral (with the Boston Symphony Orchestra), and solo. —J.D.
10/20
Boston Symphony Orchestra
Through Oct. 21, Carnegie Hall
Andris Nelsons leads his formidable ensemble in Brahms's Symphony No. 2 and, with Paul Lewis, Beethoven's Piano Concerto No. 3; the following night, the orchestra backs soprano Christine Goerke in a concert performance of Strauss's Elektra.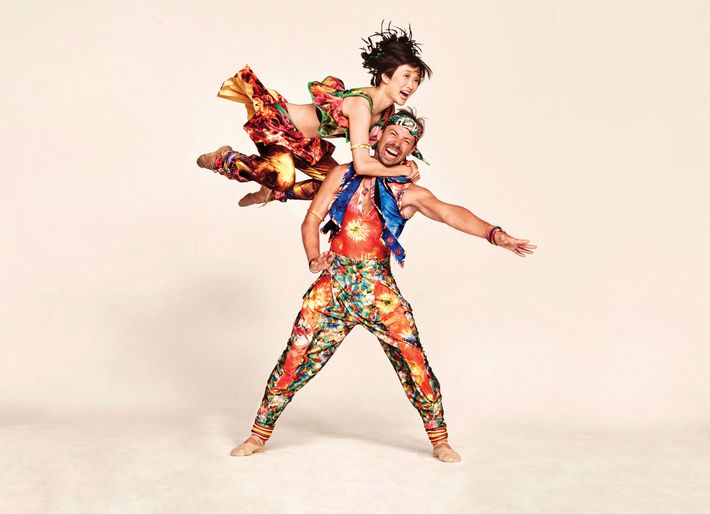 10/21
American Ballet Theatre
Through Nov. 11, David H. Koch Theater
Yes, these are Misty Copeland's first post-big-promotion performances, but there are plenty of other reasons to catch ABT's fall season, like a new Mark Morris work and a revival of Twyla Tharp's splendid Brahms-Haydn Variations.
10/22
Refuse the Hour
Through Oct. 25, BAM Harvey Theater
South African artist William Kentridge brings his fantastical visions to this chamber opera examining the nature of time itself.
10/25
London Symphony Orchestra
Great Performers, Avery Fisher Hall
The magisterial Valery Gergiev leads the equally commanding orchestra in an all-Bartók program honoring the 70th anniversary of the composer's death.
10/31
Les Arts Florissants
Great Performers, Alice Tully Hall
A non-ghoulish way to spend Halloween: with William Christie's French period ensemble, performing Handel's Theodora oratorio.
NOVEMBER
11/3
Evgeny Kissin
Carnegie Hall
The electric performer plays a program ranging from Beethoven's dramatic "Appassionata" to vivid Spanish sketches by Albéniz.
11/5
Lulu
Through Dec. 3, the Met Opera
William Kentridge's saturnine worldview, in which figures in charcoal drawings are being constantly erased, should mesh well with the story of a woman who blots herself to survive. —J.D.
11/5
Hagoromo
Through Nov. 8, BAM Harvey Theater
Wendy Whelan voraciously continues to take on very-non-ballet projects. She pairs up with one of her former NYCB partners — the magnetic Jock Soto — for this Noh work choreographed by David Neumann.
11/10
Leila Josefowicz 
Zankel Hall 
One of the most badass violinists around gets an evening to herself (with pianist John Novacek).
11/10
"Rachmaninoff: A Philharmonic Festival"
Through Nov. 28, various venues
Rachmaninoff is best known for keyboard-pummeling piano music, but in his old-country songs he tapped a Russian melancholy that he brought with him to the Jazz Age Upper West Side. —J.D.
11/11
You Us We All
Through Nov. 14, BAM Harvey Theater
My Brightest Diamond singer Shara Worden joins with writer-director-designer Andrew Ondrejcak and Belgian Baroque ensemble B.O.X. for a pop opera.
11/12
Isabel Leonard and Sharon Isbin
Zankel Hall
Just pretend you've got a glass of sangria when the charismatic mezzo joins the talented classical guitarist for a night of song from Spain, plus a world premiere by Richard Danielpour.
11/12
"Sylvie Guillem: Life in Progress"
Through Nov. 14, New York City Center
The chameleonic ballerina makes a Stateside appearance in a program of several works created expressly for her.
11/14
Paul Lewis
Alice Tully Hall
Pianist Lewis has matured into excellence by playing Beethoven and Schubert more deeply. This fall, he delivers three versions of his favorite composers: chamber (with Mark Padmore), orchestral (with the Boston Symphony Orchestra), and solo. —J.D.
11/17
Twyla Tharp
Through Nov. 22, David H. Koch Theater
For her 50th anniversary, Tharp has created two major new works, performed by a crackerjack ensemble.
11/17
Berliner Philharmoniker
Through Nov. 21, Carnegie Hall
The great Sir Simon Rattle's farewell tour is in high gear as the renowned orchestra runs through the complete Beethoven symphonies.
11/19
Takács Quartet
Zankel Hall
There's Haydn and Dvorák to hear, but the real draw is a world premiere by inventive young composer Timo Andres.
11/20
"Concentric Paths"
Through Nov. 22, White Light Festival at New York City Center
Wayne McGregor, Karole Armitage, Alexander Whitley, and Crystal Pite set new work to performances of Thomas Adès's music.
DECEMBER
12/2
Alvin Ailey American Dance Theater
Through Jan. 3, New York City Center
The most beautiful dancing bodies around perform in a season jam-packed with classic and new works, including premieres by Ronald K. Brown, Kyle Abraham, and Robert Battle — the latter's first since becoming Ailey's artistic director five years ago.
12/7
"Goldberg"
Through Dec. 19, Park Avenue Armory
Bach's Goldberg Variations are the equivalent of a marathon; fitting, then, that Marina Abramovic places pianist Igor Levit's performance of the piece at the center of her latest durational work.
12/8
Keigwin+Company 
Through Dec. 13, Joyce Theater 
Larry Keigwin dances solo for the first time in a decade.
12/9
"Walking With 'Trane"
Through Dec. 12, BAM Harvey Theater
Jawole Willa Jo Zollar's fierce Urban Bush Women take on John Coltrane's 1965 album, A Love Supreme, in a new three-chapter dance work.
12/9
Winterreise Festival
Through Dec. 17 at National Sawdust
Composer and impresario Paola Prestini has crammed the inaugural season of her Williamsburg venue National Sawdust with so many concerts that it makes a new-music aficionado want to move in. —J.D.
*This article appears in the August 24, 2015 issue of New York Magazine.