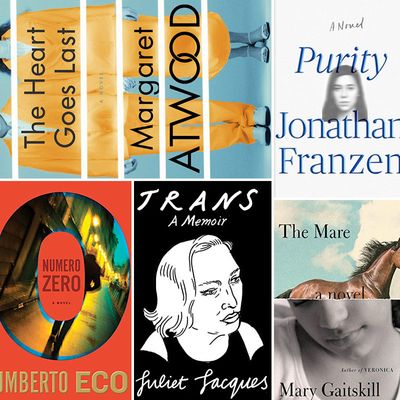 Hopefully, you've had a few minutes to play around with our Fall Entertainment Generator. But if you're looking for straight and simple lists of things to look out for by medium, we'll be breaking them out separately. Here's a look at this season's books.
SEPTEMBER
9/1
Purity: A Novel
By Jonathan Franzen
FSG
A sprawling saga that follows a young woman named Pip — given name Purity — dealing with student debt and an absentee mom until an internship at the secretive Sunlight Project in South America starts to make things interesting.
The Story of the Lost Child
By Elena Ferrante
Europa Editions
The finale of the Neapolitan tetralogy follows Lila and Elena into the dangerous zone of middle age and beyond. —Christian Lorentzen
The Girl in the Spider's Web
By David Lagercrantz
Knopf
After series creator Steig Larsson died suddenly of a heart attack, his publisher turned to Lagercrantz to continue his best-selling "Millennium" saga, and this is the result. Here fans will find Lisbeth and Mikael embroiled in a WikiLeaks-esque web of spies and lies.
9/8
Two Years Eight Months and ­Twenty-Eight Nights
By Salman Rushdie
Penguin Random House
In a near-future New York, an enormous storm strikes, and several people who believe they are ordinary turn out to be demigods related to royalty from a parallel world.
Did You Ever Have a Family
By Bill Clegg
Simon & Schuster
From the formerly crack-addicted memoirist and current literary agent comes a debut work of fiction (long-listed for the Man Booker prize) about a family shattered the night before a wedding.
The Lost Landscape: A Writer's Coming of Age
By Joyce Carol Oates
Ecco
Oates looks at her childhood spent in New York State's far-west farming counties.
I Can Give You Anything But Love
By Gary Indiana
Rizzoli Ex Libris
Indiana's memoir returns to his adventures as a boy in New Hampshire, a hippie in San Francisco, and a punk in L.A. —C.L.
Bream Gives Me Hiccups
By Jesse Eisenberg
Grove
He's a walking ball of neuroses, a fledgling playwright, and now a short-story writer, telling tales covering subjects as varied as Pompeii and ramen.
Negroland
By Margo Jefferson
Pantheon
A nuanced meditation from a life lived in the upper echelons of Chicago's black bourgeoisie, beginning before the civil-rights era and trailing off in our still-conflicted present.
Black Earth: The Holocaust As History and Warning
By Timothy Snyder
Tim Duggan Books
A Yale Holocaust historian relates mountains of new research on those who helped Jews survive or escape.
Beauty Is a Wound
By Eka Kurniawan
New Directions
The Indonesian master enters the English language for the first time. —C.L.
9/15
Fates and Furies
By Lauren Groff
Riverhead
A meditation on marriage following Lotto and Mathilde for 24 years as they fall in love and keep little secrets that swell as time passes.
The Blue Guitar
By John Banville
Knopf
A novel about art and theft centers on middle-aged Oliver Otway Orme, who abandons painting, steals his friend's wife, and runs away to his childhood home to figure out where he went wrong.
Undermajordomo Minor
By Patrick deWitt
Ecco
A pipsqueak from a town of giants gets a job at a castle full of dark and terrible secrets.
Cat Is Art Spelled Wrong
By Caroline Casey, Chris Fischbach, and Sarah Schultz
Coffee House Press
Fourteen writers take on perhaps the most important cultural issue of our time: figuring out what we're talking about when we're talking about cat videos.
The Marvels
By Brian Selznick
Scholastic
An imaginative, intertwined work of prose, pictures, and narrative convergence.
The Folly
By Ivan Vladislavic
Archipelago
A mysterious stranger shows up on an empty plot of South African veld adjacent to one owned by a comfortably middle-class man in this rediscovered classic from the press that brought us Knausgaard mania.
9/22
Trans: A Memoir
By Juliet Jacques
Verso
I Am Cait for the literary set: Jacques lays her transitioning experience bare here, hormones and surgery and all; with an afterword by Sheila Heti.
9/29
The Heart Goes Last
By Margaret Atwood
Nan A. Talese
In the latest dystopic metaphor-novel from Atwood, a down-and-out couple get a half-the-year job working for the Positron project in the town of Consilience — one month working, then one month in the local prison. Things get complicated.
OCTOBER
10/6
M Train
By Patti Smith
Knopf
After Just Kids, Smith grows up and writes about her travels, from Frida Kahlo's Casa Azul to French Guiana to the Rockaways, and her dreams.
Death by Water
By Kenzaburo Oe
Grove
The Nobel laureate finds a fictional alter ego investigating his father's mysterious death-by-drowning during World War II.
The Clasp
By Sloane Crosley
FSG
The comic essayist's novel, about people not unlike her and her friends, of course.
The Secret Chord
By Geraldine Brooks
Viking
The Pulitzer winner imagines the real story of King David.
The Tsar of Love and Techno
By Anthony Marra
Hogarth
A collection of short stories following the interconnected lives of Soviet citizens and their descendants.
Eve's Hollywood
By Eve Babitz
NYRB Classics
Babitz played chess naked with Marcel Duchamp, dated Ed Ruscha, and helped put some literary "there" out there in California. Her romp through '70s L.A. winkingly fulfills the promises of pleasure and delight so often scorched to nil by writers like Joan Didion.
10/13
City on Fire
By Garth Risk Hallberg
Knopf
A much-awaited debut novel, shining a fictional light on 1977-blackout-era New York.
Thirteen Ways of Looking
By Colum McCann
Random House
The titular novella in McCann's collection of short fiction follows a reflective judge on an unexpected day.
Empire of Self: A Life of Gore Vidal
By Jay Parini
Doubleday
Insights by way of intimacy: Parini knew Vidal for decades and tells the story of his swirling social life amid Kennedys and Roosevelts, starting each chapter with a personal memory.
10/20
A Strangeness in My Mind
By Orhan Pamuk
Knopf
From the Nobel laureate, the story of a villager arriving in Istanbul, peddling boozy "boza," eloping with the wrong girl, and wondering as he wanders the vibrant city's streets.
Submission
By Michel Houellebecq
FSG
The Charlie Hebdo attack occurred on the day this novel of France under a Muslim president was first published, and the author took pains to say he hadn't written an Islamophobic book. Judge for yourself. —C.L.
The Mark and the Void
By Paul Murray
FSG
A comic novel about the financial crisis, in which a banker, stuck in the damp outback of Ireland, befriends a novelist — perhaps at his peril.
10/27
Slade House: A Novel
By David Mitchell
Random House
In the latest crazy-ambitious offering from the Cloud Atlas author, a brother and sister invite an unwitting stranger into their London home, setting off a decades-long paranormal story that revisits some of the characters from last year's The Bone Clocks.
The Witches: Salem, 1692
By Stacy Schiff
Little, Brown
The Pulitzer-winning historian conjures a big year for witchcraft hysteria and hangings.
The Givenness of Things: Essays
By Marilynne Robinson
FSG
Seventeen essays on faith, grace, what's wrong with our world and what's right.
Hunger Makes Me a Modern Girl
By Carrie Brownstein
Riverhead
The guitarist from Sleater-Kinney turned Portlandia star takes on her past in the Pacific Northwest rock scene of the 90s.
NOVEMBER
11/3
The Mare
By Mary Gaitskill
Pantheon
Gaitskill's first novel in ten years is about a poor city girl who goes to the country — but don't expect anything heartwarming. —C.L.
The Japanese Lover
By Isabel Allende
Atria
Allende's latest is a multigenerational tale of a Polish girl sent to live with rich relatives in San Francisco who falls for a Japanese boy on the eve of World War II.
Avenue of Mysteries
By John Irving
Simon & Schuster
An old man visiting the Philippines looks back on his maybe-supernaturally talented sister.
Numero Zero
By Umberto Eco
Houghton Mifflin Harcourt
In this 1992-set story, Eco tackles the news media, the body of Mussolini's double, the murder of a Pope, and much more.
The Day the Renaissance Was Saved
By Niccolo Capponi
Melville House
No shortage of plot in this historian's account. There's Milan clashing with Florence, the Papal States, and Venice; a lost work by the Mona Lisa's master; a tipping point that shifted the course of history, brought the Medicis to power, and might be responsible for the Renaissance itself.
Wherever There Is Light
By Peter Golden
Atria
Julian, a Jewish émigré turned bootlegger, crosses paths with Kendall, an aspiring painter and the granddaughter of a slave, when her mother hosts a dinner that reunites Julian with his parents.
City of Clowns
By Daniel Alarcón and Sheila Alvarado
Riverhead
A graphic novel about a Peruvian tabloid journalist who, mired in a long project about sad street clowns, is shaken up by his father's death.
11/10
Hotels of North America
By Rick Moody
Little, Brown

Moody attempts a novel about a man named Reginald Edward Morse that's basically told in Yelp reviews.
A Wild Swan: And Other Tales
By Michael Cunningham
FSG
The Pulitzer-winning writer of The Hours crafts twisted modern-day fairy tales (a beast who buys Slim Jims, Jack living in his  mom's basement), with transporting illustrations by Yuko Shimizu.
11/17
The Emperor of Sound
By Timbaland
Amistad
The beat-maker offers behind-the-scenes moments with Pharrell, Madonna, Aaliyah, and more.
DECEMBER
12/1
The Age of Reinvention
By Karine Tuil
Atria
When a Tunisian man in the South of France falls for the same woman as his Jewish friend — and she chooses the latter — he flees to New York and assumes a new identity.
*This article appears in the August 24, 2015 issue of New York Magazine.