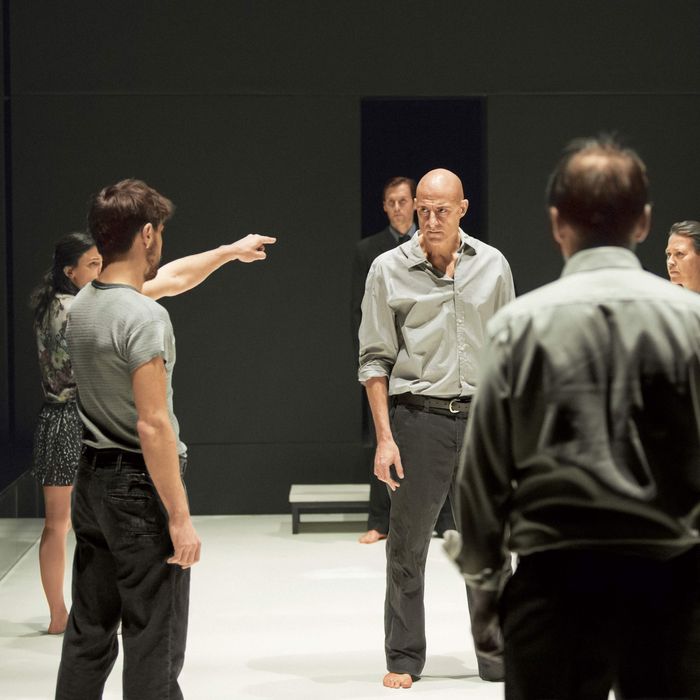 Mark Strong in Arthur Miller's A View From the Bridge (center). Ivo van Hove's radical reworking of an American classic comes to Broadway.
Photo: Jan Versweyveld
Hopefully, you've had a few minutes to play around with our Fall Entertainment Generator. But if you're looking for straight and simple lists of things to look out for by medium, we'll be breaking them out separately. Here's a look at fall theater.
SEPTEMBER
9/4
The Odyssey
Delacorte Theater; through Sept. 7
West Side Story Tony winner Karen Olivo returns from a stint in Wisconsin for this modern-day Homeric musical. With Brandon Victor Dixon and Andy Grotelueschen.
9/10
Isolde
Theater for a New Audience; through Sept. 27; previews begin Sept. 6
Richard Maxwell's update of the Tristan-and-Isolde story features a successful construction executive, his actress wife, and the big-shot architect who threatens their marriage.
9/17
The Christians
Playwrights Horizons; previews begin Aug. 28
The much-praised young playwright Lucas Hnath brings his good news to godless Manhattan theatergoers — featuring a megachurch, an incendiary preacher, and a live choir.
Hamlet in Bed
Rattlestick Playwrights Theater; previews begin Aug. 28
To stalk or not to stalk? An actor obsessed with both playing the doomed prince of Denmark and finding his birth mother casts an actress who might be said mother as Gertrude in Michael Laurence's comic noir.
9/27
Antigone
BAM; through Oct. 4; previews begin Sept. 24
Juliette Binoche plays the titular princess in this modernist, feminist version of Sophocles's tragedy, with a new translation by Anne Carson, directed by Ivo van Hove, whom you'll be reading more about.
Spring Awakening
Brooks Atkinson Theatre; previews begin Sept. 8
Deaf West Theatre's acclaimed production of the long-running cult rock musical, directed by actor Michael Arden, integrating American Sign Language (if nothing else, you'll learn how to sign "totally fucked").
9/28
Fondly, Collette Richland
New York Theatre Workshop; previews begin Sept. 11
In its first collaboration with a living playwright, the inventive Elevator Repair Service tackles Sibyl Kempson's fantasia of a middle-aged couple who discover a new world through a door in their living room.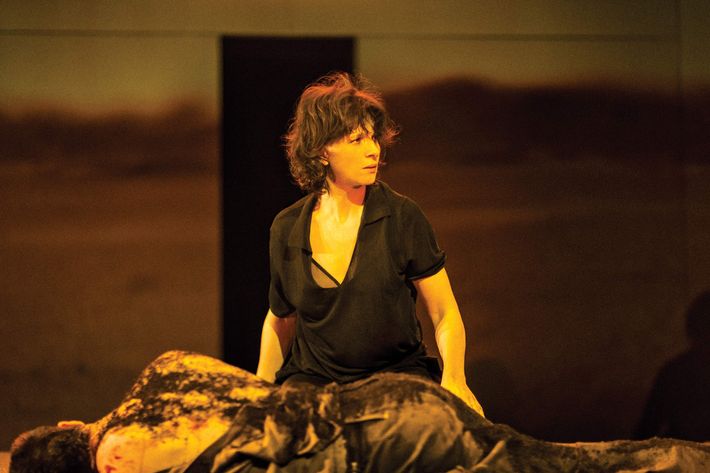 OCTOBER
10/5
Cloud Nine
Atlantic Theater Company; previews begin Sept. 16
Caryl Churchill's classic, set in colonial Africa, last produced here in 1981.
10/6
Old Times
American Airlines Theatre; previews begin Sept. 17
Expect Clive Owen to be glowering Pinter-perfect opposite the marvelous Eve Best, as directed by Pinter specialist Douglas Hodge.
10/7
MotherStruck
Lynn Redgrave Theater; previews begin Sept. 24
Cynthia Nixon directs Staceyann Chin's ultrapersonal one-woman show about being a lesbian, activist, and prospective mom.
10/8
Fool for Love
Samuel J. Friedman Theatre; previews begin Sept. 15
Sam Shepard's pitch-dark romance stars two charismatic, gorgeous weirdos: Sam Rockwell and Nina Arianda. This version won praise at the Williamstown Theatre Festival.
10/13
Ugly Lies the Bone
Harold and Miriam Stein­berg Center for Theatre; previews begin Sept. 10
Mamie Gummer plays a burn victim using virtual-reality video games to deal with the pain of war in this new play by Lindsey Ferrentino.
10/14
Eclipsed
Public Theater; previews begin Sept. 29
The Public brings Danai Gurira's play about collateral damage in the Liberian Civil War (i.e., women) to New York, along with Lupita Nyong'o.—Jesse Green
The Gin Game
Golden Theatre; previews begin Sept. 23
Cicely Tyson and James Earl Jones, together onstage for the first time in nearly 50 years — and they play nursing-home residents!
10/19
Kill Floor
Claire Tow Theater; previews begin Oct. 3
In Abe Koogler's meaty first play, a mother returns from prison to a job at a slaughterhouse, which complicates her reconciliation with her vegetarian son.
10/20
Ripcord
MTC; previews begin Sept. 29
Holland Taylor and Marylouise Burke do battle in an assisted-living facility in David Lindsay-Abaire's latest; David Hyde Pierce directs. One hopes there will be wheelchair jousts.
10/21
First Daughter Suite
Public Theater; previews begin Oct. 6
The most compelling new musicals this fall are Off Broadway, especially Michael John LaChiusa's follow-up to First Lady Suite. —J.G.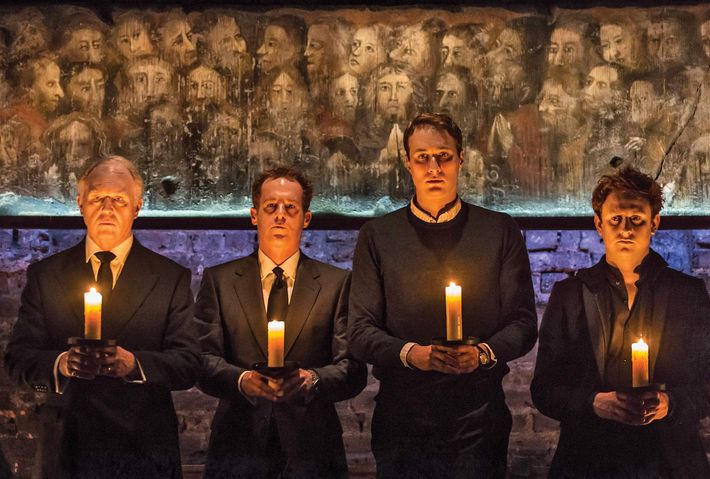 10/22
Dames at Sea
Helen Hayes Theatre; previews begin Sept. 24
Director and choreographer Randy Skinner is a natural match for this camp-cheerful, tap-dancing, Busby Berkeley–inspired musical about a starry-eyed gal stepping into her first Broadway role.
10/25
The Humans
Laura Pels Theatre; previews begin Sept. 30
Early-mid- (or late-early-) career playwrights are often the most exciting, so I can't wait for Stephen Karam's new drama, from the Roundabout. —J.G.
10/27
Sylvia
Cort Theatre; previews begin Oct. 2
A. R. Gurney's warm-and-fuzzy comedy gets an expertly cast revival: Matthew Broderick and Julie White as a middle-aged city couple and a winningly goofy Annaleigh Ashford (a newly minted Tony winner) as, yes, the dog that changes their life.
10/29
Thérèse Raquin
Studio 54; previews begin Oct. 1
Almost three hours of vintage French, oh, là là! Keira Knightley makes her Broadway debut opposite Judith Light and Matilda Tony winner Gabriel Ebert in Helen Edmundson's adaptation of Zola's tale of lust and deceit.
NOVEMBER
11/1
King Charles III
Music Box Theatre; previews begin Oct. 10
What about Charles? Mike Bartlett's London hit imagines what might happen when the kilty, long-suffering prince finally becomes king; Tim Pigott-Smith stars.
11/5
On Your Feet!
Marquis Theatre; previews begin Oct. 5
A cast of some Broadway newbies culled from a worldwide search takes on the Gloria–and–Emilio Estefan story, with presumably hot dancing courtesy of Sergio Trujillo. Conga!
11/8
Allegiance
Longacre Theatre; previews begin Oct. 6
Lea Salonga returns to Broadway, with George Takei, for a musical set partly in a World War II internment camp for Japanese-Americans, based on Takei's own experiences.
Hir
Playwrights Horizons; previews begin Oct. 16
Gender magician Taylor Mac takes off his meta hat for a (somewhat) straight play. —J.G.
11/9
Dada Woof Papa Hot
Mitzi E. Newhouse Theater; previews begin Oct. 15
The Normal Heart castmates John Benjamin Hickey and Patrick Breen reunite as an older married couple dealing with the challenges of raising a little girl in this new play from Peter Parnell (a gay dad himself).
Lost Girls
MCC; previews begin Oct. 22
Director Jo Bonney and playwright John Pollono reunite after 2013's great Small Engine Repair, this time looking at a divorced couple forced to confront each other when their teenage daughter goes missing.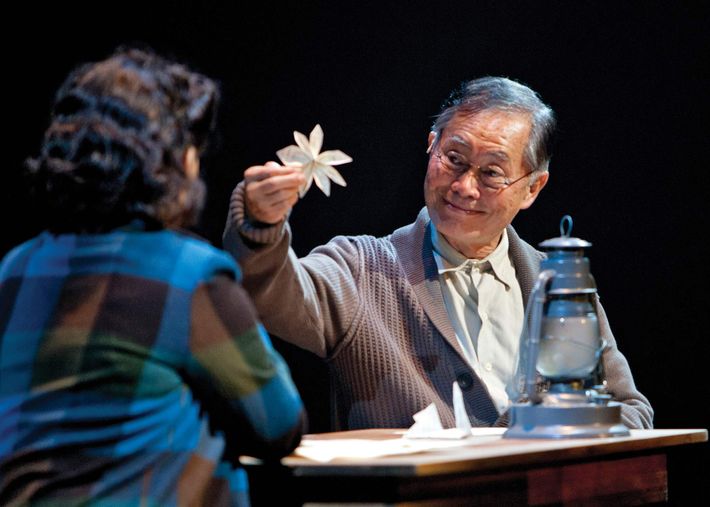 11/11
Henry IV
St. Ann's Warehouse; previews begin Nov. 6
The stunning new St. Ann's waterfront space opens, grandly, with Phyllida Lloyd's all-female take on Prince Hal's tale (a follow-up to her similarly sensational approach to Julius Caesar).
11/12
A View From the Bridge
Lyceum Theatre; previews begin Oct. 21
Avant avant-gardist Ivo van Hove directing Arthur Miller on Broadway sounds like a spectacular crash of sensibilities. —J.G.
11/15
Misery
Broadhurst Theatre; previews begin Oct. 22
Yes, that Misery, as adapted from the Stephen King novel by the original screenwriter, William Goldman. Directed by Will Frears and starring Bruce Willis, in his Broadway debut, and Laurie Metcalf.
Incident at Vichy
Signature Theatre; previews begin Oct. 27
The Arthur Miller centennial celebration continues with this haunting work about a group of men (and one boy) who are biding their time after being rounded up at the height of World War II — and are possibly bound for concentration camps.
11/18
Steve
The New Group; previews begin Nov. 3
Partners Steven and Stephen (the former a onetime Broadway chorus boy) take stock of their lives (and their disappointments) among theater-loving friends in this bittersweet comedy, starring Mario Cantone and Malcolm Gets and directed by Cynthia Nixon.
11/19
China Doll
Gerald Schoenfeld Theatre; previews begin Oct. 21
Pacino does Mamet; enough said (but keep an eye on Christopher Denham, the only other guy up there with Al).
11/22
Nora
Cherry Lane Theatre; previews begin Nov. 14
Downtown theater guru Austin Pendleton directs Ingmar Bergman's adaptation of A Doll's House — an oft-told but ever-relevant tale of gender and society.
11/23
Important Hats of the Twentieth Century
MTC; previews begin Nov. 10
Back to the Future meets millinery! In Nick Jones's fashion-forward comedy, a 1930s designer does battle with a rival who may be from another dimension.
11/29
New York Animals
The New Ohio; previews begin Nov. 14
Raindrops keep fallin' on their heads — 21 New Yorkers, that is, whose lives intersect in Steven Sater's new play-with-music by the suavely tuneful Burt Bacharach.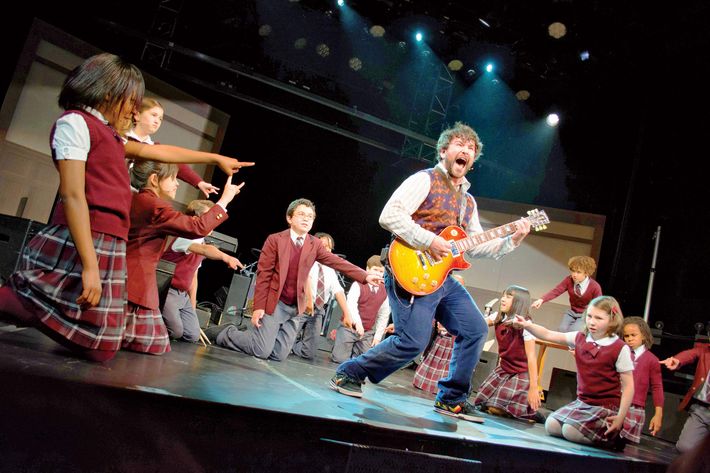 DECEMBER
12/2
Invisible Thread
Second Stage; previews begin Oct. 31
Matt Gould and Griffin Matthews's new musical about a young New Yorker volunteering in Uganda comes here from Diane Paulus's American Repertory Theatre in Cambridge.
12/3
Gigantic
Vineyard Theatre; previews begin Nov. 11
Scott Schwartz directs this hungry-for-laughs new musical about "the No. 3 weight-loss camp in Southern Pennsylvania."
12/6
School of Rock
Winter Garden Theatre; previews begin Nov. 9
"All right, all right! Now, is everybody nice and pissed off?" Sir Andrew Lloyd Webber goes back to his rock-musical roots (remember Jesus Christ Superstar?), writing 14 new songs to supplement those in Richard Linklater's fun film; the book is by Downton Abbey's Julian Fellowes.
12/7
Lazarus
New York Theatre Workshop; previews begin Nov. 18
Michael C. Hall — who let us get to know his glam self in Hedwig — is the Man Who Fell to Earth in David Bowie's first musical.
12/9
These Paper Bullets!
Atlantic Theater Company; previews begin Nov. 20
After his grandly ambitious American Idiot, Green Day's Billie Joe Armstrong takes on Shakespeare, lending eminently hummable tunes to this '60s mod-pop take on Much Ado About Nothing. (Dates are tentative.)
12/10
The Color Purple
Bernard B. Jacobs Theatre; previews begin Nov. 10
Minimalist director John Doyle brings his interpretation of the maximalist musical to Broadway with a killer roster of leading ladies: Jennifer Hudson, Orange Is the New Black's Danielle Brooks, and Cynthia Erivo as Celie. The production has already had an acclaimed run at the Menier Chocolate Factory in London.  
Once Upon a Mattress
Abrons Arts Center; previews begin Nov. 24
Lypsinka is Queen Aggravain and Jackie Hoffman is Princess Winnifred in the Transport Group's revival of Mary Rodgers's delightful anti–fairy tale.
12/14
Marjorie Prime
Playwrights Horizons; previews begin Nov. 20
Jordan Harrison's not-so-futuristic tale of an octogenarian woman (Lois Smith) and the hologram (holograndma?) that knows her better than she knows herself.
12/17
Fiddler on the Roof
Broadway Theatre; previews begin Nov. 12
The fifth Broadway revival, starring Danny Burstein and Jessica Hecht as Tevye and Golde, helmed by Bart Sher (master of airing out the musty), and featuring an update of Jerome Robbins's dances by Israeli choreographer Hofesh Shechter.
*This article appears in the August 24, 2015 issue of New York Magazine.