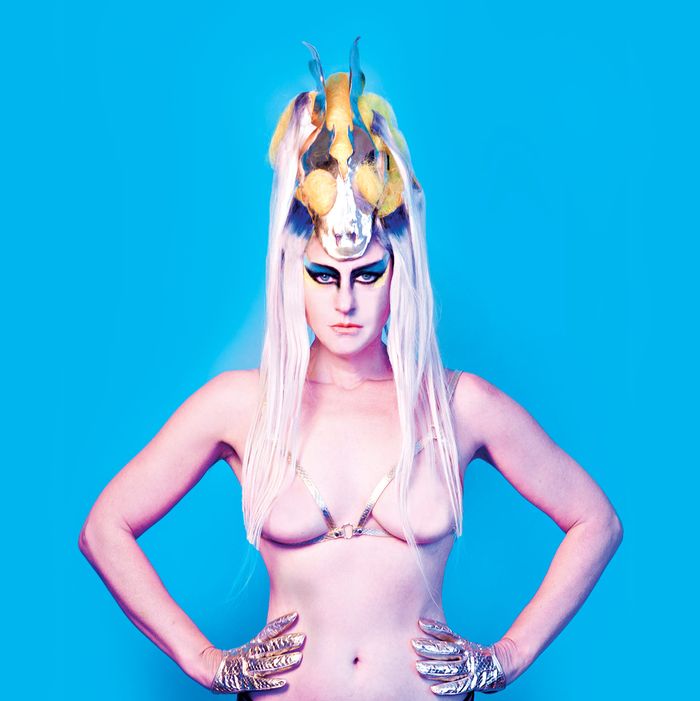 Peaches.
Photo: Daria_Marchik
Hopefully, you've had a few minutes to play around with our Fall Entertainment Generator. But if you're looking for straight and simple lists of things to look out for by medium, we'll be breaking them out separately. Here's a look at fall music.
SEPTEMBER
9/3
Rick Ross, Black Dollar
Less than a year after 2014's Hood Billionaire, Ross will return with his surprise eighth album, reuniting him with his former go-to production team, J.U.S.T.I.C.E. League. Its first three songs, "Money and Powder," "Money Dance, "and "Turn Ya Back," are streaming now. —Dee Lockett

9/4
Dam-Funk, Invite the Light
The 21st-century champion of G-funk convenes a wide spectrum of Los Angeles pop royalty on this record, with guest turns from Snoop Dogg, Flea, and Ariel Pink.
Lou Barlow, Brace the Wave
The Dinosaur Jr. and Sebadoh co-founder announced this solo album only in July, after recording its nine tracks in six days. Per a YouTube trailer, it was made "without drums, without regrets."
Public Image Ltd, What the World Needs Now
These days, John Lydon (né Rotten) happily trades on a cartoon version of his image to make some scratch in TV commercials; that doesn't mean he's lost his taste for cartoonishly abrasive punk, screaming, "I want the trouble!" on the first single from his post–Sex Pistols band's second album since reuniting.
The Libertines, Anthems for Doomed Youth
Another comeback from a sloppy, stormy British rock icon? Why not! Pete Doherty has once again cleaned up (this time choosing a Thai rehab facility) long enough to get back together with Carl Barât, releasing their first album in 11 years.

Travi$ Scott, Rodeo
The Kanye West protégé and rap's rowdiest performer is set to release his debut album, featuring Justin Bieber, the Weeknd, and more. It'll also include a version of Kanye's long-rumored Paul McCartney collaboration, "Piss on Your Grave." —D.L.
Widowspeak, All Yours
Hazy, atmospheric pop for millennials growing up: On bluesy early single "Girls," singer Molly Hamilton reflects, "Further from my wilder years, I get kinder to the younger girls."
9/7
Prince, HitNRun
U can listen 2 His Purpleness's latest on Tidal. The album promises to be a maximalist effort  wedding his shredding side and wub-wub-heavy EDM.
9/11
Ben Folds, So There
Collaborating with young new-music ensemble yMusic, the piano man embellishes his usual pop songcraft with dense strings and woodwinds — and, for good measure, a piano concerto too.
Craig Finn, Faith in the Future
The magnetic Hold Steady front man and role model for a generation of Cool Dads releases his second solo album; expect a more melancholy, laid-back take on his usual Springsteenian tales of booze-sodden Americans.
Beirut, No No No
The video for the title track belied its cheery pop melody with a slightly grotesque Day-Glo–Dalí touch — instruments were replaced with skunks, bottles were smashed on heads, the trumpet player had some gnarly fake teeth. But stick around for the horn-heavy transcontinental indie rock.
Gary Clark Jr., The Story of Sonny Boy Slim
How can a blues-guitar virtuoso stay cool in 2015? Clark takes cues from hip-hop just as readily as from Hendrix on the follow-up to 2012's Blak and Blu.
Jewel, Picking Up the Pieces
After a few mid-career reinventions (some more compelling than others), Alaska's favorite daughter returns to her heart-on-sleeve acoustic roots.
Low, Ones and Sixes
Indie rock's kings of down-tempo slow burners return for their 11th album.
Micachu and the Shapes, Good Sad Happy Bad
Precocious London indie rocker Mica Levi and her inventive three-piece are back, with an album crafted from jam-session recordings.
Shannon and the Clams, Gone by the Dawn
Blending doo-wop and early-rock influences into a kind of greaser nightmare, Shannon Shaw and her band sound like an early John Waters movie in musical form on this creepy-yet-catchy album.
Slayer, Repentless
Yes, guitarist Jeff Hanneman died in 2013, but that's not stopping the legendary thrash-metal band from continuing to rock out, loudly.
9/18
CocoRosie, Heartache City
The Casady sisters keep it precious and weird even as they explore more expansive pop sounds.
Darlene Love, Introducing Darlene Love
The longtime secret-weapon backup singer, who made the biggest splash in Twenty Feet From Stardom, steps out on her own for the first time in recent memory, calling in songwriters Elvis Costello and Bruce Springsteen and covering Joan Jett.
Duran Duran, Paper Gods
The prettiest boys in Brit rock still have those New Wave cheekbones under their wrinkles, and they're hip to what the kids like on their (egads!) 14th record: Lead single "Pressure Off" features Janelle Monáe and Nile Rodgers.
Glen Hansard, Didn't He Ramble
In the years since Once, the Frames and Swell Season songwriter has ventured far beyond the Dublin folk scene where he began. Now he's reeling it in with a set of melancholy, Celtic-tinged tunes, singing in a promotional trailer, "There'll be no more running around for me."
Keith Richards, Crosseyed Heart
Keef hasn't put out a solo record since the early '90s; maybe settling scores in his blockbuster autobiography rekindled his creative fire.
Metric, Pagans in Vegas
The most glam band to come out of Canada since … Rush? Emily Haines and company split the difference between their rock and pop sides here.
Lana Del Rey, Honeymoon
The high priestess of Americana returns with her third album, which she's described as "surrealist" and inspired by "late-night Miles Davis drives." —Lindsay Zoladz

Mac Miller, Good A.M.
Drug-free and a new Brooklyn transplant, the Pittsburgh native will celebrate with his major-label debut this fall. —D.L.

9/25
The Dead Weather, Dodge and Burn
Jack White returns to the heaviest of his various projects, with co-vocalist Alison Mosshart injecting some soul into the proceedings.
Chvrches, Every Open Eye
The Scottish synth-pop trio follow up 2013's The Bones of What You What Believe with their winning combination of pop bombast and Lauren Mayberry's delicate vocals.
Disclosure, Caracal
The neo-house producers' second album is even more star-studded than their first, featuring vocals from Lorde and the Weeknd, and a reunion with their "Latch" pal Sam Smith. —L.Z.
Dungen, Allas Sak
You probably won't understand a word on the latest from this Swedish psychedelic band, but that's okay, because they also speak the universal language of chill vibes.
Kurt Vile, B'lieve I'm Goin Down
The drawling Philly indie rocker has become steadily more intelligible since breaking out of the underground in 2011; he downright enunciates on the first single, "Pretty Pimpin."
New Order, Music Complete
The paragons of gloomy British synth and New Wave return after a ten-year wait between albums, with guitarist Bernard Sumner squarely in charge after the 2007 departure of longtime bassist Peter Hook.
Peaches, Rub
Expect a fairly earnest, inspirational LP, but by Peaches standards. Sample lyric: "All humans, free at last / So much beauty coming out of my ass."
Avicii, Stories
The callow young man of EDM has risen to the top of a genre that prides itself on sensory overload and apparently found it wanting for pizzazz; he's employed a parade of stars for this one: Robbie Williams, Jon Bon Jovi, Billie Joe Armstrong.
OCTOBER
10/2
Deafheaven, New Bermuda
Neither their latter-day San Francisco origins nor their well-styled hair bespeak metal bona fides, but don't let that keep you from listening to these guys, whose previous effort Sunbather was a cross-genre favorite in 2013.
Janet Jackson, Unbreakable
From Tinashe to FKA Twigs, the Queen of Pop's influence is all over R&B right now — and her first album in seven years will show the upstarts how it's done. —L.Z.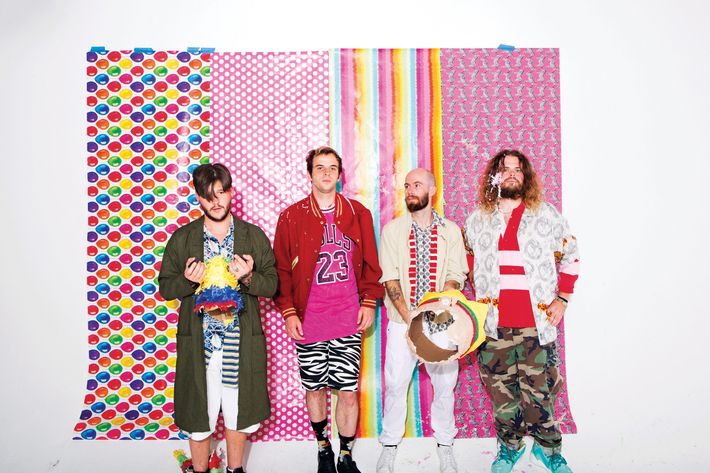 Wavves, V
Nathan Williams's mellow may be slightly harshed from recent feuds with Warner Bros., so expect some extra punch in his latest release of very SoCal pop-punk.
10/9
Selena Gomez, Revival
Her Disney days long behind her, Gomez looks to still have an appealing hold on PG-13 pop stardom with this record's slinky, raw first single, "Good for You" (it's about sex, and there's a verse from A$AP Rocky, in which he curses exactly once).
10/16
Demi Lovato, Confident
After heating up the summer months with "Cool for the Summer," Lovato will keep the buzz going into fall with her fifth album. It'll feature production from pop mastermind Max Martin. —D.L.
Trey Anastasio Band, Paper Wheels
The Phish guitar god, fresh off this summer's Grateful Dead 50th-anniversary tribute concerts.
Majical Cloudz, Are You Alone?
The deeply emotional, musically austere indie duo deliver their sophomore effort.
Neon Indian, Vega Intl Night School
Chillwave (remember chillwave?) pioneer Alan Palomo updates his '80s-influenced synth-pop with modern electronic touches.
YACHT, I Thought the Future Would Be Cooler
The L.A. electro darlings worry "crowdsourced cults" will have us "sipping on a battery" on their bouncy sign-of-the-times title track, and they should know, having indulged in their fair share of new-media PR stunts, like a drone-shot promo video.
10/23
Joanna Newsom, Divers
It was a thrill to hear Newsom's good-witch voice narrating Paul Thomas Anderson's Inherent Vice, but her single "Sapokanikan" proves how much we've missed her strange, freewheeling tunes. —L.Z.
10/30
El Vy, Return to the Moon
The National front man Matt Berninger normally keeps busy pumping out the musical equivalent of a world-weary sigh, but he seems to have gained a new swagger (and even some catchy beats) in this collaboration with Brent Knopf, formerly of Menomena.
Sharon Jones & the Dap-Kings, It's a Holiday Soul Party
Brooklyn's premier soul revivalists put out their first ecumenical holiday album, with a Hanukkah song likely so funky it could keep you dancing for eight days.
TBD
Ariana Grande, Moonlight
Unfazed by #Doughnutgate, the pop star announced she'll release the follow-up to her better-than-you-think sophomore album this October. Its first single, reportedly called "Focus on Me," is expected to drop shortly. —D.L.
NOVEMBER
11/6
Kurt Cobain, TBA
Corporate rock does still suck, but we'll overlook the fact that this decades-in-the-making cross-platform marketing ploy comes care of behemoth Universal if that's what it takes to get this free-ranging album of Kurt's bedroom recordings.
11/13
Justin Bieber, TBA
Bad boy Biebs most recently collaborated with superstar producers Diplo and Skrillex on the surprisingly great "Where Are Ü Now"; he says he'll offer "summery" fare on this upcoming solo album.

Jeezy, TBA
The Atlanta rap legend will return with a follow-up to last year's Seen It All: The Autobiography for his eighth studio album, led by chilling first single "God." —D.L.
THE MAYBES
What we know about big albums that could be out at some point this fall. Or in 2016.
Kanye West, Swish
The album that was once called So Help Me God is now called Swish, but Yeezy reserves the right to change that.
Coldplay, A Head Full of Dreams
The band's seventh album will include highly personal songs that allow you to "shuffle your feet a little bit," says lead singer Chris Martin. With production team Stargate (Beyoncé, Rihanna, Katy Perry), that sounds like a given.
Drake, View From the 6
Aubrey Graham's fourth studio album remains largely mysterious, though he has admitted it will be a departure from previous work, a Beyoncé collaboration notwithstanding.
Macklemore, TBA
On New Year's Day 2015, Macklemore tweeted that a new album from him and collaborator Ryan Lewis would arrive within the calendar year. The world continues to wait, knowing only that the album will likely include a heartfelt tribute to the Seattle rapper's infant daughter and a much bigger budget than 2012's The Heist.
Rihanna, TBA
It might be called #R8, but it also might not. What we do know about Rihanna's follow-up to Unapologetic is that it's "soulful and aggressive" according to the singer.
Frank Ocean, Boys Don't Cry
The low-key crooner's mysterious follow-up to his masterful Channel Orange will come with its very own magazine, edited by Ocean himself. —L.Z.
*A version of this article appears in the August 24, 2015 issue of New York Magazine.